Everything Else
Mike Gundy May Have New Career as Right Wing Political Pundit
2:32 PM EDT on June 15, 2020
Earlier today, a photograph that shows Oklahoma State head football coach Mike Gundy in a One America News Network (OAN) t-shirt made the rounds on Twitter. It was apparently taken last week at Lake Texoma: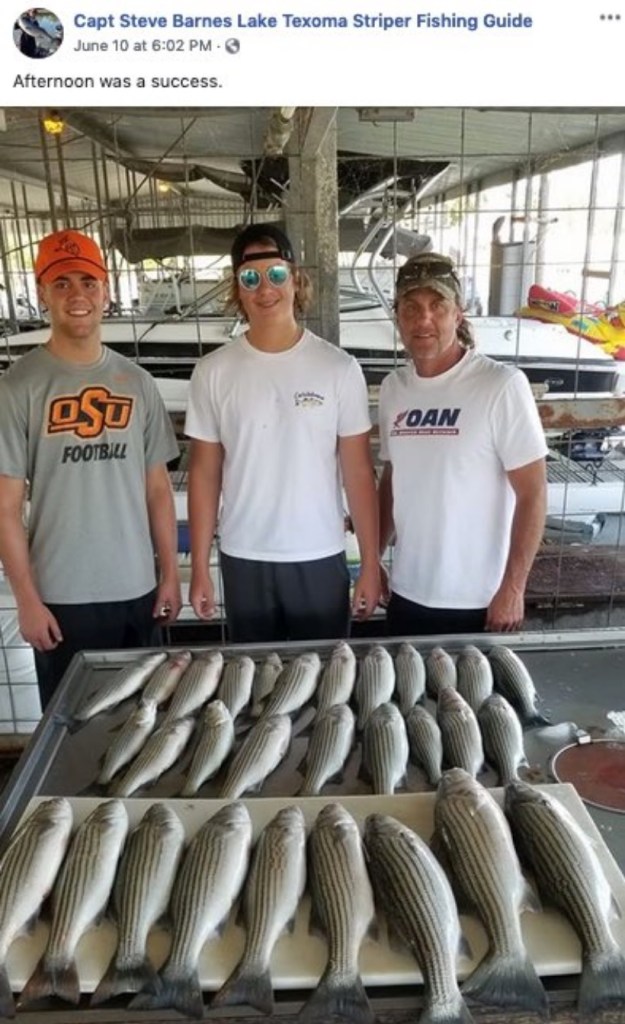 Wow. This Mike Gundy redneckamorphosis has been something to watch. In the last 10 years, we've seen him transition from a fiery, respected football coach who protects his players from bad sports columnists into a noodling troll who taunts them with dead fish and right-wing logo apparel.
The fact that Mike Gundy is wearing an OAN shirt should not be surprising. This is because:
A) He's conservative
B) He lives in rural Oklahoma
C) He has a mullet
In addition to that, check out the nice words Gundy had to say about the network during a press conference he'd eventually have to apologize for back in April:
It's One America News. And it was so refreshing. They just report the news. There's no commentary. There's no opinions on this. There's no left. There's no right. They just reported the news. And I've been watching them the last week, because they're given us the news and given us more information — in my opinion — some of the positives are coming out. So, that was refreshing.
Gundy's glowing show of support of a right-wing cable propaganda channel that peddles alt-right conspiracy theories doesn't sit too well with some of his players. Earlier today, star OSU running back who should have turned pro – Chuba Hubbard – sent a tweet stating that he was done with OSU "until things CHANGE:"
Wow. Those are strong words. Chuba was immediately backed up by OSU's best linebacker:
The O-line voiced their support, too:
Other players on the roster, as well as formers players in the NFL, also voiced their support for Chuba. You can find them on Twitter.
Some people fans – especially the ones who think facemasks are for pussies – are defending Mike Gundy. They fairly point out that he technically didn't do anything wrong. Sure, OAN is a biased network that pushes a right-wing agenda and is more toxic and soulless than even the regular media, but it's just a t-shirt with a logo on it. Hell, maybe Mike Gundy hates the shirt and network, which is why he wore it go fishing in the gunk water of Texhoma!
Okay, we know that's not the case. Either way, wearing a shirt with a logo on it shouldn't prevent you from keeping your job and earning a living. Well, unless you just happen to work for Mike Gundy:
Contractor claims OSU coach Mike Gundy fired him because he wore an OU shirt

A contractor claims Oklahoma State football coach Mike Gundy fired him because the man wore a University of Oklahoma shirt to work at the Gundy's house in Stillwater.

In a breach of agreement lawsuit filed in Payne County court, contractor Brent Loveland claims he lost more than $30,000 in possible income because of the time he devoted to Gundy's home. Gundy and his wife, Kristen, are named as defendants in the case...

Loveland's lawsuit says when he showed up to work on the Gundy's house wearing an OU baseball shirt, the Cowboys' coach unleashed a profanity-laden tirade and fired him.
Okay, so maybe people can lose their job based on a t-shirt. Based on this cryptic statement tweety by OSU Athletic Director Mike Holder, it's a fate Gundy may have to deal with:
Even in today's day and age, when athletes of all levels have more ability and power than ever to share their voice and opinion, it's pretty rare to see players speak out against their coaches on social media. This makes you think this isn't the first time Mike Gundy has done something to offend Chuba, Amen and other players on the roster. It also makes you wonder if Mike Gundy's days at OSU are numbered, or if he even wants to be there. Once again, he could have a nice career as a right-wing pundit ahead of him.
UPDATE: Mike may have to wait until he's fired for football field reasons to join OAN:
Stay in touch
Sign up for our free newsletter