Everything Else
Kevin Stitt Hosts Churchy, Safe, Male Round Table On Race
4:38 PM EDT on June 8, 2020
Last night, Oklahoma Governor Kevin Stitt met with protestors, politicians, and activists from the Oklahoma black community – including organizers of Black Lives Matters protests, the Oklahoma House Black Caucus, and others who have fought for freedom and equality in a state where racism is still openly tolerated and even glorified by frat boys – to have an open, honest and at times heated discussion on race, discrimination, and police violence in Oklahoma...
Wait. That's actually a draft I was working on for my satirical newsletter – What Should Have Happened. Here's what really happened...
Last night, Oklahoma Governor Kevin Stitt, along with the first lady, met with a couple of black church leaders, a white police chief and a black sheriff's patrol captain – to have a safe, non-controversial, easy-to-digest-for-troubled-evangelical-voters talk about race in Oklahoma.
Here are details via The Oklahoman:
As thousands of people across the country protest racial inequality and police violence, Gov. Kevin Stitt and his wife, Sarah, hosted a televised discussion on race Sunday with local law enforcement and religious leaders.

The Stitts sought understanding for how Oklahomans can reduce racism and bring people together.

Referencing the brutal death of George Floyd, the handcuffed black man who died after being restrained by Minneapolis police, Stitt said: "We don't ever want that to happen in our state. That's why we're here."
Stitt is correct. "We don't ever want that to happen in our state. That's why we're here."
Sadly, another reason "why we're here" is because it's already happening in our state. In fact, it's been going on for quite a while. When Stitt was busy running a mortgage company and not voting, black men who posed no threat to law enforcement were way too often being killed live on camera by overzealous Oklahoma law enforcement agents. In fact, Oklahoma is a Top 10 state when it comes to cops killing the people they're sworn to protect. Imagine that!
The round table was being criticized by politically active members of the Oklahoma black community before it even aired. State Representative Jason Lowe penned this op-ed for the Black Wall Street Times on Sunday morning:
Governor Stitt, we don't need you to moderate our voices. We need you to listen.

Late Friday afternoon, Governor Stitt's office released a statement saying, "Governor Stitt, First Lady to moderate roundtable on race." On the surface, it may appear the Governor has finally decided to give this movement legitimate attention. I wish that were the case. Pull back the curtain, and it's clear this is just another attempt to pacify the Black community and our allies who have been speaking out against injustice.

In Oklahoma, we have a deep bench of Black academics, civil rights leaders, activists, and elected officials who could have led the governor and his panel in a difficult, but extremely important conversation. But instead of a substantive meeting on racial inequity, we ended up with a superficial show of solidarity. Disappointed doesn't even begin to describe how I feel...
I talked to State Rep. Jason Lowe earlier today. After watching the roundtable, his feelings really haven't changed. The Oklahoman caught up with some other individuals who were not pleased:
The panel discussion included two law enforcement officials and two black religious leaders from the Oklahoma City area.
But a black activist leader who was not included in the discussion said the panel was a feeble attempt by the governor to appear as though he was taking the race issue head-on.

"It's milquetoast," said Black Lives Matter Oklahoma Co-founder and Director T. Sheri Dickerson. "And I don't like having milquetoast for breakfast, lunch or dinner."
Fun fact – I had to google milquetoast. It's not a compliment.
Dickerson, who is a minister, said she wasn't surprised Black Lives Matter wasn't asked to participate.

Stitt asked only those who would give voice to his agenda to participate, she said. It did not seem as those who would speak truth to power were invited.

"Whatever his motives or missions are, I don't think it's really about those who are speaking truth in a revolutionary sense," Dickerson said.

But if Stitt really wants to affect change, he should reach out to the state's most vulnerable and marginalized communities and be deliberate in leading the charge to protect all Oklahomans of color, she said.
Before we continue, I'd like to stress that I watched most of the discussion. I think everyone involved was cordial and respectful. Rev. Hill, Capt. Williams and Pastor Cooper all provided some excellent insight and perspectives, as did Police Chief Gibson. That being said, the lack of women and Black Lives Matters activists were obvious, and the whole thing felt a bit churchy, measured and more of a PR opportunity to make the Governor look good. Maybe that's because it probably was?
The event was organized and produced by a non-profit group called Oklahoma Capitol Culture. It's led by a chap named Joel Harder. He's the chaplain for the Oklahoma House and looks like he fell out of a youth minster catalog. Not coincidentally, he's also married to Donelle Harder. She comes from House Inhofe. She led Stitt's campaign, served as a key cabinet advisor, and now runs her own political consulting / lobbying firm.
In addition to that, our old pal Josh Cockroft is affiliated with the group. He's a former state rep turned lobbyist who wanted to eliminate the Oklahoma Arts Council and once got caught plagiarizing newspaper editorials. He's incredibly conservative and at one point in his life liked to dress up as a Civil War soldier: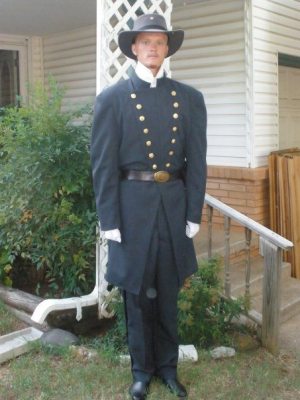 That's blue, right? Right???
Anyway, if you watched the speech and want to comment, I guess go ahead and do that. Also, if you want to listen to a group of black women who weren't invited to speak at a roundtable hosted by the Governor have an honest and open discussion about race, you can do that on Wednesday.
Stay in touch
Sign up for our free newsletter