Breaking News
No Justice, No Peace: Attending Saturday's Demonstrations on NW 23rd
7:21 AM EDT on May 31, 2020
A few years ago, a former friend—a very popular artist in Oklahoma City—confided in me he believed that Black Lives Matter was the Black equivalent to the Ku Klux Klan. As I tried to comprehend his shocking admission, I knew that because of his white skin, he would never have to know the abject fear of being pulled over by the cops, wondering if that moment would be his very last.
With the recent deaths of George Floyd, Breonna Taylor and countless more, massive protests of the murders of minorities by the police has reached a fever pitch in this country and, last night, Oklahoma—a state with one of the highest number of killings by police in America—was no different, with around a thousand people, possibly more, taking to the streets of Oklahoma City Saturday evening.
Because I'm not able to drive, I walked from my house to NW 23rd and Classen at a swift pace, missing the Oklahoma City Police using intimidation tactics on the protestors. When I got there, however, it was a relatively peaceful assembly, with chants of "No Justice, No Peace!" and "I Can't Breathe!" and "Fuck the Police!" being hurled in the officers' general direction, many clad in riot gear.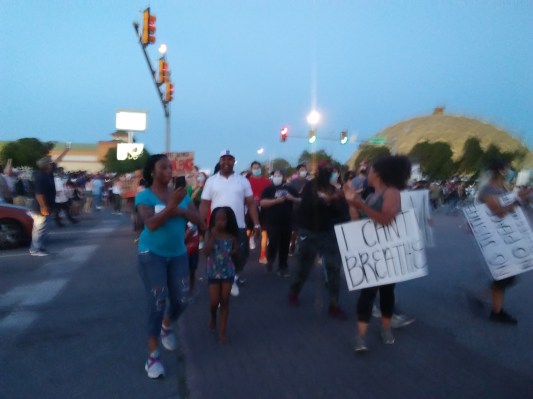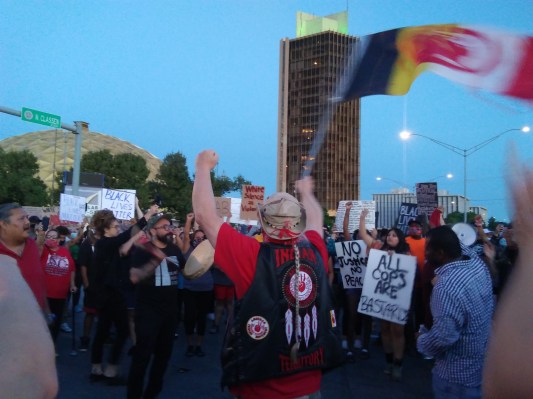 From behind me, I heard an altercation as a bald white man tried to pick a fight with a group of young Black men, who refused to give in to him. As he left, unable to provoke them, another white man showed up with his Bible, telling the people gathered that they were going to Hell and so on. He was sent packing as the assembled crowd began to move down Classen towards NW 16th street, the Plaza District.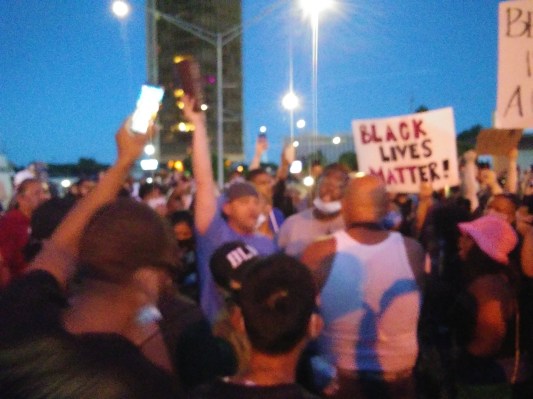 With ceremonial drumming provided by members of the American Indian Movement, I thought of Oklahomans like Indigenous teen Ma-ha-vist Goodblanket and handicapped Latino Magdiel Sanchez and how their deaths at the hands of police, the people sworn to protect us, were swept under the bloody rug. I started to march down Classen with the protestors, shouting "Hands up, don't shoot!" as loud as my throat would let me.
As we turned the corner on NW 16th, spotlights from the police helicopters grew even brighter, their fears of a riot seemingly being stoked by them; throughout my time at the protest, it felt like the police wanted something to happen. Marching down the Plaza District, I heard a guy scream "Fuck you, yuppie scum!" to the area's Saturday night revelers.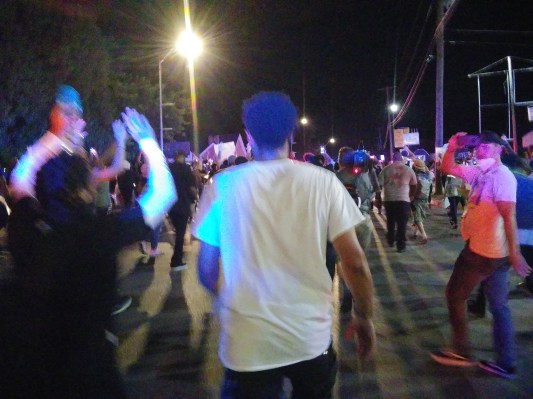 Still recovering from my stroke, I started to feel a bit of pain in my legs, and began limping a bit. A young protestor came up behind me and patted me on my sweaty back, saying "Thank you!" and offering me a bottle of water. The protest continued on, turning the corner onto N. Penn towards NW 23rd, angering many men in big trucks that spun their wheels as they made violent u-turns.
As traffic came to an absolute standstill, five police cars went speeding by me, lights flashing and sirens blaring. A crowd started to gather around the cop cars, the music of N.W.A. blasting out of stereos parked in the 7-Eleven lot. As the protestors began to surround their vehicles, the police started to back away, the crowd cheering in marked victory.
It was sometime around ten o'clock when my phone finally died. The protest started moving back up to where it started, Classen. This is where I parted the crowd to walk back to my home. From what I witnessed this evening, it was a wholly peaceful movement with multiple races gathered to protest this betrayal of human dignity.
But that wasn't the end, by any means.
When I got home, I switched on the news to hear that, as the crowd made their way Downtown to police headquarters, the cops starting shooting rounds of tear gas. The local police, county sheriffs and, according to Twitter, the National Guard, were protecting the OKCPD headquarters and the city jail.
A second protest is scheduled for 2:30 PM today at the corner of NE 36th and Kelley Ave.
_
Follow Louis on Twitter at @LouisFowler and Instagram at @louisfowler78.
Stay in touch
Sign up for our free newsletter