Food
TLO Restaurant Review: Taqueria Rodriguez
5:08 AM EDT on May 5, 2020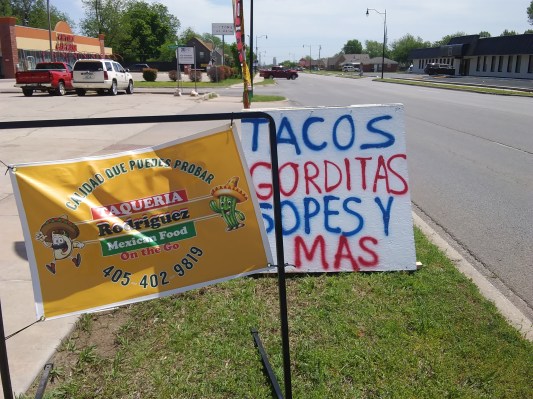 Even though Oklahoma has skipped a few steps and reopened many of her beloved restaurants for business recently, I feel that, with my minor history of major health problems, I probably shouldn't be in an enclosed building with too many people just yet.
Still, everybody's got a hungry heart, and for now, my hambriento corazon is playing its part, dutifully craving a safe-enough taco truck, most notably the new-ish Taqueria Rodriguez, perfectly situated in front of Guzman Auto Detail, 3303 NW 23rd St. Better yet, just keep an eye out for the spray-painted sign that reads "Tacos Gordita Sopes y Mas."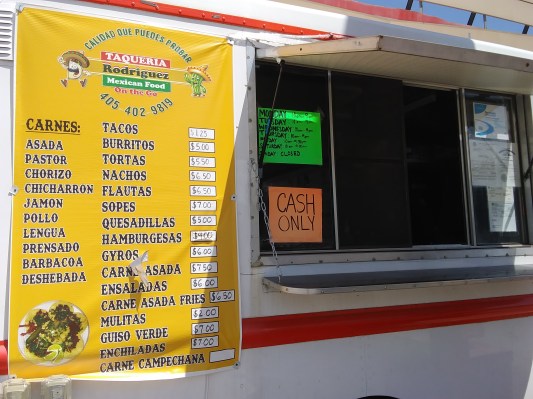 It was a strange afternoon I stopped by, as the power was off in the truck and the neighboring area. Still, the wind was blowing heavily and that righteous smell of carne cooking on the grill religiously seduced my tastebuds. The cook poked his head out of the window and, after a quick glance at the menu—which featured a taped-up offering of gyros—I ordered my items; he tallied the cost up by hand.
As I waited for my eats, I wandered into the darkened convenience store behind the truck. Having to pay with the leftover cash from my lunch, I grabbed a piña-flavored Jarritos soda and a bottle of cold water, downing the agua quickly as my food was brought out to me, a heavy bag loaded with, as I noticed from the side, plenty of rojo and verde salsas.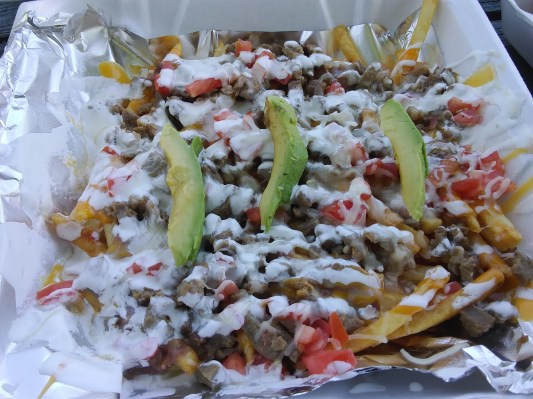 Almost immediately, I charged into the container of Carne Asada Fries ($6.50). Designed like it was a piece of art on the wall of the Vatican, this dish had three expertly cut strips of avocado on top of the heavily sour creamed fries, the multiple cuts of beef defiantly peeking through the thickly drenched layer of tomatoes and queso.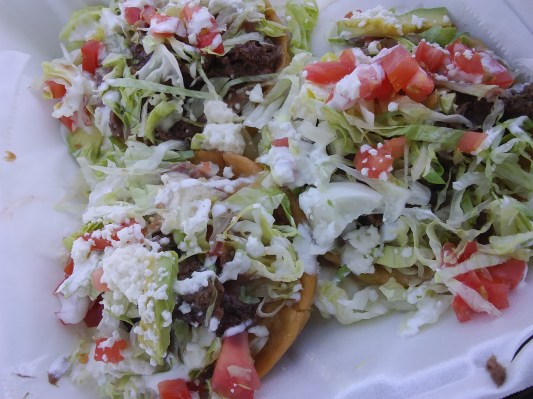 Each measured handful of fries was an embarrassment of riches, possibly topping nachos as my favored cheese-encased item. Maybe I'm just asada drunk on getting out and eating out, but I desperately loved this take on fries. Just as remarkable were the Barbacoa Mulitas ($2.00), their thick harina-cakes fully loaded with cheek meat, as well as lettuce, tomato, avocado, queso fresco and a gentle squeeze of sour cream.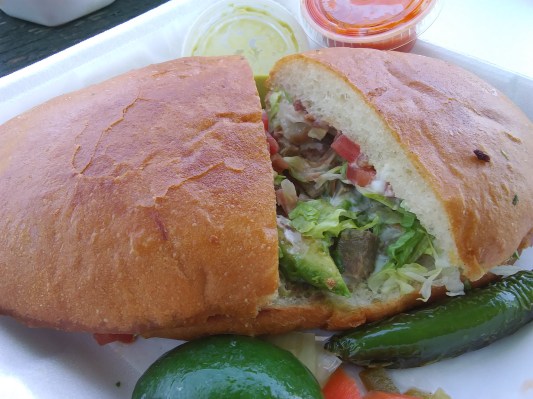 But the one thing that I've waited these sequestered months for was their freshly-made Torta ($5.50), complete with chopped lengua spilling out of the half-carved sandwich. Anyone who knows me—and I feel like you really should by now—knows how much I live for this sanctified meal, with Taqueria Rodriguez's hovering close to Heaven.
The grilled cow tongue effortlessly kissed my own tongue deeply, with the lettuce, tomatoes, queso fresco and large chunks of avocados expertly placed inside a toasted bolillo roll; as the power came back on, I realized how it was a minor miracle to finally come out of my self-imposed stay-at-home order, with Rodriguez being the rainbow of deliciousness that I had been waiting patiently for. Cómpralo ya!
_
Follow Louis on Twitter at @LouisFowler and Instagram at @louisfowler78.
Stay in touch
Sign up for our free newsletter