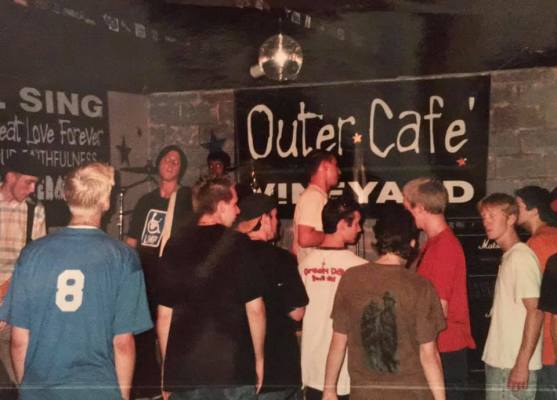 Ever since 'the shit went down,' I'm trying to catalog my memories of places where you could be around other people and have fun and not worry so much if someone else coughed on you.
Today, we're doing a niche dive into a certain Christian coffee house that also functioned as a music venue. The Outer Cafe was a place that was incredibly important for connecting young punks in the late 90's, and there's zero internet footprint I can find other than a nostalgic Facebook group of people trading Slick Shoes bootleg CD-R's.
I've never been a Christian, so this was a whole other scene for me. I grew up Jehovah's Witness, which is its own insane ideology, but they don't believe in Hell, which is cool. My family left the church (or, Kingdom Hall as the JW's call it) when I was pretty young. Before then, I remember sitting in the Kingdom Hall (church) and just being bored, looking at my shoes, and sniffing the fresh, crispy, ripe bibles laid dutifully on each folding chair.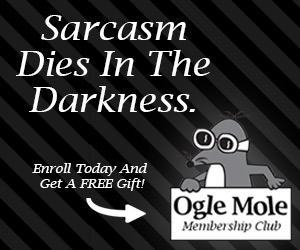 When I hit high school, I finally was able to meet other people with more underground music tastes that leaned towards mine, and we'd all go out to shows on Friday or Saturday nights. One of the biggest hot spots was The Outer Cafe in Oklahoma City. It was a Christian coffee shop that was run by a church. The coffee was always free, in the era where it was always served with a flavored syrup. But better yet, the shows were cheap and plentiful.
Since it was an all-ages venue at a time when OKC didn't have much else going on, Outer seemed like the pinnacle of hangout spots for late 90's teens. I wasn't into too many of the bands, but you could go and meet people that didn't go to your high school, which was always a big flex.
The bands were fairly diverse, given that it was on the Mardel's circuit. Lot's of pop punk, ska, hardcore, and metal bands tended to rule the tiny stage. We're talking Squad Five-0, Training For Utopia, Five Iron Frenzy, Rackets & Drapes, The Huntingtons, Joy Electric, Eternal Decision... the list goes on and on. Local bands, like Ester Drang, Eleven Hours Down found their first stage at The Outer Cafe, and the members would go on to pollinate the secular scene.
The real action, at least for a heathen my like myself, was in the parking lot. Even though the crowd was nearly entirely teenagers, people would be slamming beers and smoking clove cigarettes in the vacant parking lot on late summer nights. One of my best friends saw boobs for the first time on that desolate asphalt, so I imagine it was nearly a Falls Creek-level of turning boys into men.
There was one guy, can't recall his name and I wouldn't print it anyways, but he was there every weekend wearing a leather duster. This was post-Columbine, which made it a bold look, but he clearly didn't give a fuck. He'd show up with a samurai sword and whips and just show that shit off in the parking lot like an ahead-of-his-time proto-neckbeard. I can't recall if he had a fedora, but there's no way he has never owned at least one.
There were a few other similarly Christian-leaning venues around that time, like The Attic or Mocha Madness, but Outer is the one I always remember the most. Even though the religious slant made things a lil weird at times, I met so many friends through that place, and it was a venue where under-aged people could hang out late at night for little to no money and listen to goofy pop punk music.
If you've got any memories about The Outer Cafe, or any of the other similar venues, please share 'em in the comments!
Stay in touch
Sign up for our free newsletter