coronavirus in oklahoma
Stitt's "Yes Man" got a new car to lead Oklahoma Dept of Health…
1:11 PM EDT on April 13, 2020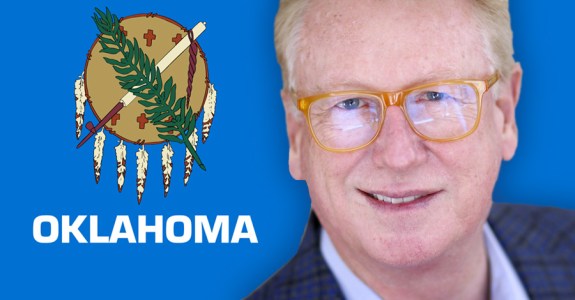 This slogan for the Oklahoma State Department of Health projects assurance and confidence that the organization knows what the hell it's doing, which is probably something you want in a state-run agency tasked with keeping data on the spread of contagious illnesses and overseeing community health departments that provide life-saving immunizations, wellness services, and other resources for Oklahomans.
But, unfortunately, since Commissioner of Health Gary Cox was appointed by our esteemed Governor, the slogan has come to be seen at best as a motto for arrogant, out-of-touch optimism and at worst a cruel joke accompanied by an apathetic shrug.
Via The Oklahoman…
Weeks before a novel coronavirus began killing people first in China and then around the world, the new health commissioner for Oklahoma stunned legislators by asking them for less money for the upcoming fiscal year.
"We want to get to be a lean organization," Gary Cox said on Dec. 2 in explaining his request for a $4.5 million reduction in appropriations for the 2021 fiscal year. "We're trying to be frugal."
I don't blame old Gary for wanting to take a no-nonsense approach to the Health Department's finances. Two years ago the agency was audited and found to have so poorly mismanaged its money that it unnecessarily laid off 200 people. He's obviously leading by example, right?
At the same time, he was seeking to buy a new SUV for himself for his trips around the state for the Health Department, records show.
"The Commissioner does not want the 2020 Ford Police Interceptor, he would like to have the 2020 Ford Explorer," a Health Department employee wrote in a Dec. 30 email…
The Health Department in November paid $7,949 for 24 chairs for the commissioner's office, his conference area and a third-floor conference room, according to a purchase order. The chair described on paperwork as "For Gary" has a gas lift and cost $453.
In all fairness to Dr. Cox... wait... the guy leading our health department is not doctor. Let me start over.
In all fairness to Mr. Cox, the first thing any wise person will do when they get a new job is ask for a company car and better office furniture. Plus, when Cox requested the reduction in funds, who would have known that the worst goddang pandemic in over 100 years would've been merely weeks away.
That being said, we can blame Gary for trying to run the Oklahoma Department of Health like a business, and not a government agency to better serve Oklahomans.
In wanting to "appear" as though he is a great, fiscally conservative leader, he appeared to have cut funding to kiss Stitt's ass maintain the status quo instead of reinvesting it (with accountability and responsibility) and expanding much-needed community health services. There are currently 7 counties in Oklahoma without health departments, 6 of which are in Western Oklahoman. I'm not bitter about that at all, but after dropping damn near $8,000 of dollars on 24 chairs, it seems like it's more important for Cox to finance his aesthetic than his agency.
But this isn't the first time Cox has been criticized…
How long Cox remains commissioner is up in the air. Legislators would have to agree to a proposed change in the law for him to continue and the Senate would have to confirm him.
He faced public criticism in March over the testing of Utah Jazz players for COVID-19 at a time few test kits were available. He faced internal unrest over his initial insistence that even clerical Health Department employees come to work at the same time the public was being urged to stay at home.
But it wasn't some millennial blogger who seemed to disagree with how the Department of Health was handling COVID-19. Former State Epidemiologist Laurence Burnsed was known as a "straight talking" man when it came to coronavirus information and recommendations, who spoke out against the shortage of COVID-19 tests and warned Oklahoma businesses as early as March 12th to start planning to implement work-from-home protocols and loosening sick leave policies. This appeared to go against Stitt's "business as usual" approach to the pandemic and how Cox himself was running the Department of Health. In a press release that refers to Oklahomans as "stakeholders," the Oklahoma Department of Health announced on March 19th that the Burnsed was reassigned and replaced with someone Stitt seems to get along with better during press conferences.
I hope it doesn't take the deaths of hundreds of Oklahomans for our leaders begin to realize that state health departments can't be run like businesses and be effective at the same time. Being that he doesn't have the educational requirements for his position as head of the Department of Health, Cox either didn't realize how detrimental it can be to cut funding and replace an experienced head epidemiologist during a pandemic or he knows he has to kiss Stitt's ass to keep his job.
Whew. Follow Hayley on twitter @squirrellygeek
In my spare time, I officiate secular weddings, read about dead people, and search for the American Dream.
Stay in touch
Sign up for our free newsletter