Everything Else
OKC Weather Media Reports to Penn Square for 2020 Severe Weather Expo
6:57 AM EDT on March 9, 2020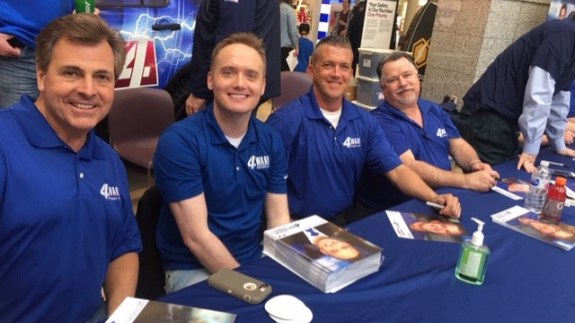 There's a lazy joke in Oklahoma – and basically everywhere else in America – that everyone has either said or heard:
"If you don't like the weather here, just wait five minutes and it'll change."
As unreliable as Oklahoma weather is, many of us still tune in to our local stations to see what's in store for us. Some of us even take things further by visiting Penn Square Mall for the annual Severe Weather Expo. It's basically the spring training for the local weather media.
Here are a few photos:
They should call this event what it really is: Weather Coachella.
Can you imagine trying to pitch this idea to your friends on a Sunday afternoon?
"Guys, we have to get to Penn Square Mall, STAT! The entire KFOR weather team is there to regale us with stories about the time the severe weather tried to kill them. We can even get signed headshots! We'll get it framed and make a day out of it!"
Granted, you could also just tell them Patrick's restraining order – Emily Sutton – was there:
Emily is nice, but to really boost attendance they should let a kid drive Chopper 4 or do donuts in the parking lot with The Interceptor.
Damon Lane was there to share advice on how to tweet hail photos:
The News 9 weather team was there, too:
David Payne looks weak! He must have been practicing his live weather screams all week.
Channels 4, 5 and 9 brought their storm chasing helicopters, while Channel 5 unveiled their new vehicle - Minivan 25:
And, of course, a weather expo wouldn't be complete without everyone's favorite Facebook weatherman who enjoys lifting weights – AT!
We're thrilled the weather media stepped down from their Mount Stormlympus to say hello to the Oklahoma commoners. Perhaps next time, they could include all the state weather teams so they can fight to see who is the ultimate pantheon of weather gods.
Stay in touch
Sign up for our free newsletter