ICYMI
Top 25 OKC TV News Blunders of the 2010s (Part 3)
9:55 AM EST on February 4, 2020
Welcome back to the third and final installment of the Top 25 OKC TV News Blunders of the 2010s! With what seemed like hundreds of blunders, bloopers and gaffes just from Dean Blevins alone, narrowing this list down to 25 was an extreme challenge. It also meant we couldn't include Tulsa gems like this one:
Anyway, you can view our Top 5 News Blunders of the 2010s below. If you want to check out the rest of the countdown, here are the links to Part I (25 - 16) and Part II (15 - 6).
#5 Everything Meg Alexander
The 2010s seemed to be a wild ride for Meg Alexander. While at KFOR during the first half of the decade, she was known for her "college freshman after their first ever hit of ditch weed explaining intro to Philosophy" demeanor, horrible sneakiness skills, and being snubbed by Mary Fallin during the ice bucket challenge. After parting ways with KFOR after years of service, Meg found herself hosting Living Oklahoma!, a cable news program on KOKH Fox 25 that appeared to cater to fans of good, clean fun and day-drinking alike.
However, after a series of interviews appeared to show Meg acting like Meg Alexander, it appeared Meg was no longer part of the Living Oklahoma! team. Since her tweets are protected and Facebook page is rarely updated, it's hard to tell what Meg Alexander is up to nowadays. But KFOR still has her awkward, "about me" up on their website, so it's almost like she never left the broadcasting business at all.
-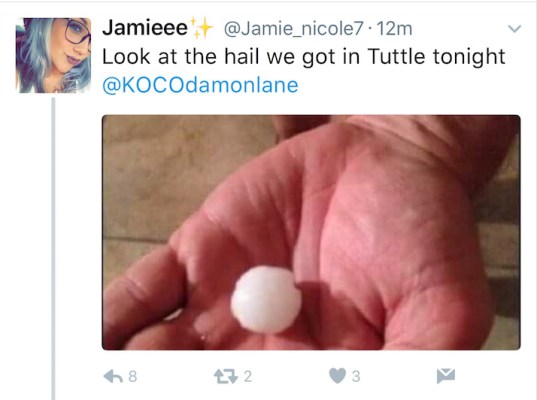 #4 Damon Lane tweeted a picture of some dude's dick
In 2017, Damon Lane accidentally tweeted a picture of hail that apparently included some dude's dick. In Damon Lane's defense, he at least evaluated the piece of hail well enough to conclude it wasn't a faked photo.
-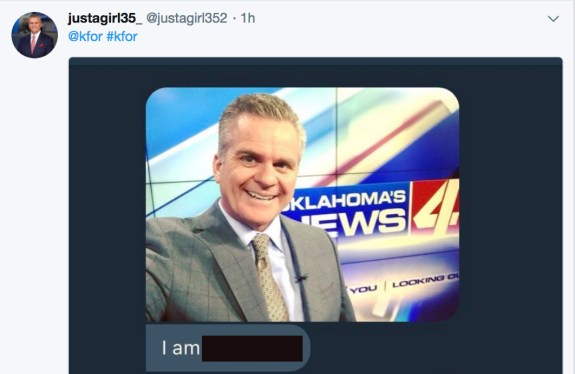 #3 Lance West's sexting scandal
In 2018 Lance "Danger" West (whose awkward "about me" is also still up on KFOR) resigned from his post after screenshots appeared online that showed Lance engaging in some graphic sexy time-inspired while on the KFOR set. After resigning, he was quickly hired by Pete Bryzick as a contributor for The Gazette, and then just as quickly – and despite assurances that they didn't care about his sexting scandal – let go as contributor for The Gazette. Now, true to his danger nickname, Lance works in communications for the Department of Corrections.
-
#2 Alex Housden compares Jason Hackett to a baby gorilla
Last year, KOCO's Alex Housden made a tearful apology to Jason Hackett after she compared Hackett to a baby gorilla on a previous newscast. We're not sure if the tears were part of a sincere apology or the simple realization that her career goals in local news media will now likely never be achieved (maybe both?), but judging by the racist comments made by pseudonyms on the internet, it seems like a lot more Oklahomans need to do some quiet reflection followed by apologizing as well.
-
#1 Emily Sutton said a bad word
In the biggest scandal to ever hit the Oklahoma media circuit, in 2014 Emily Sutton, the severe weather princess and physical manifestation of everything pure and kind in this world, made children and daffodils weep as she appeared to drop the "s" word live on air. Since then, Emily's tried to clean up her image by playing with koalas and baking cookies in her car. But ultimately, she knows we'll never view her in the same way again.
-
Did we miss anything on our list? Tell us in the comments and then follow Hayley on twitter @squirrellygeek
In my spare time, I officiate secular weddings, read about dead people, and search for the American Dream.
Stay in touch
Sign up for our free newsletter