Everything Else
No, Jeffrey Epstein did not win $25-million from an Oklahoma lottery ticket… or did he?!
3:47 PM EDT on August 14, 2019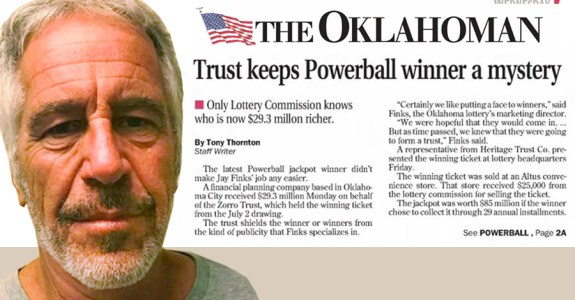 Over the weekend, some dude published a Medium article titled "Jeffrey Epstein won the Oklahoma Powerball lottery, July 2, 2008." The article received a lot of shares and traction online, but eventually was removed for violating the Medium terms of service.
This isn't the first time the accusation has made its way through the Internet conspiracy mill. In July, Bloomberg tried it's best to refute the story:
Did Epstein win the Powerball lottery while he was in prison?

It's not a completely crazy question. In August 2008, shortly after Epstein began his 13-month prison sentence in Florida, an entity called the Zorro Trust submitted the winning ticket for an $85 million jackpot. The ticket had been bought at a convenience store in Altus, Oklahoma. (The trust took the money as a lump sum, which came to $29.3 million after taxes.)

As it happens, Epstein had an entity called the Zorro Trust; he used it to make donations to politicians in New Mexico, where he had a ranch called — yep — the Zorro Ranch. (A federal prosecutor in New Mexico has begun an investigation into whether Epstein abused underage girls at his ranch.)

A few years ago, a lawyer representing some alleged victims took the prospect of Epstein winning the lottery seriously enough that he brought it up during a deposition with Epstein's former pilot.

But the Oklahoma City newspaper, the Oklahoman, did a little more digging and discovered that the anonymous winner worked in a grocery store across the street from the convenience store where the winning ticket was sold. Apparently, she decided to use the same name for her trust as Epstein did for his.

Not everything's a mystery. Sometimes, it's just a coincidence.
Yep, there's nothing to see here. The Oklahoman – a conservative newspaper that has always had a soft spot for global elites –learned that the anonymous lottery winner just happened to work in a grocery store across the street. Here's a snippet from the article:
Source says winner worked at grocery store

The winner is a woman who worked evenings at United Supermarket in Altus, the store's meat department manager confirmed.

Larry Cox declined to provide his former co-worker's name, saying the woman had requested anonymity.

"But if you had to pick someone in town to win it, she'd be in the one I'd pick," Cox said.

"It was just meant to be, I guess," he said.

The grocery store, at 600 E Broadway, is less than a block from the Stripe's convenience store that sold the winning ticket.
Hmmn. So the source for the article was the manager of a grocery store meat department with the last name Cox? That seems reliable enough. As we all know, it's virtually impossible for writers to make up sources, so I guess Bloomberg is right – sometimes, it's just a coincidence.
Or is it.
For giggles, I decided to see what the reporter of the article – Tony Thornton – was up to. From his LinkedIn profile, I learned that just a few months after the lottery story was published in The Oklahoman, he accepted a job with a big energy company: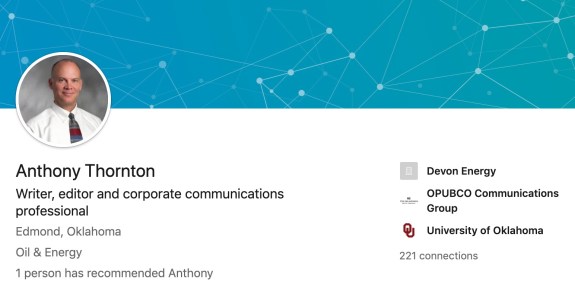 Devon Energy, as well all know, is an NYSE-traded energy company that uses massive loads of cash, debt and complex accounting methods to fund drilling operations all over the world. The company, which was co-founded by local oligarch Larry Nichols, has been a player in the global natural gas industry since the 1970s, around the same time another Oklahoma-born oligarch – Robert (Bob) Hefner III – became one of the world's most successful natural gas drillers.
Why does that matter? Bob Hefner III's name just so happens to appear in Jeffrey Epstein's little black book that was leaked online a few years ago: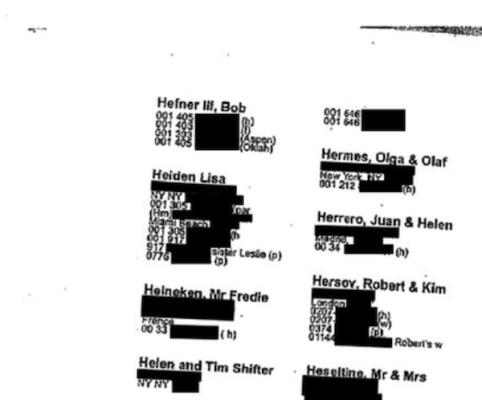 This would also probably be a good time to point out that Bob Hefner III, Larry Nichols and The Oklahoman's former owners – The Gaylord Family – all go way back. In fact, check out this 1989 Oklahoman article from the paper's society pages. It documents the time Bob Hefner brought his wife Lorna to Oklahoma City to meet all his Nichols Hills buddies. Guess who was there?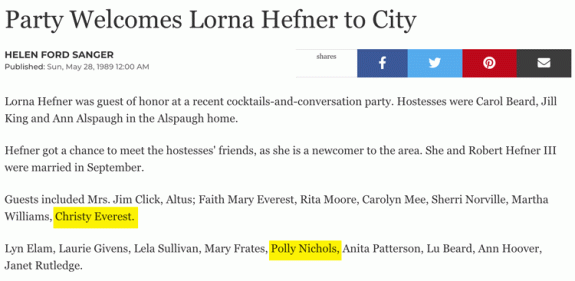 Isn't that nice? Polly Nichols is the wife of Devon Energy founder Larry Nichols, and Christy Everest, in case you forgot, would eventually become publisher of The Oklahoman! How interesting is it that Tony Thornton – the guy who reported that a sweet little grocery store employee won the lottery using a trust name that was frequently used Epstein – would eventually end up working for people who were closely associated with Bob Hefner, who, once again, had his name and phone number appear in Jeffrey Epstein's little black book? I'm sure it's all just a coincidence.
Actually, I am pretty sure this is all a coincidence. The point of this article is to show how easy it is to take random information from the Internet and then piece it together to fit some sort of conspiratal narrative. Hopefully we get a lot of pageviews out of it before Devon's lawyers ask us to take it down!
Anyway, if you have any inside information about who really won the lottery in 2008, or can uncover any connection between Zorro Trust and Zorro's Tacos – an old southside taco stand that had the budget to buy ads in The Oklahoman – let us know in the comments:
Stay in touch
Sign up for our free newsletter