Everything Else
Another Oklahoma Gubernatorial Candidate Arrested For Trying To Kill Someone…
12:54 PM EDT on July 30, 2019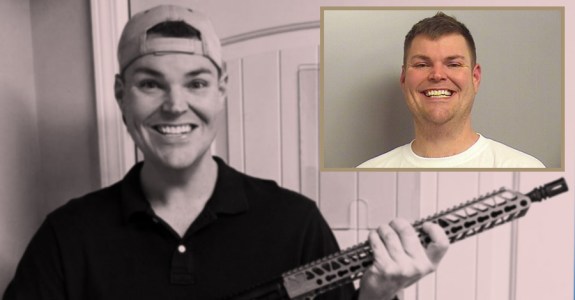 There's another openly gay, gun loving, marijuana smoking, attention crazed, Oklahoma gubernatorial candidate sitting in jail for trying to kill someone.
The only difference is this guy doesn't own a tiger zoo, shoot country music videos or sell his own line of condoms.
Late last week, Christopher Barnett – pictured above in his audition photo for the Joker – was arrested for shooting a process-server in the elbow at his house. He quickly posted $75,000 bond, drove home and went on a "I'm a guy who should probably be institutionalized" social media tirade where he declared his innocence while threatening and slandering everyone involved in the situation.
Chris's freedom didn't last long. He was quickly re-arrested by Tulsa PD the next day after gumshoes discovered his "satirical" plot to shoot up the University of Tulsa campus. The judge then set his bond at $1-million, but soon revoked it in the interest of public safety.
Here are details via The Tulsa World:
The right to post bond was revoked Monday for a former candidate for Oklahoma governor charged with threatening an act of violence against the University of Tulsa...

Though the Tulsa County District Attorney's Office has not yet charged Barnett in the shooting, it asked Special Judge April Seibert to keep Barnett in custody without bond during hearings on Friday and Monday.

Seibert on Friday set Barnett's bond at $1 million and ordered him to get an ankle monitor if he were released, as well as refrain from posting on his website or social media and surrender his passport.

Barnett, speaking on video from the Tulsa County jail Monday morning, said he would be able to post a $1 million bond and was willing to comply with Seibert's previous conditions after prosecutors asked her to reconsider her decision.

But Seibert said she would deny Barnett the chance for release on bond at all, telling him she reviewed video and audio footage of the shooting and found "there seems to be an acceleration of speech into action."

"I don't think there are any bond conditions I can take to ensure public safety," Seibert said.
Before we continue, Chris's threats aren't anything new. He's been doing it for years! Here's what we had to say about Chris last summer when we ranked the 15 Oklahomans who were running for Governor.
Christopher Barnett is an openly gay man from Tulsa. His passions in life are buying guns, worshipping Jesus, and suing, harassing and intimidating the University of Tulsa and its employees like a psycho. You can learn more about that at UniversityOfTulsaLawsuit.com. It's a rambling, incoherent, creepy mess of a website that never really explains why Chris is suing the University of Tulsa, but does serve as a great resource for mental health awareness.
Chris eventually took down the UniversityOfTulsaLawsuit.com website – a place where he threatened, intimidated, harassed and slandered a long list of people (us included) – and moved has deranged, psychotic ramblings to a new website: Transparency for Oklahomans.
Once again, Chris has been obsessively harassing, intimidating and terrifying people in the Tulsa community since 2014. Instead of covering that, and the danger he poses to the community, the Tulsa TV news media chose to ignore it and instead provide free media coverage of Barnett's medical marijuana related publicity stunts.
Tulsa Businessman Offers Help To Men Arrested In Pawhuska 'Hemp' Bust

A Tulsa business owner said he's willing to put up the bail money to get two truck drivers out of the Osage County jail.

Pawhuska Police arrested the men for hauling what police believed was nine tons of marijuana, but the men said it was legal hemp.

Chris Barnett owns a carpet cleaning business and a marijuana grow operation; he said he's outraged the men are still behind bars.

I could not believe that these guys were sitting in jail 30 days later," he said. "And it outraged me."

"[Osage County] made a mistake," Barnett said. "Go ahead, suck it up, admit to it and do the right thing."
Okay, so the guy may be a certified basketcase, but at least he has common sense views when it comes Oklahoma law enforcement's overzealous crack down on hemp shipments! Let's not focus on what divides us, but what brings us together.
Here's another one:
Marijuana proponent issues $500K challenge

As campaigns go, the push to legalize marijuana has been predominately a bare bones grassroots effort.

"We're running low on our money, because we funded this out of our pockets," said Isaac Caviness of Green the Vote, not resting on his laurels with the success of 788, but pushing onward for two constitutional initiatives, and pushing for donations to help make it happen...

Down the street at a soon to be ex-liquor store, the owner is proposing a way to help move the effort forward.

"We're selling all of our inventory, and we're planing to make this a medical marijuana dispensary," said entrepreneur Chris Barnett, ready to dive into the industry and do his part to make sure it takes off.

"Between now and August 1, I'll match dollar for dollar up to $500,000 all donations made to Green the Vote," Barnett said.
Let's ignore for a second that Chris was dealing with the liars at Green The Vote, or that while the Tulsa TV media was publicizing this bullshit Chris was writing cruel, viciously evil things about Tulsa professors, attorneys and their families. My question is simple – where does this lunatic get his money??!
Seriously, the dude claimed he could easily post $1-million bond and match $500,000 in donations to marijuana advocacy scam? It could all be a lie, but considering how much he spent on all the billboards promoting his Tulsa lawsuit website, he seems to have access to serious funds. In fact, it kind of makes you wonder why he doesn't own a tiger zoo or develop his own line of condoms.
Anyway, I guess we'll continue to watch and monitor this story as it develops. In the meantime, it's time to update our odds on who will be the next 2018 Oklahoma gubernatorial candidate to try and kill someone. I'd bet on Dan Fischer, Cowboy Stephens, and considering our state's obsession with botched executions, Kevin Stitt.
Stay in touch
Sign up for our free newsletter