Everything Else
Report: Devon hired "Budget Glass Cleaning" to unsuccessfully clean tower windows
2:08 PM EDT on July 15, 2019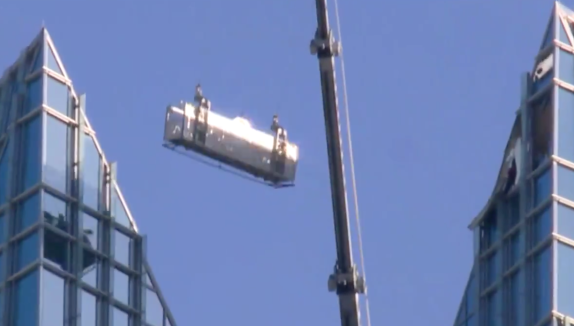 As some of the windows at Devon Tower remain covered by plywood following last May's "Window Wash of Terror" pop-up thrill ride, The Oklahoman has launched an investigation to figure out what caused the event that captivated viewers from across the world.
Via Oklahoman.com:
Expert: Window washing incident atop Devon Tower in May likely human error

On the morning of May 15, two men swung violently in a window washing basket at the top of the Devon Tower in downtown Oklahoma City...

An expert told The Oklahoman he speculates the incident likely was due to human error because of weather conditions on that day.

Stefan Bright, safety director for the International Window Cleaning Association, said wind speeds atop the 50-story building likely were too high for safe usage of the machine.
"If it wasn't so windy, these guys would have gotten the platform down and been able to tie it in (to the side of the building) and been able to work safely," Bright said. "Without exploring all the facts, I'm leaning toward this as user error."
I mean no disrespect to the fine people of the International Window Cleaning Association, but are they really blaming the two dudes who were hanging for dear life as the lift twirled around Oklahoma City like a cheap fair ride? Considering those high-flying daredevils were likely just doing what their bosses told them to do, that seems kind of weak.
Without exploring all the facts, I'm leaning toward a different cause – Devon is fucking cheap.
Check this out:
According to OSHA regulations, whatever entity owns a building is responsible for having the window washing unit fully inspected by a "competent person" once a year, as well as having an inspection 30 days before use.

They also are responsible for making sure that anyone using their window washing unit is trained...

Devon uses workers from the Tulsa-based company Budget Glass Cleaning. The company was not available to comment on its training procedures by deadline.
Wait. One of Oklahoma's richest companies hired Budget Glass Cleaning to wash the windows on their $750-million glass tower that protrudes from our skyline like a giant blue glistening cock? Don't blame the guys on the lift – the "user error" on this goes to whoever was put in charge of hiring them!
Seriously, I know the energy biz isn't booming like it once was, but was Budget Glass Cleaning the best they could do? Was Premium Glass Cleaning too expensive? If so, we should be concerned. Budget Glass Cleaning sounds like the type of place that sends door-to-door salesman in nicely pressed Polos to canvass local neighborhoods in search of a cheap buck. Hell, maybe that's how they got the job...
Knock-Knock
"Devon Energy, how may I help you."
"Hey, my name is Kevin with Budget Glass Cleaning. Who would I need to talk to about getting your windows cleaned?"
"That would be Mr. Nichols."
"Can I speak to him?"
"I'll send you up."
Stay in touch
Sign up for our free newsletter