Everything Else
Oklahoma Turnpike Authority is messing with Midway…
12:12 PM EDT on April 22, 2019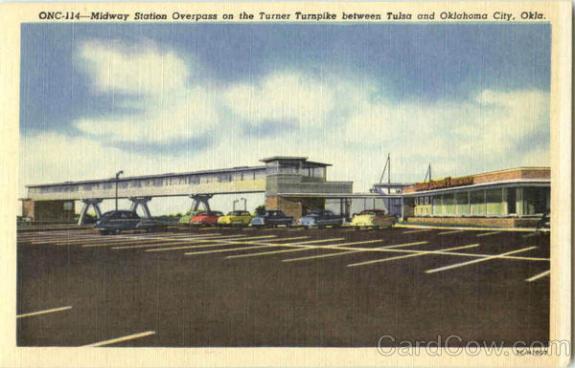 The drive from Oklahoma City to Tulsa is going to become a little more boring.
Earlier today, The Tulsa World reported that big changes are coming to the old Midway McDonald's located at the halfway point between the two cities, with access from the OKC to Tulsa side being closed.
According to the World, this will really affect broken homes:
A turnpike service area between Tulsa and Oklahoma City that provides a meeting point for people exchanging kids, pets and valuables is going away as a halfway stop serving both directions.

The Stroud service area on the Turner Turnpike will undergo major renovations and become a westbound-only stop in the next two or three years.
"People exchanging kids, pets and valuables?" I remember my grandfather meeting my aunt at Midway to pick up my cousin a couple of times when I was a kid, but wouldn't a more accurate description be "provides a pitstop for people who need to eat, get gas or really go to the bathroom?" That's what most people use it for, right?
I rarely, if ever, make a stop while driving to to Tulsa, but I always loved navigating the Midway area. The curve on the southbound side is always fun – especially if some trucker is trying to merge from the left – and the cruise control-altering slow down always keeps the two-hour drive from Tulsa to OKC interesting.
Knowing all that, I have to question why are they closing off access. Is this part of Stitt's secretive "Tulsa first" plan?
The change is part of major overhauls to the turnpike's service areas designed to improve safety, said Oklahoma Turnpike Authority spokesman Jack Damrill.

"That service area, as it is now, is going away," he said. "Parents who exchange kids will have to find a new location to meet up, probably the (other) McDonald's (just east on Oklahoma 99) in Stroud."
What the hell? They are going hard on this parents exchanging kids angle. Did DHS turn the McDonald's into a mobile DHS field office? It may be time for the Tulsa World to have a group therapy session.
The current service area — located almost exactly halfway between the state's two largest cities — has become congested with semi-tractor trailer parking, and its outdated design isn't safe for motorists, he said.

"You have high-speed traffic merging with low speed traffic in the left lane(s)" when traffic from the service area merges onto the turnpike, he said. "That curve is dangerous."

The service area was designed when the speed limit was 55 mph, not 75 mph, he said. A bill signed by Gov. Kevin Stitt last week would allow the OTA to raise the speed limit to 80 mph.
Whatever. The "unofficial" speed limit on the turnpike has been 80-mph for at least 25 years now, and increases even more whenever you get around the Hiland Dairy. The new speed will not change a thing.
With Midway access not available to OKC motorists, we are going to get our very own McDonald's outside of Chandler:
Plans call for the OTA to straighten the highway on the south side of the current service area, as well as construction of a new building that will house both a McDonald's restaurant and an EZ-Go convenience store, Damrill said.

Currently, the two are in separate buildings.

Only traffic heading toward Oklahoma City will have access to the new service area, he said.

Another, new service area for eastbound traffic heading toward Tulsa is being constructed about 4 miles east of the Chandler exit, he said.
That service area will also have a McDonald's and EZ-Go, he said.

In addition, both new service areas will have about 125 semi-truck parking spaces.
Sarcasm and novelty aside, that doesn't seem like that bad of a plan. I'll miss the idea of a Midway, but just like when they took down the Howard Johnson skybridge that went over the interstate, we'll forgot about it eventually.
Anyway, I guess that kind of sums things up. Anything else we need to know?
Damrill said plans call for the current McDonald's and EZ-Go to remain open as long as possible while the highway is being realigned and until the new building housing both can open.
Damrill said he realizes parents and others who have been meeting halfway between Tulsa and Oklahoma City at the Stroud turnpike service area to exchange kids and other reasons will be disappointed that the site will be changing.
Actually, parents could still use Midway as a halfway point even after it closes. Sure, you may have to park on the shoulder, dodge cars going 90 mph and hop a few concrete barriers, but it can be done safely most the time.
Stay in touch
Sign up for our free newsletter