Everything Else
OKC named 3rd deadliest US city for pedestrians
8:30 AM EDT on March 13, 2019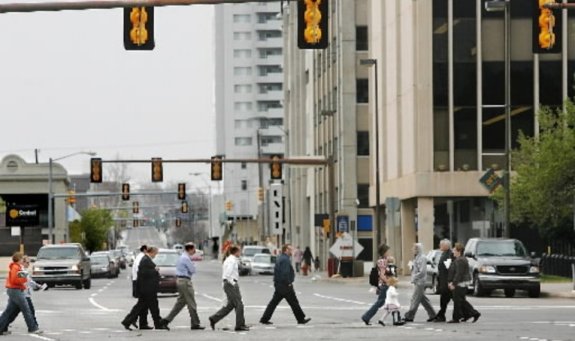 It's not that quiet of a secret that Oklahoma City is an unsafe hellzone for people not insulated inside a 2-ton bullet of steel and aluminum. There are plenty of citizens in town who can't or don't drive, and both the physical and psychological landscape is not designed for them. Not only are sidewalks and public transit limited and meager for most of the city, but drivers have an absolute disregard for people using bipedal methods to get around.
If you are reading this as a person who does most of their walking from their driveway to their car and then their car through the parking lot, consider this: How much do you complain about your fellow drivers? How they don't use their turn signals, don't pay attention to changing lights, and seem to have a general disregard to the rest of the road? Now, take yourself away from the safety of your side airbags, and consider being just a person on foot and trying to avoid getting plowed down by some dick driving 50 mph while making a live Instagram video.
If this suddenly makes you feel concerned, your fears are validated: OKC is one of the most primo places in the nation to get hit by a car. From KFOR:
OKLAHOMA CITY (KOKH) — Experts with AAA Oklahoma are urging pedestrians and drivers to stay vigilant days after we move the clocks forward for daylight saying time, saying the time change increases pedestrian and driving dangers.

According to the National Highway Traffic Safety Administration, or NHTSA, Oklahoma City was ranked as the third deadliest city in the country for pedestrians.

"As we adjust to different periods of darkness with Sunday's daylight saving time change, motorists and pedestrians need to take extra precautions as risks increase," said Leslie Gamble, manager or public and government affairs at AAA Oklahoma.

Gamble said 75 percent of crashes involving pedestrians happen in the dark.

"Dark is in the early morning now with this daylight-saving time. We have now a good hour more than we used to. We have this week and weeks to come of darkness," Gamble said.

According to NHTSA, 76 percent of pedestrians are hit in areas such as sidewalks, bicycle lanes, median/crossing islands and other non-traffic areas.
That's a bummer. I guess pesky pedestrians should stay out of places that aren't meant for cars. If only there was something that we could do to prevent all of this...
Gamble said that puts walkers, joggers or those getting to school at risk.

"You've got to be extra careful and watch for vehicles in parking lots, along the streets and especially where there's a lot of entertainment districts, anywhere you might be crossing," Gamble said.

Gamble said if you're out at dark, you should always wear light-colored clothing and stay off your phones.

"Phones are one of the major things we believe is a factor in the increase. We've seen a 45 percent increase in fatality due to pedestrians being hit by cars in the last nine years," Gamble said.
It's probably due to people on foot being on their phones, not drivers checking Facebook. I'm certain that the American Automobile Association is applying that statistic correctly.
You should also stay alert and avoid alcohol consumption.

"With alcohol, there's slowed processing of information and slowed reaction times. You've got to be personally responsible whether walking or driving," said Gamble.

According to NHTSA, in 2016, 28 people in Oklahoma City died in a pedestrian crash.

Across the country, the NHTSA reports, in 2017, 5,977 pedestrians were killed in crashes. In 2016, 5,987 pedestrians were killed in crashes.

Gamble said according to studies, that number this year is expected to rise.

"We have a long ways to go before we curb this problem," said Gamble.
Gotta love great advice like this from AAA, who places the onus of not getting hit by a car on pedestrians, not the motorists. This is the same logic as blaming a rape victim for the way they dress.
"If you didn't want to become a smear on the pavement underneath the wheels of an F-350 with a nutsack on the bumper, maybe ya shouldn't have gone out wearing those headphones!"
Putting the responsibility on humans moving at 3 mph versus the ones blasting down city streets at 20 times that speed is pretty damn silly.
Just last week, somebody was killed in a hit and run on north Western, and we're gonna see many more of these over the course of the year.  Some new members of city leadership are taking this problem seriously, but until they can get serious funding and planning, it's going to be like a real-life game of Frogger trying to navigate our streets by foot.
Stay in touch
Sign up for our free newsletter