Food
The Texas Chicken Fried Steak Massacre
10:40 AM EST on March 4, 2019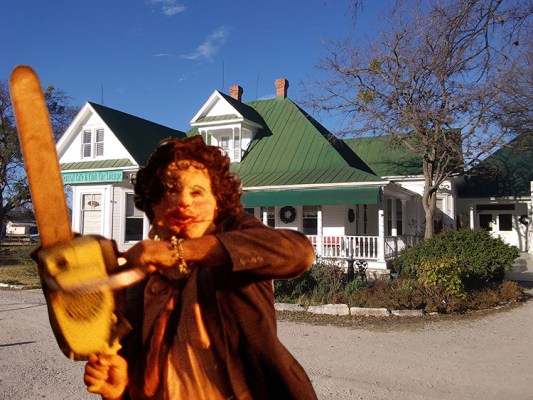 There is nothing so appetizing in all the annals of hunger like a freshly prepared chicken fried steak with your choice of eggs, a bowl of grits and a warm, flaky buttermilk biscuit for breakfast, served bright and early at the Grand Central Café, 1010 Kings Court in Kingsland, Texas. What make this quaint country house so notable, however, isn't just what's for breakfast—it's also happens to be where they filmed the classic horror film The Texas Chain Saw Massacre.
While the house today is mostly a moderately fine dining establishment, serving breakfast, lunch and dinner to visitors both hungry and curious, in 1974 it was the dilapidated home where the Sawyers, a cannibalistic clan of inbred folks, made mincemeat out of a lost van full of dirty hippies, their sexy girlfriends, and, most problematic of all, a routinely annoying handicapped dude named Franklin.
But even more than that, it's the horrific visage of Leatherface, a hulking monster of a man armed with a chainsaw and a love for family, that, over 40 years later, still makes driving the hill country backroads of Texas a nerve-wracking experience...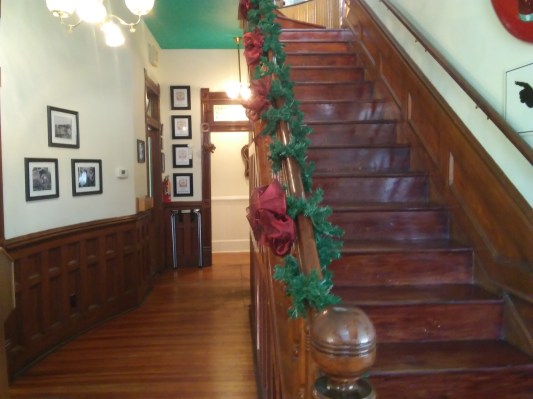 Pulling into the dirt parking lot in the quiet berg of Kingsland, though the house has been moved to a new location and given a good scrubbing, one half expects Sally Hardesty to come running out of the front door, screaming to high heaven; back in reality, a seemingly nice elderly couple came walking out of the white door, laughing and grinning, to-go boxes in their wizened hands. Maybe they're Texas Chain Saw fans too?
As I walked in, I immediately noticed the staircase and the infamous room behind it, a former human butcher's block with plenty of meat-hooks to hang today's kill; as I was trying to take a nosy glance, my waiter, a bald man with a big smile, welcomed me in and promptly sat me down by the window in the front room. Handing me a menu, I asked him what was good, hoping he'd entice me into some off-the-menu sausage and chili—all Texas-style, of course—but instead offered their notable Chicken Fried Steak and Eggs.
As I was waiting for my breakfast to run screaming from the kitchen, I sipped coffee as I walked around these hallowed horror grounds, the middle-aged regulars offering me quick smiles before returning to their own food and friends. Carefully slinking up the stairs, as I turned the corner I saw the now simply attractive extra seating section, once the place where Sally was endlessly tormented, so much so that she jumped out the second-floor window in a bid for freedom.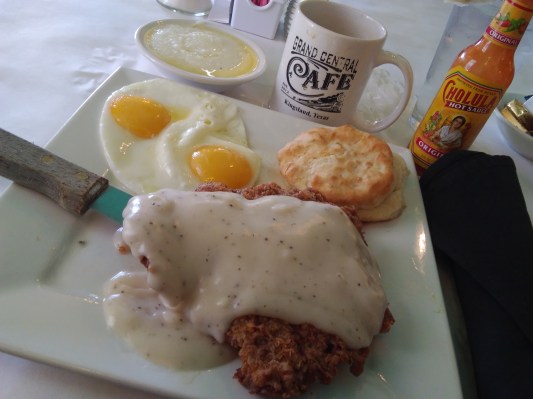 Coming back down to my table, the Chicken Fried Steak was more than ready, accompanied with made-to-order sunny-side up eggs, a bowl of more-than-buttery grits, a thoroughly genteel buttermilk biscuit and, to get a little Lefty Enright up in there, a bottle of Cholula hot-sauce. It was the most Texas meal in town, and I laid that fork and knife into the pounded steak, tearing the flesh piece by piece, devouring what I could and boxing the rest up.
It was actually a beautiful meal and the Grand Central Café is a beautiful venue. Wiping a little bit of gravy from the corner of my mouth, I took one final sip of the fine coffee they served. After paying the check, I walked next-door to the Club Car Bar, where they had basic Texas Chain Saw memorabilia strewn about, from film props to autographed posters, as well as a gift shop where I purchased a shirt.
Driving away, the Café in my rearview mirror, it reminded me of the old Chain Saw poster and its tagline: who will survive and what will be left of them? Well, I can tell that I survived, and what's left of me will definitely be buzzing back the next chance I get, because, as some of us all too well know, the saw is and always will be family. Cómpralo ya!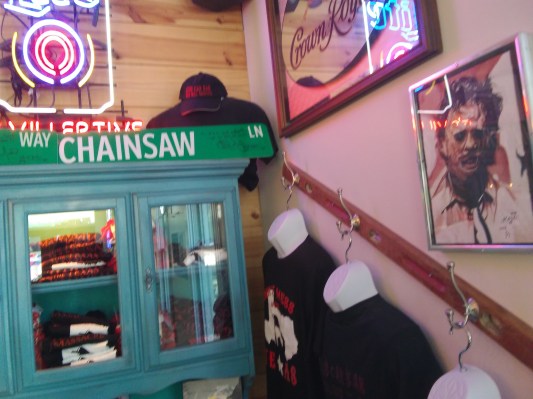 _
For hours and directions to the Grand Central Café, click here.
Follow Louis on Twitter at @LouisFowler and Instagram at @louisfowler78.
Stay in touch
Sign up for our free newsletter