Food
TLO Restaurant Review: Stuckey's Travel Center (in Marietta)
8:41 AM EST on January 3, 2019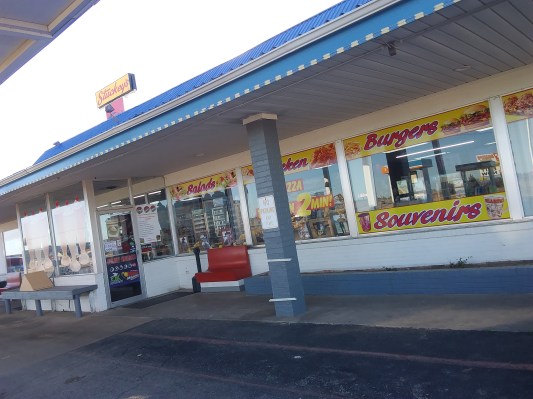 Once the sacred cathedrals of greasy hash and greasier eggs, truck stops were grimy joints where surly waitresses took your order of shit on a shingle while gruff cooks kept the flattop fryer running all day and all night; meanwhile, out back, a bulky concrete cowboy is popping ephedrine while making fast friends with a spun lot lizard who needs $20 bucks and needs it fast, man.
Yes, these mighty outlets of diesel fuel and cheap grub that dotted the mythical highways and mystical byways across this stolen land of America have mostly disappeared, replaced with a scathingly corporate scene that is pretty much just one Subway sandwich shop after another, all as uniformed and soulless as their $5 meatball marinara footlongs.
Driving down barren I-35 however, I felt the twisted bite of that road demon deep in my seat-heated back and I'm pretty sure it wasn't a pang of Mini-Thins withdrawal; no, that's when I saw a sign proclaiming that Stuckey's, one of the more classic of classic truck stops, is finally back in Oklahoma—Marietta, in fact.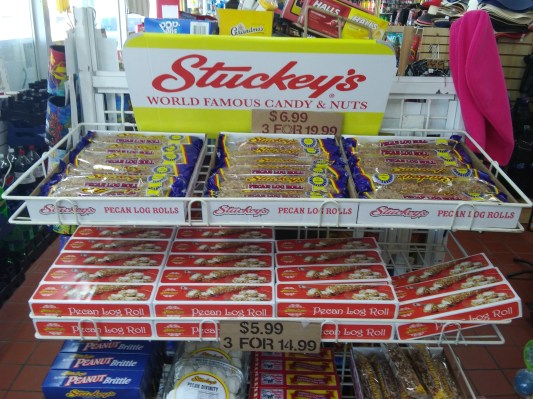 Urging me to take Exit 15—about 30 or so miles from the Red River—Stuckey's is now primarily known as a brutally kid-friendly joint that sells an awful lot of those inedible pecan logs, but, still, if it's enough to make me feel even a little bit like I'm in a Dave Dudley song, well then I'm just a truck drivin' Kia Soul drivin' son of a gun. Pass the red-eye gravy, hoss.
As the tires crunched on the gravel parking lot, it set in quickly from the outside that this isn't the Stuckey's of my youth. Basically a refurbished gas station of sorts, sure they've got the coffee cups, Mexicans blankets, lacquered 'gator heads and, of course, all types of licensed confectionaries, but it didn't really feel like a classic Stuckey's.
Like most things around here though, it manages to be a completely alien take on the famed place, giving a decidedly small-town Okie bent to the narrative. For example, inside was a little café called Turbo Joe's that promised "fresh and hot" food in "two minutes." But what intrigued me even more was the MS Paint signage on the door that promised two eggs and toast for only 99 cents.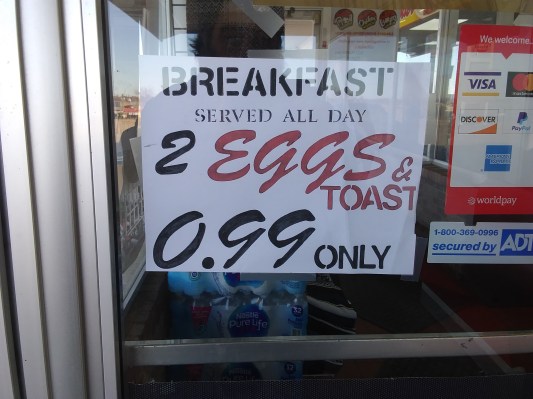 Sure, I could have spent that money on a sugar-free Ol' Glory and a few Horny Goat Weed capsules, but it felt like the best breakfast deal to come along the Oklahoma interstate in at least 50 years—of course I had to take advantage of it.
Giving the sullen cook behind the counter my measly buck, they weren't lying: in two minutes flat, there was a basically perfect sunny-side up pair of "chicks" sided with two "life-rafts" sliced into a few convenient triangles. But will a buck's worth of egg and bread take me on to Texas with a satisfied mind?
After a dropping a bit of prepackaged ketchup and salsa on the eggs, it sure was a helluva lot better than I expected, greasier than my hair and twice as edible. Even better, the toast was defiantly delicious, having soaked in the steady grease of the grill, creating an almost too decadent taste for my impoverished blood.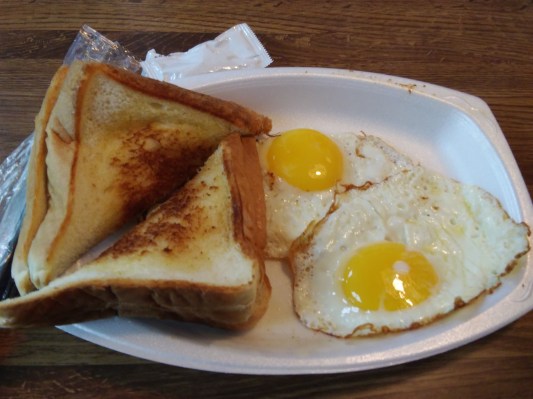 Yep, it was a sturdy enough breakfast that gave me that pilled-up county mountie desire to mash the motor and put the hammer down on into San Antone, which I beyond willfully did.
If there was one drop of lifeblood in this Stuckey's, something that gives it the honest appeal of a dingy truck stop, it's the unusually clean Turbo Joe's. It's damn good to know that some aspects of the plaid-shirted American cornerstone of the dirty road continue to live on, clogging the hearts and souls of the scant patrons that curiously fly through here.
And, in case you're wondering, there were no sleeper creepers shuffling around and trust me, I scoured that whole pickle park—I was on vacation after all. Cómpralo ya!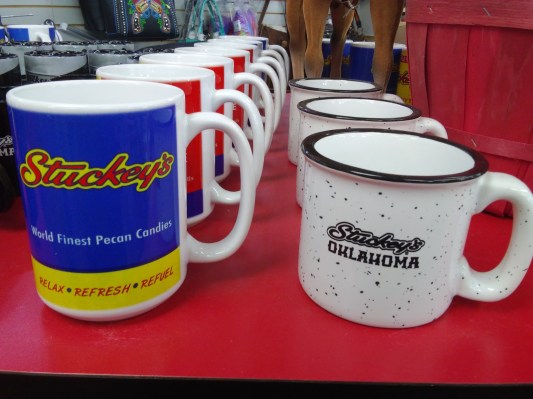 _
Follow Louis on Twitter at @LouisFowler and Instagram at @louisfowler78.
Stay in touch
Sign up for our free newsletter