Everything Else
A Cold Day in Hell: Brigadoon Army Surplus vs. The Oklahoma Winter
8:48 AM EST on December 6, 2018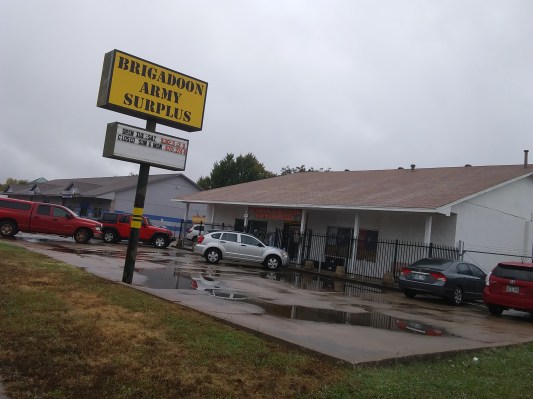 Oklahoma winters are, to me at least, always so post-apocalyptic. It doesn't help matters that, around this time, the local news channels begin their yearly holiday of frightening the populace with the latest in ratings-grabbing theories of a fully winterized Armageddon of sorts.
Fearing a sudden sheet of permafrost descending upon me very soon, I preeminently made a trip to Brigadoon, 1805 S. Sunnylane Rd. in Del City. Advertised as the last "genuine" military surplus store left not only in town but in Oklahoma, it was a good time and a great place to get a jump on avoiding this year's ultimately frigid death by using and abusing the best of the best of military trash and treasures.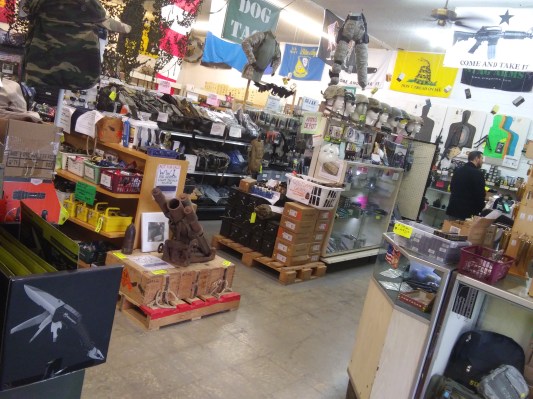 A budget-minded survivalist's wet dream—well, I guess more frozen than wet—Brigadoon is really the only place that those of us who dwell in the shacks, lean-tos and shanties that are sprinkled throughout Oklahoma City can go to find the gear needed to survive another winter in this Okie Hell; from thermal blankets to formal rations, the goods at Brigadoon can really take the edge off as you breathe your last few visible breaths, all for just a couple of American greenbacks.
Now, whatever philosophical disagreements I may have with the owners or customers—per the vehemently pro-Trump discussion overheard as I was scouring the aisles—they are immediately put to the wayside because in this one moment, right or flight aside, we are all bonded in one common goal: to make it out mostly unscathed to a far more first-worldian season of a virgin mother's vernal warmth in a couple of months.
Trump, schrump…pass the Hot-Hands...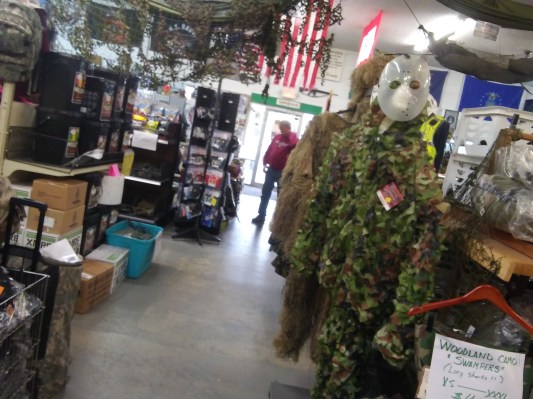 The military-strength coats and jackets were on sale out front, but I preferred the attack force-style snow-suit inside, bundled together tightly with all types of internal layers of warmth, the protective use of a "for entertainment only" gasmask added for end-times panache. And maybe strapped to my hips a small axe and a folding shovel—you never know when you're going to have to axe something or shovel something in this hyperborean landscape, cluttered with the refuse of a society that took their heaters for granted.
A single tear made a wet line down my face, but it soon turned into a clear salty crystal as I lamentably started to think about protection from looters, wolves and most other survivalists. Brigadoon has an excellent selection of pocket knives and bigger blades on the cheap, along with plenty of ammo for that 12 gauge or 9mm Luger in case that neighbor who still has your screwdriver tries to forcibly come inside your abode, aiming to steal batteries, water and food for his children. Sorry pal, but it's the end of the world as we know it and I feel…
Wait a second…dammit, I forgot to pack some provisions.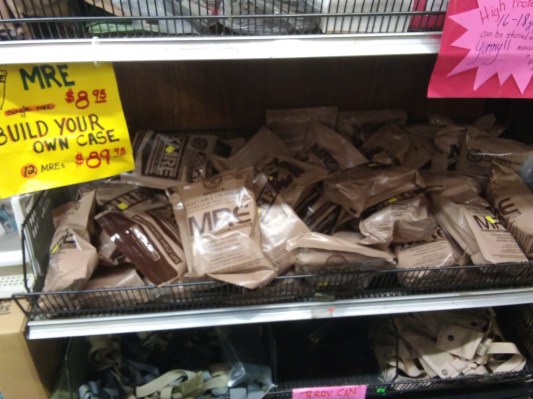 Thank God that Brigadoon has a very well-stocked supply of government-supported MRE's—that Meals Ready to Eat, son—from the packed-tight cases of a dozen on sale right down to the economical individual packets at $8.95. Even better, they all have somewhat agreeable flavors that should appeal to even the most hard-to-please bastards at your emergency folding table down in the basement.
It was the film Top Gun, if I'm remembering correctly, that told me these armed forces-loved food-packets were a delicious time with the boys, be it playing volleyball with your shirtless pals or taking heavy fire in a Russian warzone. Convinced, I bought a couple of packets of the Department of Defense's "Warfighter  Recommended, Warfighter Tested, Warfighter Approved" vegan-special Vegetable Crumbles with Pasta in Taco Style Sauce, only 210 calories. God bless America.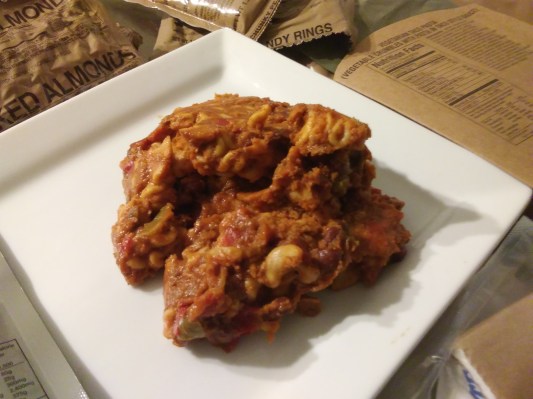 I mostly cooked my Vegetarian Taco Pasta, as the box instructed, with the handy portable food-cooking sleeve—do not overfill, it warns you—providing the only warmth I felt as the temperature dropped to record lows. Thankfully, the military-level serving was a wonderfully compact mush that not only, per the package, gave me "top performance" with more energy, it was also quite delicious, like a premium can of Chef Boyardee.
And while the arctic chill can make those hunger pangs even stronger than usual, don't worry, they've got you covered there; included in the package is chunky peanut butter and a large square of crackers, mixed fruit in heavy syrup, smoked almonds, an oatmeal cookie, peppermint candy rings, a nice selection of condiments and, to wash it all down, French Vanilla Cappuccino instant powder, which I mixed in my half-buck packet of U.S. Coast Guard-approved Emergency Drinking Water.
Stomach filled over-the-line on Vegetable Crumbles with Pasta in Taco Style Sauce, I turned the light on my kerosene lamp down a couple of notches, the dim flame bringing to mind the once mighty sun that warmed our precious faces, now blocked out thanks to the choking clouds of gloomy climate change. So thanks, Brigadoon, for the cheap survival goods—with this well-rationed protein and by sheer fate, God's will, I know that I'll be here to help defibrillate this damned state come 'round April or so.
Good luck, Oklahoma, and always remember: steal here…die here.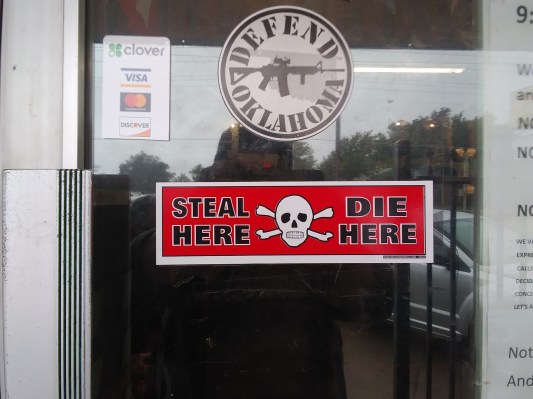 _
Follow Louis on Twitter at @LouisFowler and Instagram at @louisfowler78.
Stay in touch
Sign up for our free newsletter