Everything Else
Jesse Jane refutes public drunk charge. Claims she was drugged… again
1:30 PM EST on December 5, 2018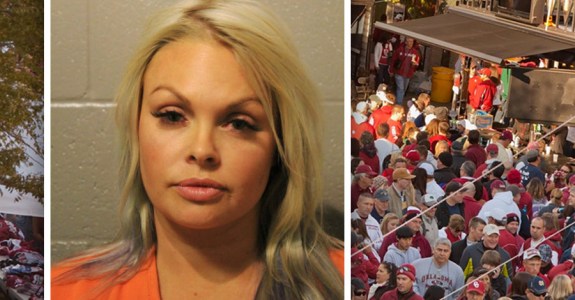 Back in November, we reaffirmed our status as the premier source for Oklahoma porn star news when we reported that adult film star Jesse Jane – star of romantic thrillers such as Diary of a Perv, Hot Rod for Sinners and Cuckold Creampie 7 – was arrested in Norman on public intoxication charges following Bedlam.
Our report was pretty tame by TLO standards, but it ruffled the feathers of Jesse's companion that night – Taylor Clark. She was the person who went to the game with Jesse and, afterwards, apparently left her alone and intoxicated on the streets of Norman. After our article dropped, she left this comment on our FB page. It has since been deleted: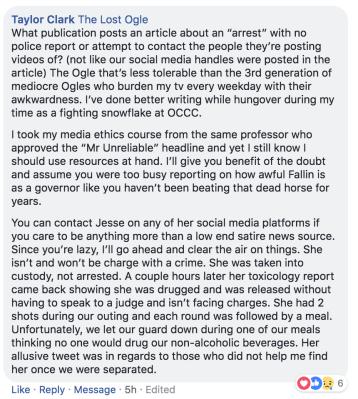 Who cares that the Cleveland County jail doesn't perform toxicology reports, or that it's very common for people to be released without seeing a judge for a public intoxication arrest. I'm excited that we're now receiving media ethics advice from Oklahoma City Community College students! As an esteemed member of the college's Alumni Hall of Fame, that warms my heart more than Jesse Jane's filmography.
A couple weeks after our hard-hitting report, KFOR News channel 4 – a click-starved media outlet that's joined us in the bottom of the barrel – followed up with a report of their own. It included additional information that would make any community college student proud, including police body cam footage of Jesse's arrest...
I don't know about you, but isn't it kind of strange to see Jesse Jane talking to a cop on camera while fully clothed? I was waiting for funkadelic beats to play in the background and Officer Evan Stone to arrive on the scene and say he has the situation handled, if you know what I mean.
For most OU fans, being arrested on public drunkenness charges following a great Bedlam victory would be a badge of honor they'd proudly brag about at any metro Henry Hudson's, but not Jesse Jane. Despite the convincing video evidence that she was just shit faced drunk, she took a cue from her BFF Taylor Clark and denied the news.
"So when I was taken in, they were going to book me and stuff, but I was released because I had been drugged. And it was clear that I had been drugged. So, I never spent the night in jail, I never actually got arrested," said [Jane], in a phone interview with News 4 Friday afternoon.However, Norman Police and the Cleveland County Sheriff's Office confirm Taylor was arrested and jailed. Police reports show officer made contact with [Jane] near Jones and E Main St. in downtown Norman shortly after 7:15 p.m. According to Cleveland County Sheriff's Office records,[Jane] was booked into the detention center at 8:39 p.m. and bonded out of jail at 1:05 a.m. November 11 for $367.50.
So she posted bail, but denies being arrested? That sounds kind of fishy. But who knows, that could be how the Oklahoma criminal justice system works now. Either way, maybe it's time for Jesse to pursue a career in Oklahoma politics. She definitely has the qualifications. She loves sex, boozing and apparently lying about it all the following day.
Here's more:
[Jane] said she had two drinks with a girlfriend at a Campus Corner bar and blacked out prior to being found nearly a mile away in downtown Norman."I didn't even come into consciousness until somebody was trying to hold me up and fingerprint me," said[Jane], who in a previous phone call with News 4 Friday morning admitted to being arrested, but said she was immediately released after claiming the jail conducted a toxicology test showing she had been drugged. But jail officials tell News 4 toxicology screens aren't done at the jail and when News 4 spoke with [Jane] Friday afternoon, she changed her story."Yeah, and then I got a drug test and showed that I was roofied," [Jane] said. "I had a drug test at the little store that you get the drug test from."
Interesting. That's the very same story Jesse Jane told TMZ when she was caught on video passed out drunk on the Vegas strip with some friends back in 2015. Check this out:
Porn star Jesse Jane says what looked like a case of her getting wasted Tuesday in Las Vegas was really the result of her getting roofied.A rep for Jesse says she slammed 2 shots at a bar inside a Vegas hotel … problem is she got them from a stranger. Soon after, Jesse and her friends left the bar and she passed out cold on the Vegas Strip, which was when the video was shot.Friends managed to get her back to her hotel room where she recovered. Jesse believes she was drugged because she woke up not remembering much, feeling weak and vomiting.We're told she's OK, but resting up.
Wow. The stories are virtually identical! What a sad and amazing coincidence! KFOR asked Jesse about that, too. This was her reply:
"So I do know it does look bad. The Vegas thing, yes, I was drugged. Trust me, I do understand it looks bad. I'm not sitting here trying to act like I'm an innocent person, you know?" she said.
Yeah, I don't think anyone who's seen Jesse in their incognito browser will accuse her of being innocent. Maybe it's time for Jesse to stop accepting drinks from strangers at bars after she's had a couple of shots. It would keep her out of trouble, and save her and her friends the embarrassment of having to lie about it the following day.
Stay in touch
Sign up for our free newsletter