ICYMI
Oil Overlords use slick Texan to slip The Oklahoman some propaganda…
2:37 PM EDT on October 8, 2018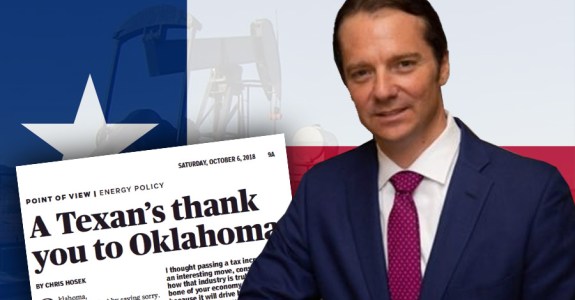 The Oklahoman may be under new ownership, but the paper's mission to use its editorial page to mislead and misinform its few remaining subscribers remains as strong as ever.
With the Governor's race a dead heat, and Drew Edmondson already proposing to raise the GPT back to 7% to help fund our state's crumbling education system, The Oklahoman published an editorial from a Texan named Chris Hosek on Saturday. It "thanked" the Oklahoma legislature for raising our state's gross production tax from 2% to 5% during the last legislative session and, as he puts it, "drive business and capital dollars away from your state down to us in Texas."
Check it out:
Point of View: A Texan's thank you to OklahomaI want to start by saying sorry. I should have said "thank you" sooner, but as you can imagine, we are pretty busy down here in Texas. I wanted to thank you for passing one of the largest tax increases in your state's history, which will land almost entirely on the back of the oil and gas industry...I know it may seem odd for someone from Texas to thank the Oklahoma Legislature, but let me explain. I thought passing a tax increase was an interesting move, considering how that industry is truly the backbone of your economy. I thank you because it will drive business and capital dollars away from your state down to us in Texas. I can't think of a better marketing campaign for my own business. As the saying goes, Texas is wide open for business...
I know Texans are an arrogant bunch, but if Oklahoma really passed a law that drives business across the Red River, don't you think they would keep that info to themselves and enjoy the riches? Why celebrate it by writing a letter to Oklahoma's largest newspaper during OU - Texas week? This would be like Bill Anoatubby writing an editorial to the Dallas Morning News thanking Texas for not legalizing casino gambling.
Here's more:
Now that the dust has settled on Oklahoma's legislative sessions over the past two years, we can take stock: The Legislature passed five laws that directly raised taxes on the oil and gas industry in Oklahoma by more than $600 million. It also raised the gross production tax on old and new wells to 5 percent for the first 36 months of production and 7 percent from there on out. This brings Oklahoma's effective gross production tax to more than 6 percent on oil and gas, while Texas is at 4.6 percent on oil. This has all but eliminated the economic advantage once held over Texas.
That's interesting. Notice how he compared Oklahoma's GPT tax on oil and gas to what Texas charges just on oil? That's probably because Texas pays a combined 8.3% gross production tax on oil and gas, and Chris doesn't want to let facts get in the way of whatever mission he is trying to accomplish.
With the shale revolution, plenty of other states have access to these same natural resources. Just because you have oil in the ground doesn't necessarily mean a company has to drill the well. Businesses can move the capital investment from state to state. A company with assets in Oklahoma and in Texas will look at this new tax bracket and undoubtedly conclude that it can get a better return on investment in Texas. That may mean a company will drill one less well in your state, and one more in Texas.
Yeah, just because you have oil in the ground doesn't mean a company is going to drill a well. That's a good point. If history has taught us one thing, it's that the oil industry, along with its wildcatters and roughnecks, are cautious and prudent, and not in any way hyper-aggressive or cut-throat when it comes to extracting natural resources from the ground (or defending favorable tax rates). They're more than happy to leave that extremely profitable oil deep underground for some sucker to go after.
All of the new tax increases mean companies are going to be looking for acreage where the cost of business is predictable and reasonable. Here in Texas, it is. So I want to thank you and then welcome the capital investment and new businesses to Texas. I know our wins in the Red River Shootout have been few and far between in recent years, but when it comes to the energy business, Texas just took home the title.Hosek lives in Austin, Texas.
As we mentioned, you may be asking yourself why some random Texan wrote an editorial to The Oklahoman thanking our state for sending oil business down south. They never write letters to the Legislature thanking them for all the porn Oklahomans once bought at DWs, KTs and TKs.
One idea is that Gatehouse Media – The Oklahoman's new owner – is based out of Austin. It could also be that the author – Chris Hosek – appears to be nothing more than a paid shill for the oil overlords. He's a lobbyist for something called Texas Star Alliance, and openly brags about all the work he's done for the oil and natural gas industry:
Chris Hosek is a principal of Texas Star Alliance, specializing in direct lobbying and state agency relations. Chris has experience with a broad range of legislative issues and policy initiatives including a specific expertise in the energy sector. Chris served as the Chief of Staff for 5 years to the Chair of the Railroad Commission of Texas, Elizabeth Ames Jones. The Railroad Commission is the regulatory body that oversees Texas' energy industries including all levels of the oil and gas industry, pipeline safety, gas utility rates and the permitting and reclamation of coal and uranium mines.

Prior to his work at the Railroad Commission, Chris was also the legislative director for Jones in the Texas House of Representatives for the 78th and 77th sessions. Chris served as the House's committee aide to the Appropriations Committee, responsible for drafting the state's two-year budget. He was also committee aide for Jones on the House Energy Resources Committee, where he received his background in the energy field. Chris served in various roles for elected officials where he managed and developed legislative issues.
Interesting stuff, huh? For some reason, The Oklahoman never mentioned a thing about Hosek being a lobbyist for the oil and gas industry. They just passed him off as some guy from Texas. You think that would be an important thing for the reader to know, right? It's almost like they want to deliberately pass along biased, oil-funded propaganda to mislead the few remaining subscribers they have left. I should send a letter to the new owners thanking them for that, because the longer the paper goes down that same partisan path, the better it is for our business.
Stay in touch
Sign up for our free newsletter