Everything Else
Joe Exotic Framed!!! (Claims Joe Exotic)
12:42 PM EDT on September 14, 2018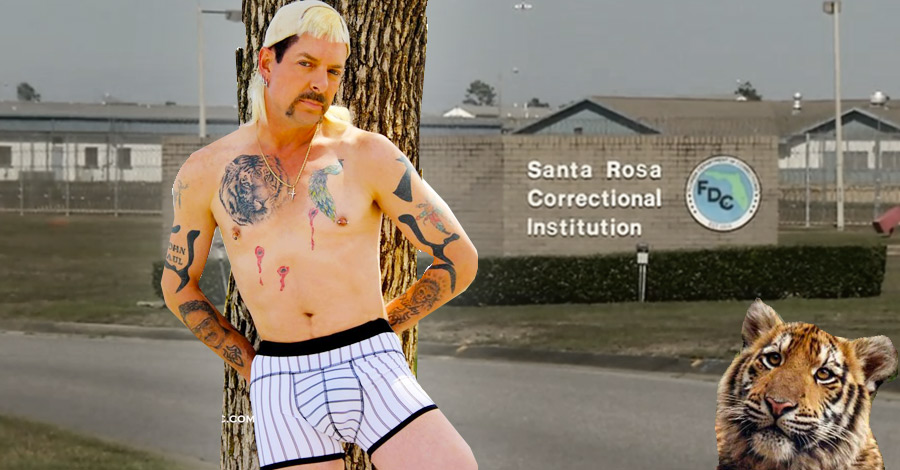 Let's give credit to Joe Exotic and his former pals at the GW Exotic Animal park. They like to keep things interesting.
Less than a week after being arrested in Gulf Breeze, Florida on murder-for-hire charges, Joe Exotic gave an interview to Briana "Spin The Black Circle" Bailey with The Frontier. Naturally, Joe claims he's innocent of all charges, and that the whole thing was a big setup orchestrated by enemies, business partners and probably even PETA.
Via The Frontier:
Speaking from a Florida jail cell, Joe Exotic said he was framed in an alleged murder-for hire scheme."I've been set up and I have four cell phones full of screenshots and text messages to prove it when I get back to Oklahoma," he said...Carole Baskin, CEO and Founder of the Florida animal sanctuary Big Cat Rescue—a longtime foe of Joe Exotic—is believed to be Maldonado-Passage's intended target."I've been fighting with her in court since 2011. Do I like the lady—obviously not," Maldonado Passage said. "But If I wanted her dead, wouldn't I have done it before spending three quarters of a million dollars on legal fees?"
Joe has a point. Had he known in advance he was going to spend so much in legal fees and get stuck with a million-dollar judgement against him, he obviously would have hired someone to kill this lady much sooner. Also, does anyone else feel sorry for the FBI agent who has to scroll through four of Joe Exotic's old cell phones? They'd better make sure to wear gloves and safety goggles, and seek proper counseling when they are finished.
Here's more:
Maldonado-Passage claims his former business associate, Jeff Lowe, who owns Greater Wynnewood Animal Park, set him up in an FBI sting operation in order to take control of his animals and zoo."These charges have been drummed up by three convicted felons to overtake my zoo and get my animals," he said.
Who cares that 98% of federal indictments turn into convictions or plea deals, or that Joe blew up puppets representing the Big Cat lady and issued threats in videos, or that some Ogle Moles have warned us in the past that Joe was very dangerous and they were fearful of him, I'm going to take Joe's word on this one.
I'm doing this because...
A) I can.
If some wackos can believe that the moon landing is fake or 9/11 was an inside job, I should be able to believe that a silly pot-smoking country yahoo who owns operated a tiger zoo and provides branded-condoms to children is innocent of murder for hire charges.
B) This Jeff Lowe guy is almost as entertaining as Joe Exotic.
Give Joe credit. He found a business partner who is almost as weird as he is!
In case you didn't know, Jeff claims to be the former manager of Evel Knievel and his son, Robbie Knievel. Just like Joe, Jeff is an eccentric, sex-crazed tiger freak who lives life to its most irresponsible fullest, and sometimes finds himself in hot water over the treatment of tigers and other exotic cats.
Joe and Jeff had a very public fallout over the summer. It resulted in an absurd and way-too-fun-to-observe social media mud-slinging. It went into high gear when Jeff returned from a Facebook suspension in early August. He claimed Joe was talking trash and in some hot water:
Joe apparently responded by sharing screenshots of private message conversations he had with Jeff, including ones where Jeff bragged about living the "Vegas life," and how he and his wife had 3-4 girls (who look like they may be strippers or escorts) living with them at any given moment.
Jeff is apparently very proud of his "dream" lifestyle, shared a screenshot of Joe's posts, and accused Joe of stealing $88,000:
Look at that?! Jeff Lowe and Christina Fallin have something in common – they both like beautiful things!
Jeff then turned the tables and shared these photos that were allegedly found on one of Joe's flash drives: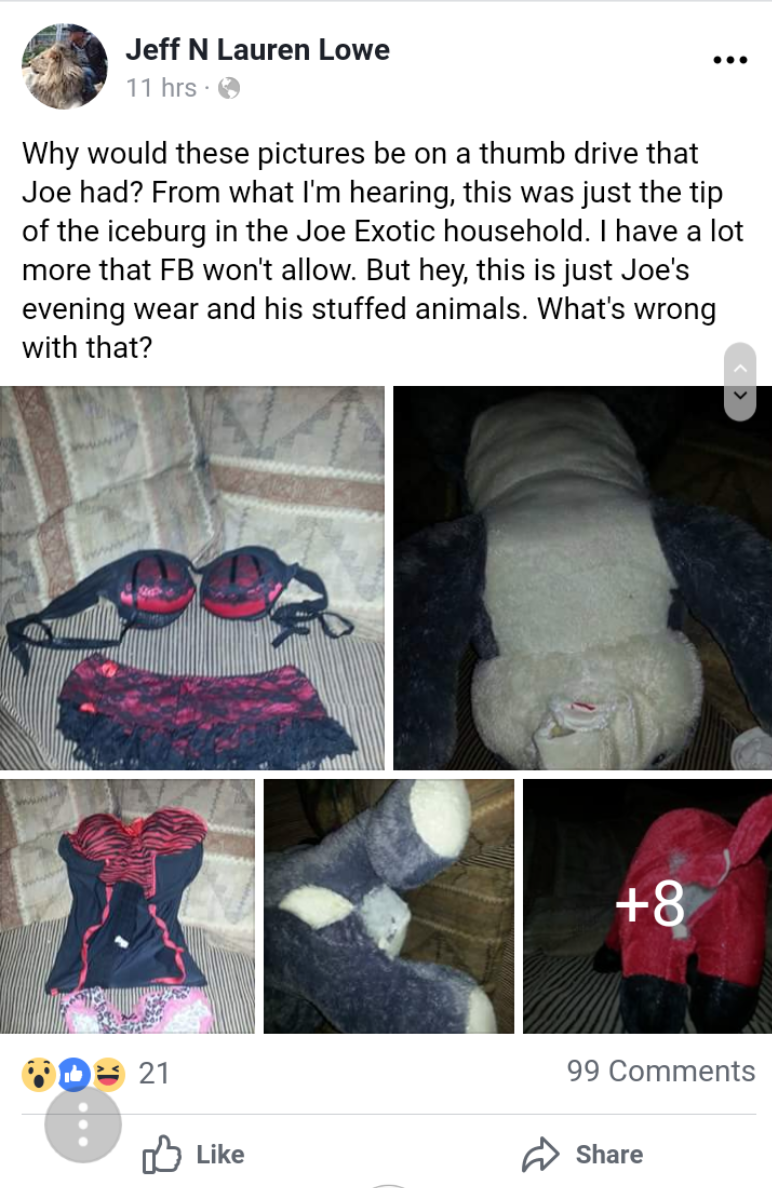 Wow. That's grrrrreat! I guess we finally know which band of hooligans ruined the Oklahoma Furry Convention. Now that Joe's in jail, maybe they can bring it back. This is the last visible post from Jeff's page:
That's the final visible Facebook post from Jeff N Lauren's personal Facebook account. Since then, they've been sharing stuff on the official GW Exotic Animal Park page, like this nugget that reveals Shaq is now a business partner: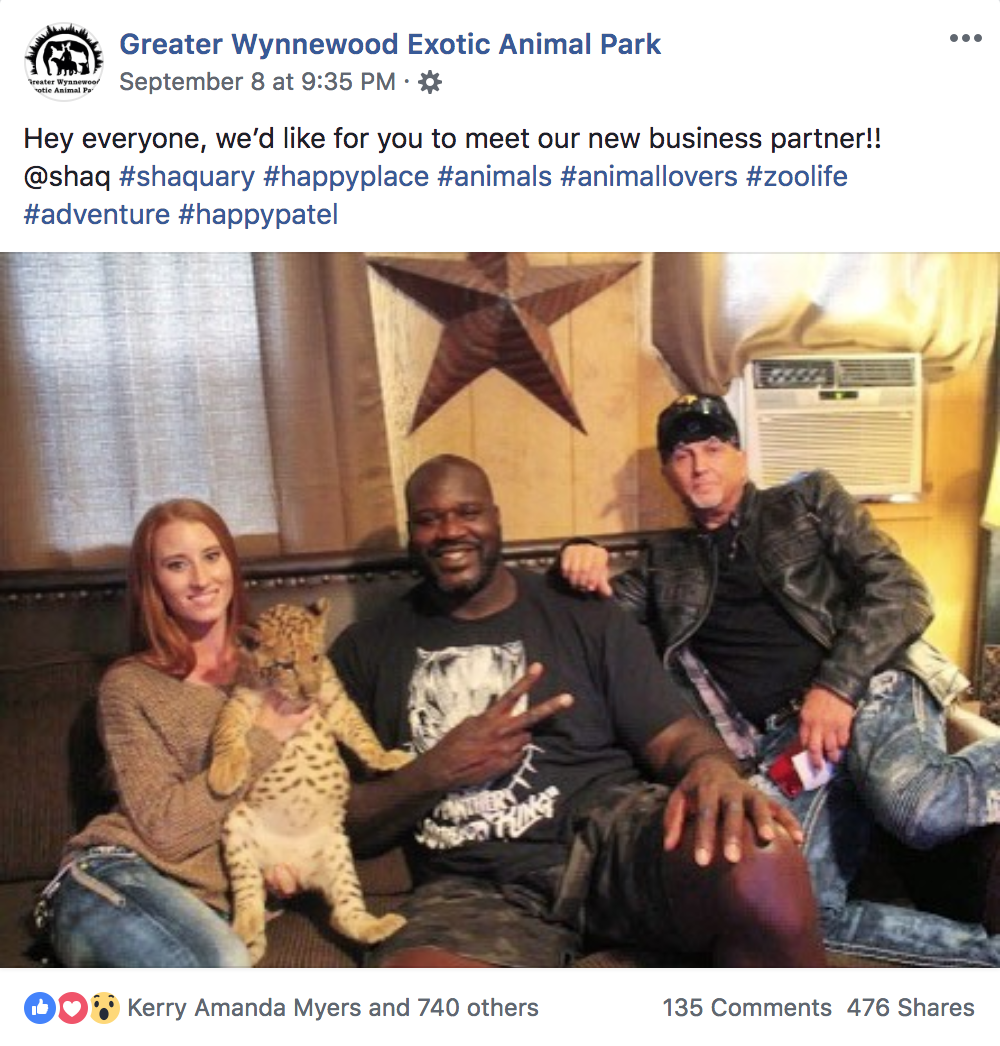 Yep, Shaq is partnering up with Evel Knievel's former roadie to save a tiger zoo that was operated and formerly owned by a gun loving, foul-mouthed aspiring politician who was indicted on murder-for-hire charges. Oklahoma sure is a great place.
Anyway, I guess I should probably wrap this up before I find myself inside a liger cage. We'd like to wish Joe Exotic the best of luck proving his innocence. We'd also like to wish Jeff Lowe the best of luck finding new Vegas strippers and sick tiger cubs for his orgies. And most of all, we'd like to give our most sincere condolences to the FBI agents who have to scroll through Joe's flash drives and four cell phones. You're in our thoughts and prayers.
Stay in touch
Sign up for our free newsletter