Everything Else
Tulsa is getting a fancy new park that residents can feel smug about
8:48 AM EDT on August 22, 2018
For a small state with little of its own unique culture, Oklahomans sure love to find ways to divide ourselves. There's the obvious OU vs OSU rivalry, where amateur sports teams from schools that most of the fans didn't attend rankle residents' emotions against one another. We'll even fight about allegiance to giant gas stations, like Quik Trip vs OnCue, or which State Fair food truck created the 'original' Indian taco.
Perhaps the most vicious source of contention in the state is Tulsa vs OKC. Any time we run a story that even vaguely mentions Tulsa, it's a countdown for the first comment along the lines of "Well, you know it's the cultural capital of the state," or some other smarmy remark that is often unrelated to the topic at hand. In reality, there's enough pros and cons between the two cities that it's basically a Springfield vs Shelbyville situation.
Here in a few weeks, a massive new park that cost nearly half a billion dollars will open up on the Arkansas riverfront. They've been letting groups come in and get sneak previews, and it sounds very impressive. It even got press from the vaunted 'coastal elite' publication, The New York Times:
TULSA, Okla. — The landscape architect Michael Van Valkenburgh is a diviner of places, a city whisperer.

Though he had never set foot in Tulsa, he was coaxed to a flat, ho-hum stretch of land overlooking the Arkansas River by the billionaire philanthropist George B. Kaiser, who was bent on building a park.

Confronting this hodgepodge site with killer views of an oil tank farm and a power plant, Mr. Van Valkenburgh, who created Brooklyn Bridge Park, Maggie Daley Park in Chicago and other celebrated cityscapes, responded the way he typically does. "A limitation," he will say about challenging terrain, "is the beginning of a gift."

Seven years later, the Olmsted-style transformation of 66 acres in the central city is now Gathering Place, a much-anticipated $465 million park that opens Sept. 8 as one of the largest and most ambitious public parks ever created with private funds — and the latest example of deep-pocketed citizens rebuilding cities through projects they perceive to be in the public good.
I'll admit, it looks pretty incredible. My Oklahoma City cynicism is suppressed by pictures of this place: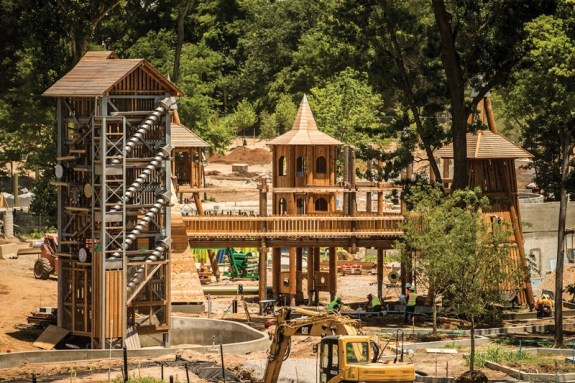 I grew up in Midwest City, and the coolest thing we had at Regional Park back then was a metal rocketship that baked you like an oven and had filthy graffiti scrawled all over the inside. This is pretty next level.
In addition to the bonkers playground, there are also running trails, courts for multiple sports, a boathouse, a friggin' skatepark, gardens, a nature trail, and just about anything you'd want from a public space. Before this, the only thing I was really jealous about Tulsa having was Cain's Ballroom.
BUT WAIT- OKC just had a ribbon-cutting ceremony on its very own new park yesterday:
Feast your eyes on Kerr Park:
Yeah, that's right! We've got a lawn, a pavilion, and some tables! Read 'em and weep Tulsa!
Ok, we don't have anything else to compare at the moment, but next summer, OKC will open Scissortail Park, a controversial MAPS project (aren't they all?) that will boast 70 acres on the Oklahoma Riverside. That's a whole FOUR ACRES LARGER, how bout them apples, Tulsa? Also, the project only costs taxpayers $132 million, because we'd rather fund it ourselves than take charity from billionaires who made their money avoiding paying taxes.
Let's have a look: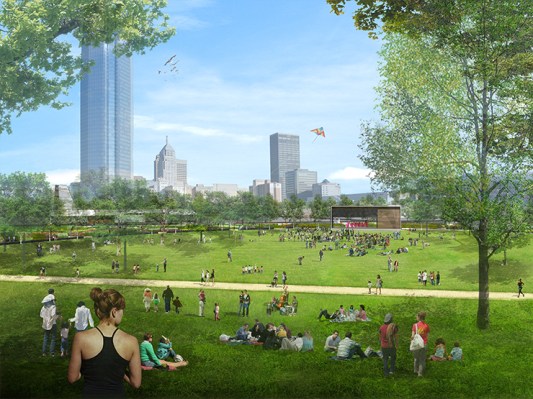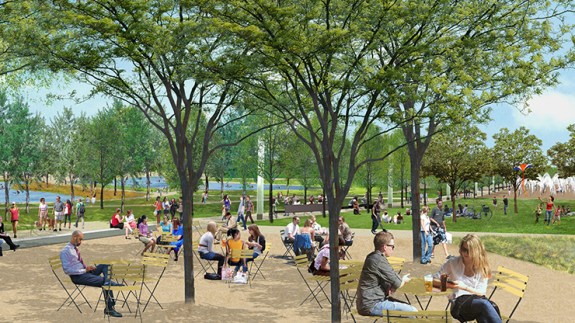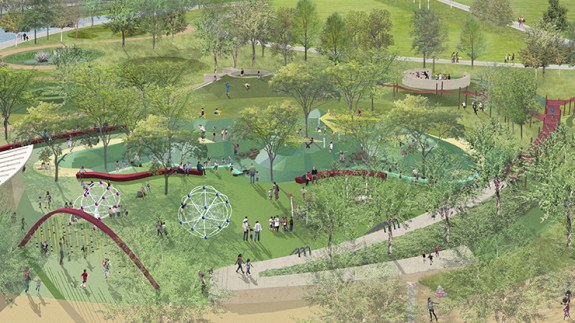 Okay, so Scissortail Park is just going to be a larger version of Myriad Botanical Gardens Sponsored by Devon Energy or whatever we call that park now. It still looks like nice enough, but pales in comparison to this new one in Tulsa.
The only way OKC can win this fight? It's very possible that local Juggalos will see a new park called The Gathering Place, and take it over into a clownpaint shanty town, where Faygo is currency and the 'Whoop whoops!' will echo through the night. It will be my mission to make this park a new Mecca for Juggalos around the world.
But for now, you win this round, Tulsa.
Stay in touch
Sign up for our free newsletter