Politics
Breaking News – Mick Cornett and Kevin Stitt are both Pro-Life
11:35 AM EDT on July 17, 2018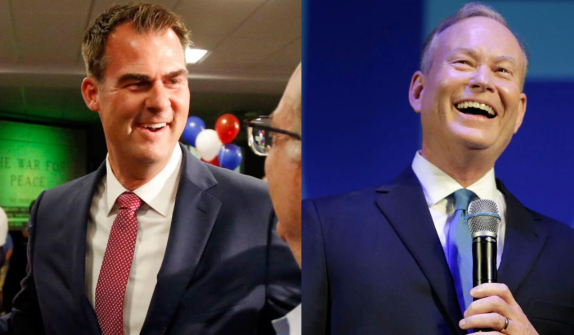 On Sunday, The Oklahoman's Chris Casteel examined where Mick Cornett and Kevin Stitt – the two guys who will battle in the Republican gubernatorial runoff in August – stood on the agreeable, always fun to discuss issue of abortion.
Via NewsOK.com:
Mick Cornett and Kevin Stitt, the two candidates vying for the Republican gubernatorial nomination, say they would sign legislation banning or restricting abortion, even if it would violate abortion rights granted by the U.S. Supreme Court in two major decisions.

Cornett said at a Republican forum in May that he would sign legislation banning all abortions except in the cases of rape, incest or to save the life of the mother. Stitt says he would sign every piece of anti-abortion legislation that came to him.
Wow. Two Oklahoma Republican politicians who are seeking public office have pro-life views. Hard to believe, huh?
For some people, I think it was.
Despite Oklahoma's long-standing tradition of being one of the most pro-life state's in the country, the article generated a bunch of buzz, fuss and controversy on social media, especially from moderate to liberal Big League City millennials who like Mayor Cornett because of the OKC Renaissance and all that stuff.
For those people, I'd like to point to this: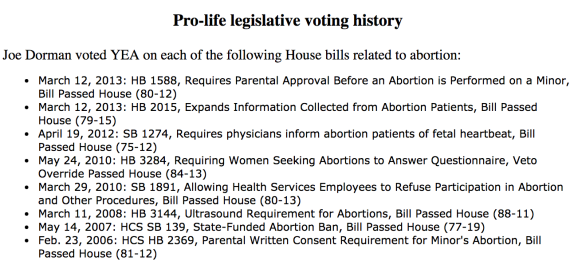 That's how 2014 Oklahoma Democratic nominee for Governor Joe Dorman voted on Oklahoma abortion bills when he served as a State Rep.
Oklahoma Gov. Brad Henry signs 3 anti-abortion bills

Gov. Brad Henry signed measures Monday to prevent women from getting abortions based on the gender of the fetus, require that only qualified physicians administer the RU-486 abortion pill and protect employees who refuse to participate in abortions.

A New York-based women's rights group says it will wait until the end of the Oklahoma legislative session to determine whether it will challenge anti-abortion legislation.

Henry signed the three measures without comment.
The beloved Democratic governor Brad Henry has pro-life leanings and signed anti-abortion legislation? No wonder he was such a popular governor!
So, what about Drew Edmondson? According to his campaign materials, he supports a women's right to choose. That's good. However, as Attorney General, he routinely defended our state's wacko anti-abortion laws, including ones that were written by Scott Pruitt!
State to appeal abortion ruling

Oklahoma will appeal a Tulsa federal judge's ruling that strikes down the state's parental-notification abortion law.

Attorney General Drew Edmondson predicted the appeal to the 10th Circuit Court is winnable.

He said most abortion laws for minors require either parental consent or parental notification before such an operation can be performed...

The bill's author had been hoping for Edmondson to appeal the case.

Informed of the appeal, Sen. Scott Pruitt, the author of the parental notification law, said: "That's great. I'm encouraged the attorney general is taking up the matter."

Pruitt, R-Broken Arrow, said appealing the federal court decision is the right thing to do.

"I think we have an opportunity to set a precedent on a unique approach," Pruitt said.
I still can't believe that stooge was put in charge of the EPA. Truth is still stranger than fiction.
Anyway, I'm not trying to throw Joe, Brad or Drew under the bus. Despite what they think on the wedge issue of our time, I still like them. I'm also not trying to defend Mick and Kevin's views. As a pro-choice guy myself, I'm just saying...
Right or wrong. Democrat or Republican. Oklahoma is a pro-life state. Virtually every politician is going to be a pro-life candidate. In this upcoming election, try not to base your vote on a vitriolic wedge issue that will never be solved in our lifetime, and instead focus on more important issues that really matter, like gun control, immigration, and whether or not it's okay for athletes to stand for the National Anthem.
Stay in touch
Sign up for our free newsletter