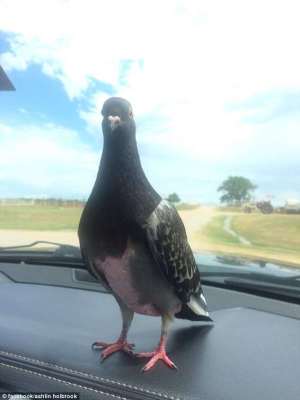 It's always refreshing to see positivity plastered across the headlines! Oklahomans across the state tuned into their local station to hear the good news everyone had been praying for. A missing emotional support pigeon was found safe, sound, and poopy in the OKC metro.
OKLAHOMA CITY - A Texas girl's missing emotional support pigeon has been found in southwest Oklahoma City.
Geraldine may just seem like a pigeon, but she's a best friend to Ash Holbrook and a certified emotional support animal.
KFOR makes the whole "emotional support animal" certification process sound like grad school for birds. In reality, animals can be certified for $50 and 12 minutes spent filling out this sketchy online application. Not to say Geraldine didn't work hard for her birdseed.
But, before you start trying to prove the effectiveness of emotional support animals by posting anecdotal evidence, know that I agree that the animals can be helpful to many people. In fact, you can find research articles on how having such a pet can do things like reduce mortality chances in certain cases of social isolation. And hell, bringing your weenie dog Carlisle into Walmart may just lower your social anxiety. I don't know. I don't know you.
But I am skeptical of the effectiveness of a support pigeon. This is not only because Geraldine flew away from the person she's supposed to support. But if you're going to take in a stray bird as a supportive companion, at least make it something that can defend you in a badass way, like a falcon or hawk. How'd they lose her, anyway?
The family, who lives in Sherman, Texas, decided to come to Oklahoma City for the NRHA Derby this past weekend.
While parking at the Oklahoma State Fairgrounds, Geraldine managed to fly away. She thinks the 4-hour car ride from Texas made Geraldine think she was home.
"It was just so weird," said Holbrook. "She got up really high and flew around and then took off. It was so weird. I know her. I know she will come back."
The Holbrooks asked Oklahoma City residents to be on the lookout for Geraldine, who they said was wearing a pink diaper.
Maybe the Holbrooks were taking too long at their stop. I don't blame the bird for wanting to fly away from the fairgrounds as soon as possible. Unless it is State Fair time or you're meeting up to pick up a couch from some guy you met on Craigslist, no one in their right mind wants to be there. Apparently not even birds. But unlike most State Fair or craigslist meetups, in Geraldine's case there's a happy ending.
After searching all weekend, Geraldine was found Monday, in the 3300 block of S.W. 46th Street.
The family who found the pigeon said Geraldine came to them late Monday afternoon.
She landed on the carport wearing her poop-filled diaper.
They said they recognized Geraldine from the news and called police.
Ash has now been reunited with Geraldine.
Man, with all the trauma that comes from spending a weekend alone in the middle of OKC, Geraldine may need an emotional support animal of her own.
Hayley's opinion doesn't matter. But you should follow her on twitter @squirrellygeek
In my spare time, I officiate secular weddings, read about dead people, and search for the American Dream.
Stay in touch
Sign up for our free newsletter