Everything Else
KFOR's In Your Corner is now a way to get free money for basic living expenses
1:03 PM EDT on June 26, 2018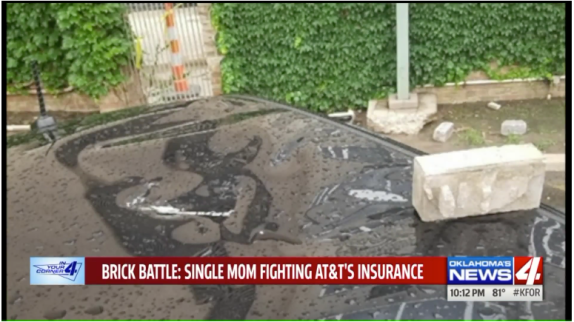 I'm all for protecting Oklahomans from sketchy businesses. There isn't a single business that actually has our best interests at heart, so it's important to have investigative journalists "in your corner," as it were.
So, know that I appreciate KFOR's In Your Corner. I think it's important for a local news organization to investigate shady business practices, especially in a state where shady business practices are pretty much the norm for local businesses.
However, I'm very confused by the most recent edition of the segment. From KFOR.com:
OKLAHOMA CITY - Ashton Martin thought someone was playing a cruel joke on her.

"The next thing I know - it looked like the Hulk smashed my car," she said.

While Martin was at work, outside - bricks were raining down on and around her car.

"At least eight to 10," she said. "[There was] one that fell and scratched down the hood of my car."

A second car was parked several feet away and sustained damage to its roof from a second brick crashing more than 12 stories.

They came from the building next door, which is owned by Southwestern Bell Telephone Company, doing business as AT&T.

We know, right around that same time they jarred loose, downtown Oklahoma City was getting rocked by a major rain and lightning storm.

AT&T said it was one of those lightning bolts that hit their building.

When she tried to file a claim, AT&T denied her claim - citing an act of God.
Well, all that sucks, right? But I would say it's a right of passage for any Oklahoman. Name one of us who hasn't driven around with an absurd amount of storm damage on our cars just because our insurance deductible wasn't convenient to pay.
And, according to the story, Ashton is a 22-year-old single mom with a $1,000 deductible. That really sucks, and it's a lot of money to pay. There isn't a part of me that doesn't commiserate with Ashton. But that's kind of the way things are.
Can we talk about how In Your Corner is now covering completely normal occurrences that are common practice? I mean, the story contains the following quote from Deputy Insurance Commissioner Buddy Combs:
"If you have a freak accident, rain storm, hail storm, strike of lightning that causes something to happen outside of their control, that's typically not going to be covered by any liability policy you have," he said.
Here would be a great place for In Your Corner to do some investigative work though. Because the story details how AT&T insures their own liability. I'd like a news report about why that's legal. The story also talks about how Ashton's take home pay is around $1,000 a month. Can we get an investigation about the need for raising minimum wage in Oklahoma?
Did KFOR give us that?
No. No, they didn't.
Did KFOR go for the feel good story that wraps everything up without actually giving us closure?
Yes. yes they did.
According to an update posted four days later:
AT&T said paying for repairs to Ashton's car wasn't their problem since it was an "Act of God," a lightning bolt that damaged their building, leaving Ashton with a $1,000 deductible.

That didn't sit well with News 4 viewer, Gayle McNitt.

"I thought, 'I can't believe that AT&T can't pay to fix that girl's car, whether they think it's their fault or not, it's their building.'"

That got Gayle thinking some more.

If AT&T wasn't going to step up, then she would.

Gayle wants to give Ashton a thousand bucks and asked the In Your Corner team to hand deliver a check!
Again, I want to stress that there's nothing wrong with this. In fact, I think Oklahoma would be a better place if we actually took care of one another more often, and if those who had some resources shared with those who don't.
But this is weird, right? Is KFOR going to go in the corner of everyone who can't get insurance money for man-made earthquakes because the state is saying they aren't man-made but insurance companies are saying they are? Is KFOR going to start investigating all the shady norms of the insurance industry? I would love that. But I don't think it's going to happen.
The story ends with these two lines:
Remember, Ashton was going to have to dip into her savings to pay for the repairs.

She won't have to now! 
So next time you have an insurance deductible (for an insurance plan that you pay for and agreed to the terms and conditions of) that you have to pay, call KFOR. They'll find an elderly viewer to pay it for you.
Stay in touch
Sign up for our free newsletter