Everything Else
Gubernatorial Candidate Q&A: Mick Cornett
9:24 AM EDT on June 22, 2018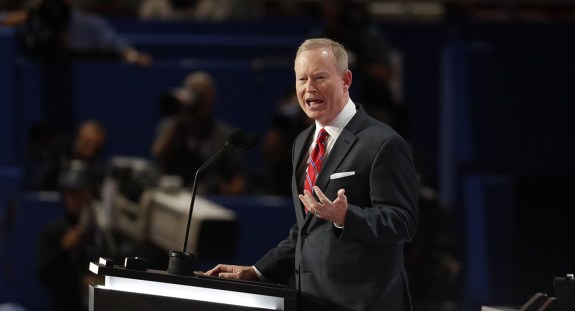 Earlier this month, we sent a list of 15 identical questions to the five major Republican candidates for governor – Mick Cornett, Gary Jones, Todd Lamb, Gary Richardson and Kevin Stitt. The questions were direct and hard-hitting, and covered a wide-variety of important issues facing Oklahomans, like whether or not the candidates own a tiger, or if they'd let their kids park double-wides at the Governor's Mansion.
Out of the five candidates we contacted, only two showed the nerve, audacity and lack of judgement to actually respond – Mick Cornett and Kevin Stitt. The other three swiped left, and for good reason. Todd Lamb was too busy running away from Mary Fallin, Gary Jones had to tend to horny cattle, and based on recent polling, Gary Richardson is no longer considered a major candidate for governor.
Cornett, as you know, is the former mayor of Big League City, my adopted father and a very loose and lucky poker player who overplays low pocket pairs in early position. He's running on a campaign platform of "Hey, at least Oklahoma City has done okay since I've been mayor, and that's my only opinion." You can find Mick's answers to our questions after the jump. When you're finished, you can view Kevin's responses here.
Thanks for taking the time to do this Q&A. I think we should start with an easy, softball question. Everything goes down hill from there...
1. Tell me why you want to be Governor of Oklahoma? The job looks about as fun as managing a Braum's.
We all know our state is facing some tough challenges, but I believe our best days are ahead of us. My record as Mayor is one of getting results and doing what we say we are going to do. That's the accountability we need to rebuild trust in state government and move our state in a better direction. Also, the Governor, like a Braum's manager, can have all the ice cream they want… I heard…
2. Speaking of Braum's, what are your thoughts on them shrinking their burgers from 1/3-lb to 1/4-lb patties but keeping prices the same?
Braum's is delicious, but a Cornett administration is going to focus on ordering off the "Fresco" menu at Taco Bell.
3. Congratulations! I've heard through the Ogle Mole Network that Mary Fallin is considering endorsing you for governor! Okay… okay. I'm just kidding. I didn't mean to scare you. What are your thoughts on the job Mrs. Fallin has done as governor?
I still haven't gotten over her annihilating me in the 2006 Congressional campaign.
4. How far to the right are you willing to go to secure this nomination?
Not so far right that I would've vetoed the teacher pay raise… unlike some others…
5. Have you ever owned, or plan to own, a tiger?
Only during the 2012 World Series when Detroit took on my favorite San Francisco Giants.
6. I have a six-week old daughter. I've lived in Oklahoma my whole life. How terrified should I be to send her to Oklahoma schools? Also, do you secretly wish there were four-day school weeks when you were a kid?
For the very serious question about education: We need to view education as an investment, not just another expense, and we need to ensure the next generation chooses to stay in our state because we are thriving and they have opportunity.
For the not-so-serious question: I would've gone to school 7 days a week if it meant I got to compete at sports afterward.
7. Have you ever used marijuana for medicinal reasons, like to help with a headache, anxiety or to make late night TV funny?
Anybody that knows me well can tell you my drug of choice is Diet Coke.
8. What do you have to say to the fact-obsessed weirdos out there who believe the moon landing, holocaust and other hoaxes like global warming are real and not #FAKENEWS?
As a former journalist myself, I was always fair and balanced when I was reporting on the hard-hitting news of historic 89er walk-off home runs.
9. Which Pioneer Woman recipe do you most often meal prep and why?
Does making the beautiful drive to Pawhuska and shopping in the Mercantile before eating count as meal prep? Love that place.
10. Tell me about your guns?! What's your favorite? How often do you get to the range?
Ranges? I hang out at driving ranges. I am pretty tough at Top Golf. You don't want any part of that.
11. Will you ever let your kids (or even grandkids) hitch their double-wide trailers at the Governor's Mansion?
I believe the accepted vernacular is R-V, Clark.
12. How do we get more middle-aged Christian evangelical white men involved in Oklahoma politics?
What we're doing now seems to be working!
13. Who's your favorite Oil Overlord?
Since they all backed my opponent, I'm currently selling all my Oil Overlord Trading Cards at The Cornett Card StoreTM.
14. Which meteorologist do you watch whenever severe weather strikes?
Jump back, Loretta! I tweet at Gary England.
15. Thanks for taking an hour out of your Communication Coordinator's day to answer these questions. Good luck in the upcoming primary! My final question is… Do you think Scott Pruitt regrets his decision to not run for Governor?
Not totally sure… I haven't seen him much in the news these days…
Also, the communications coordinator would like it to be known, he finished the survey in less that 30 minutes. World record?
-
We'd like to thank Mick for answering our questions. You can view Kevin Stitt's responses here. And don't forget to vote on next Tuesday.
Stay in touch
Sign up for our free newsletter