Everything Else
6 Snacks Latinos Sneak into the Movies (And You Can Too!)
1:36 PM EDT on April 19, 2018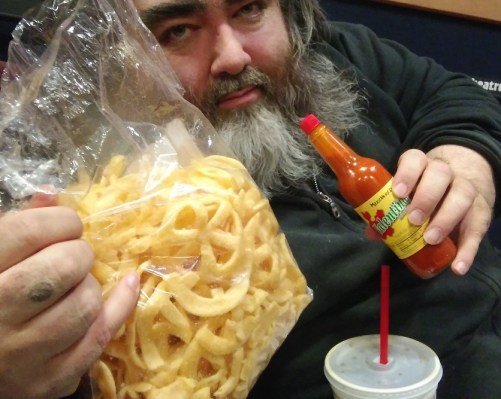 Many times, when my Caucasian amigos go for a night out at the movies with me, I tend to slightly embarrass them by going full Latino and pulling out a spare crying baby about 15 minutes into the feature.
Bromeando, bromeando.
But I do manage to raise some eyebrows, drop some jaws and rumble some tummies, however, because as soon as the lights go down, the snack-bar in mis pantalones is open for business as I start uncovering and unwrapping a wide variety of confecciones y concesiones that no lobby this side of the border would bother to stock, much to the chagrin of la Raza and the good money we just threw down to see the latest summer blockbusters such as The Avengers: Infinity War, Solo: A Star Wars Story and the most recent La India Maria comedy.
A seemingly ancient tradition passed down from generación a generación ever since Pedro Infante first charroed his way across the silver screen, like Jesus and his loaves and fishes, penny-pinching Latina mothers and grandmothers have managed to economically reason and magically position entire buffets in their handbags just to avoid paying five dollars for a soda, feeding a handful of familial seat-fillers with a diverse range of eats at a mere fraction of the price.
The overpriced popcorn is played out, yesterday's frankfurters are for the dogs and sorry bro, but those barely qualify as nachos. But, now a bagful of manager's special pan dulce or last night's leftover chuletas de puerco still wrapped in the foil…who needs a trip to the theater lobby when your neighborhood mercado has an even wider variety of pelicula-ready refreshments specifically designed to crunch and/or munch while sitting in a darkened theater?
When it comes to me and my own cinema snackage, before most movie screenings (and especially in the case for this article) I'll typically head over to one of the most underrated and underappreciated grocery stores in the Metro, the Buy for Less Supermercado at 3713 S Western Ave., and load up on more than enough movie munchies for usually under five bucks, if that. So, with that preamble said and done, here are my six favorite Latino goodies to illicitly grub on in the movie theater. Cómpralo ya!
_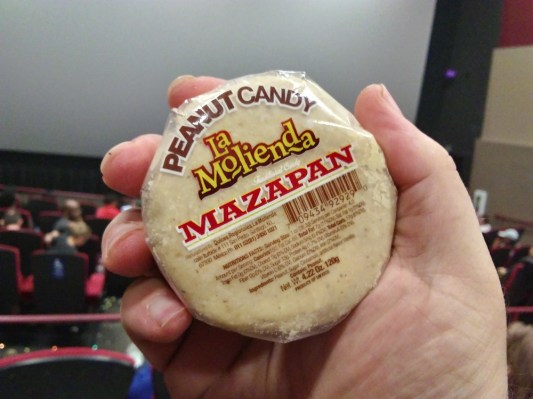 Mazapan
Who needs a pinche half-filled box of Butterfinger Bites or some similarly cost-prohibitive candy when you can nibble on a peanut-buttery compounded puck of somewhat-sweet mazapan candy for an hour and a half? Aye carumba! While the crumbly nature and gritty texture might take a minute or so to learn how to exactly maneuver, once snacking commences, this pocket-sized candy is far more satisfying than any Snickers, with an almost supernatural in its ability to make anyone who munches on it feel like they've had a full meal. Or two.
_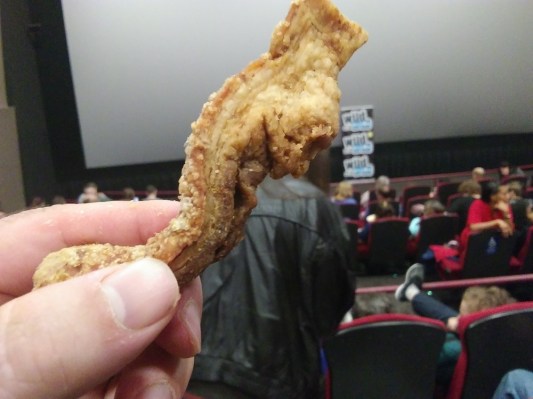 Chicharróns
Next time you're cinematic cravings are crying out for cheap pork products, skip the staid movie theater roller-dogs and stale buns and truly treat yourself to a few fresh-from-the-deep-fryer strips of golden brown porcine epidermis and fatty tissues, also known by the fun-to-say name of chicharróns. Falling somewhere between a greasy glob of cotton candy and a surprisingly crunchy stick of meat, just three or four pocket-sized cuts of this brutally savory, undeniably rich and alarmingly filling leftover pork belly product is the nutritional equivalent of a bucket of popcorn and, believe me, as you're breathing heavy and clutching your chest while walking to the car, it sure feels like it too.
_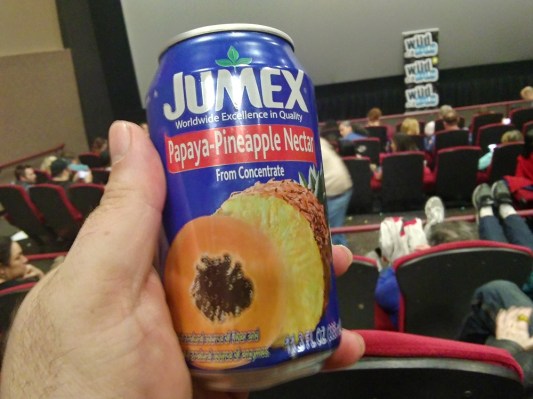 Jumex
Five or six dollars for an estúpidamente grande cup of improperly mixed syrup and carbonated water? No mames! Dump the empty-bubbled zeros and get acquainted with the nectar-loving heroes of Jumex and their popular line of thickly-sweet tropical-fruit canned drinks that are not only usually on sale three cans for a dollar, but also contain just as much sugar as a fountain Coke--but it's natural sugars, with the added bonus of vitamins and nutrients. so it's good for you…I think. At least that's what I was told growing up.
_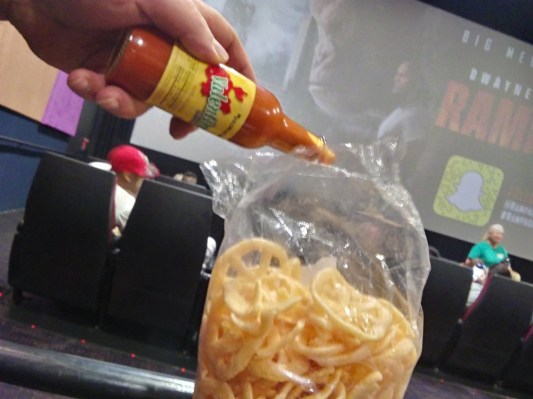 Duros
Even though hot-buttered popped kernels of corn are known throughout the entire world as the pervasive movie-going standard bearer for concession refreshments, let me introduce you to the puro Mexicano equivalent: duros. When these small orange discs and wheels of pressed wheat are placed into a pan of hot oil, they magically puff up en masse and into a cost effective comestible with a satisfying crunch and an oddly specific taste, with a 12-gallon bag of the stuff often running just a little over a dollar. And never mind the butter…pass that bottle of Valentina, holmes!
_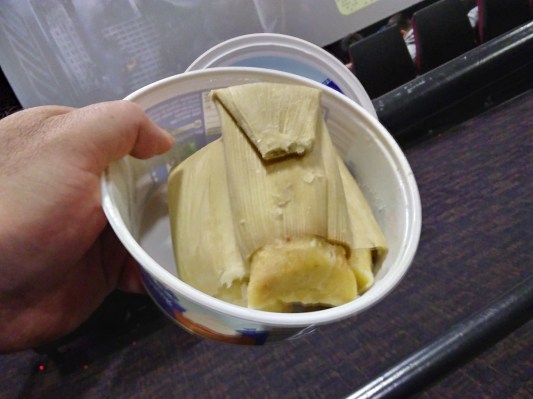 Tamales
Many theaters are now making a mint selling woefully overpriced full-meals like personal pan pizzas and BBQ chicken fingers to the constantly starving viewing public, almost completely unaware that, for years, Latinos have been noshing and nibbling on practically buffets full of home cooked eats while as they watch the action unfold on-screen under cinematic phosphorescence. From last night's tacos to last month's enchiladas, a trip to the movies is often a chance for mom to clean out her icebox of all those sobras, such as my personal favorite, an old whip-cream container filled with tamales from last Christmas. Or maybe the Christmas before. ¿Quién sabe?
_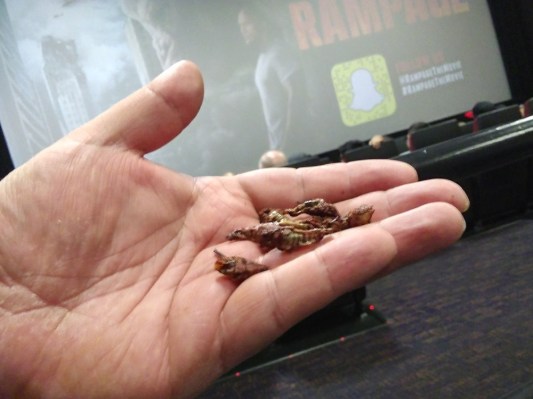 Chapulines
I can't get enough of that truly organic crunch. (*Not available from Buy for Less, sadly. But I got a guy if you're interested.)
_
Follow Louis on Twitter at @LouisFowler and Instagram at @louisfowler78.
Stay in touch
Sign up for our free newsletter