ICYMI
Oklahoma Fun Police making move on 420 Holiday…
3:25 PM EDT on April 18, 2018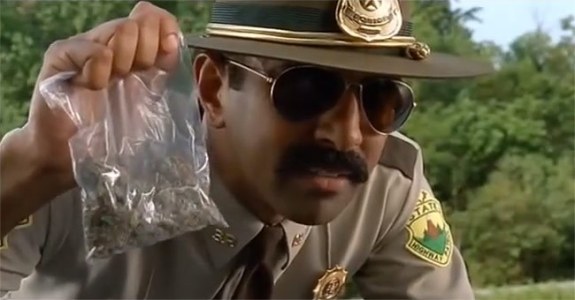 Before I write anything else, I want to be clear about one thing – driving under the influence of marijuana is not a great idea. It can affect your judgement and reaction time, and depending on what strain you smoked, can make you either hazy and dazey or paranoid and lazy. You're better off staying home and ordering Postmates than driving over to OnCue.
That being said, driving high is not as bad as driving drunk. In fact, according to The Marshall Project, driving while high is equated to driving with .01 to .05 blood alcohol content. That sounds about right to me. It's also not as bad as texting and driving. According to a basic Google search, that's actually more dangerous than drunk driving.
Despite all that easily available information, The Oklahoma Highway Safety Office has decided to use 420 as an excuse to target all drug-impaired drivers who may or may not be under the influence of the Devil's Lettuce.
Via the Oklahoma Highway Safety Office:
Oklahoma Law Enforcement Takes Action to End Drug-Impaired Driving in Oklahoma

The Oklahoma Highway Safety Office joins six other states in the region to put a stop to what has become an increasing epidemic; drug-impaired driving. Starting at midnight on April 20, law enforcement agencies from across Oklahoma will join Kansas, Iowa, Nebraska, Arkansas, and Missouri law enforcement increase patrols, conduct checkpoints, and raise awareness of the impacts of drug-impaired driving. The campaign will run for 42-hours and will focus on getting DUI drivers off Oklahoma roadways.
Why April 20? According to Time Magazine, the date 4/20 became associated with marijuana use in the early 1970s with a group of teenagers from northern California. The trend was picked up by several bands and became mainstream in the early 1990s. Traditionally, marijuana users will smoke the drug at 4:20 pm on April 20 to celebrate the day and time. This is why the enhanced enforcement campaign is kicking off on April 20 and running for 42 hours. The ultimate goal is to keep drug-impaired drivers off the roads.
Wow. That may be the most boring and generalized 420 origin story I've ever heard. Kudos to the state employee who stripped the life out of that blurb. If you have a second, open a new tab and read the Wikipedia article on the origins of 4/20. The entire backstory reads like a treatment for a hippie version of Stand By Me. I'm going to start work on the screenplay immediately.
In 2014, 63 people died in drug-related crashes. In 2016, 134 people were killed in drug-related crashes in the state of Oklahoma. These numbers reflect an almost 115 percent increase in the number of people killed by drivers who may be under the influence of drugs. The National Highway Traffic Safety Administration indicates the number of drivers involved in fatal crashes after 4:20 pm on April 20 is higher compared to the same times on days one week earlier and one week later. The Oklahoma Highway Safety Office aims to put a stop to this alarming trend by supporting this enhanced enforcement campaign.
That's interesting. They're using 420 – a marijuana holiday – as an excuse to target "drug-related crashes" that may or may not have involved marijuana. It's almost like they're intentionally trying to connect marijuana to more dangerous, deadly and intoxicating drugs like meth, cocaine and opioids. I know I'm not a misinformed authoritarian with an anti-marijuana agenda, but that doesn't make sense.
Also, you know the stat they use about there being more fatal crashes after "4:20pm on April?" It proves nothing. Do they really think stoners wait until 4:20pm to smoke weed on 420? That's the biggest wake n' bake day of the year! Plus, there are thousands of other factors and variables that could contribute to such vague, limited findings.
"Oklahoma is participating in this regional campaign to help curb the rise of drug-impaired drivers and crashes," said Paul Harris, director of the Oklahoma Highway Safety Office. "The numbers don't lie, fatality crashes are on the rise in Oklahoma. Through this enhanced enforcement campaign, we are hoping to keep drug-impaired drivers off the roads and save some lives."

The Oklahoma Highway Safety Office has reached out to law enforcement agencies across the state in an effort to recruit them to join this campaign. Activities across the state will include sobriety checkpoints, saturation patrols, public awareness campaigns and other enforcement-related activities.
As I've mentioned in the past, the inner-Libertarian in me is not a big fan of police checkpoints. Unless there's a manhunt, disaster or some other emergency, I don't think the government should be able to shut down an entire road just to see if everyone is obeying the law. Not only is it unethical, but it's lazy policing. There are plenty of better ways to identify and target drunk or "drug-induced" drivers without inconveniencing those who simply want to text and drive in peace.
Stay in touch
Sign up for our free newsletter