ICYMI
Oklahoma Senator, known for cutting services to children, won't seek re-election
1:47 PM EDT on March 23, 2018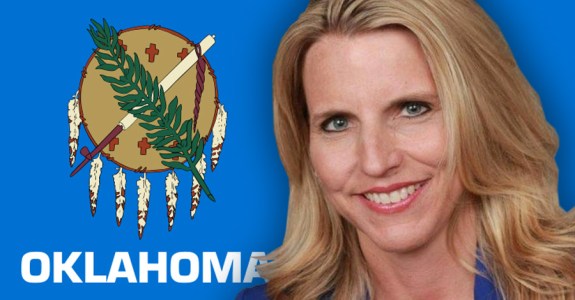 We have some great news for Oklahoma students and teachers!
Earlier this week, A.J. Griffin, one of the more prominent GOP ringleaders at the state capitol, announced she won't seek re-election to pursue other interests in the private sector. She didn't say with whom or where she's going, so I assume that means she's landed a job as a lobbyist or think-tanker where she can more efficiently screw the people.
Here are the details via NewsOK.com:
Guthrie senator, known for work on children's issues, won't seek re-election

One of the strongest voices at the state capitol for Oklahoma's disadvantaged youths said she won't seek re-election this year.

State Sen. A.J. Griffin announced Wednesday she will take a private-sector job, but will continue to work on similar issues that have been her defining role as chair of the Senate Appropriations Subcommittee on Human Services.

"It takes me back — working with kids and families — like what I was doing before I came (to the Capitol)," said Griffin, R-Guthrie...

During her time in the Legislature, Griffin has developed a reputation as a strong advocate for children. She's also worked on substance abuse, behavioral and mental health issues.
Wait a second? In an article about a leading Oklahoma Republican lawmaker retiring in the face of budget crises, four-day school weeks and drastic cuts to healthcare funding, The Oklahoman praised her work on children's issues? It's always fun to see the paper's writers and editors dabble in tongue-and-cheek satire.
Seriously, what type of marijuana are they smoking? A.J. has actively served in the Oklahoma legislature since 2012. During that time, she's routinely sold out Oklahoma children in favor of oil company profits, tax breaks and corporate subsidies. Thanks to those policies that have greatly benefited wealthy Oklahomans and out-of-state shareholders, Oklahoma now has less money to spend on education, healthcare and other core state services... for children.
But who cares about those facts. Let's watch The Oklahoman spin the news even more:
Last year, she sponsored legislation to create a pilot program within the Department of Human Services that would study characteristics of children in state custody who experienced parental drug or alcohol abuse, mental illness, mental or physical disability and domestic abuse, then develop programs to address those issues.

Joe Dorman, who served with Griffin when he was a state representative, said he's sad to see her go. The Legislature will lose a strong voice for children, he said.

"A.J. has been exemplary when it comes to visiting with and carrying forward ideas," said Dorman, who is now CEO of the Oklahoma Institute for Child Advocacy. "It's going to be tough to replace her."
Wait a second. Joe Dorman is sticking up for A.J. Griffin? How is that possible? Perhaps A.J. Griffin is a fellow Parrot Head. Those people always stick together.
Anyway, I disagree with Joe on this one. I think it's super easy for a politician to talk about how much they want to help and serve children out of one mouth, while voting to cut services to disadvantaged kids with the other. Republicans have been doing it for generations. They'll have no problem finding another hypocrite to replace her.
Hell, just look at Republican house candidate Garry Mize. A.J. issued a glowing endorsement for him in the Edmond Sun back in October. Knowing how passionate and dedicated Griffin is to helping children, you'd think Garry would have the same values, and be offering innovative plans and solutions to restore education, healthcare and welfare funding, and pull our state from the clutches of cyclical budget crises.
But he's just more of the same. Check out some of these items from his platform:
IMPROVING EDUCATION

Improving education in our community is the first step to ensuring lasting prosperity for our kids and our state.  I'm committed to excellent education for all our students by making certain they have the best teachers in properly funded schools with true local control.  We must cut wasteful spending in areas like welfare so more money can be re-directed into priority areas of government like local schools...

HOLDING THE LINE AGAINST TAX INCREASES

Families know how to spend their money better than any government.  It never fails that liberals want to take more of our money to fuel their big government programs.  Government has grown too large and tries to do too many things at a cost too many of our families and businesses can simply no longer afford...

SUPPORTING LAW ENFORCEMENT AND FIGHTING ILLEGAL IMMIGRATION
The rule of law is critical to our safety and security as a nation.  Law enforcement officials are under attack, literally and figuratively, across the country.  But I will always "back the blue."

Rewarding those who break our laws with government benefits like welfare encourages lawlessness.  So I will also work to stop all handouts, like welfare, to illegal immigrants...
I think my favorite part is how he wants to cut welfare to families of poor students and then spend the savings on education. That make sense. I'm sure kids will be more hungry to learn when they have an empty stomach. If A.J. Griffin is a true advocate for children, she'll rescind her endorsement of this same-old, same-old Republican clown, and chose a candidate with workable, realistic goals to fix our government... for the children.
Stay in touch
Sign up for our free newsletter