Everything Else
Lawton Constitution makes massive staff cuts and layoffs…
11:09 AM EDT on March 23, 2018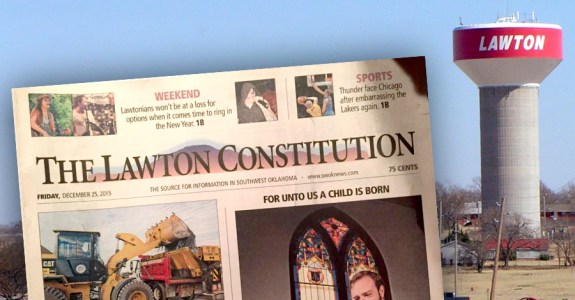 A few weeks back, The Lawton Constitution's relatively new owners, the Burgess brothers, announced they were selling The Lawton Constitution – the third largest Oklahoma newspaper in terms of  circulation – to Houston-based conglomerate Southern Newspapers.
Here are the details via the Southern Newspaper Association:
Bill Burgess, Jr. and Brad Burgess have announced that they have entered into an agreement to sell the Lawton (Okla.) Constitution to Southern Newspapers, headquartered in Houston, Texas. Terms of the agreement were not disclosed...

The Lawton Constitution has paid circulation Monday through Saturday of 16,500 and 18,000 on Sundays. The Burgess brothers, who practice law and operate other businesses in Lawton, acquired the company in 2012 from long-time local owners Steve and Don Bentley.

Brad Burgess said, "My brother and I have enjoyed being stewards of this important community institution the past six years. We believe we have selected a new owner that will carry on in the best interests of Lawton, the readers of the Constitution and our wonderful employees."
Well, it looks like Brad Burgess must have attended the Howard Schultz School of Picking New Owners.
Less than a month after acquiring the Lawton Constitution, Southern Newspapers – the conglomerate that was supposed to carry on in the best interests of Lawton, the readers of the Constitution and it's "wonderful employees" – has implemented a round of Office Space-style layoffs that will drastically affect the paper and the role it plays in covering and reporting news in southwestern Oklahoma.
According to an email from an Ogle Mole who was a victim of these layoffs, half of the newsroom has been let go, all photographers and design staff have been cut, and many established, long time staffers have been forced to unsuccessfully reinterview for their old jobs.
Here's the email. Some of it has been edited for clarity:
I know this isn't a huge deal in Lost Ogle land from the armpit of Oklahoma. But a newspaper outfit called Southern Newspapers Inc. out of Houston bought the Lawton Constitution. They went through the sham process of interviewing the staff and forcing them to reapply for their jobs. Of course, almost everyone over the age of 40 was let go.

About half of the newsroom was fired, and most of the ones who were kept were youngsters who had been hired within the last year or so. This includes the managing editor Stephen Robertson who had worked here over 30 years and had worked 12 hour plus days almost every day.

Among those fired was the reporter who has been covering Fort Sill for about 30 years. It seems apparent that there will now be no independent coverage of the military installation. They will simply reprint US Army press releases from the staff that makes the installation's newspaper, The Fort Sill Tribune (formerly The Cannoneer, which is a much better name, if you ask me, but no one is)....

They kept only one news editor and one sports editor. All page design and copy editing staff was let go. They fired the entire photography department. I guess they will have to hire someone (hard to put out a paper with zero photographers and one page designer), probably younger and cheaper. They kept the longtime city government reporter Kim McConnell. They fired anyone who covered outside of Lawton, so we will no longer cover Duncan, Altus and probably Frederick or Walters, two towns without a daily newspaper.
To be very clear, I was not able to confirm or verify the specifics of the Mole's claims, but everything seems legit. I did try to contact the Lawton Constitution's management to verify the numbers and get a statement, but they never responded. I guess they're a bit suspicious and weary of big city-slicking bloggers like myself.
The only statement I could find from Southern Newspapers appears to have been written in Generic Press Release Statements 101.
Lissa Walls, CEO and owner of Southern Newspapers, Inc., said, "Our company is proud to have been selected as the new owner of The Constitution. Our specialty is community newspapers, and we are looking forward to working with leaders at the newspaper and in Lawton to sustain and support the community. One of our main reasons for choosing this newspaper is that Lawton itself is a beautiful, dynamic community with a great future."
I don't know who Lissa Walls is, or why she has the letter S in her name twice, but I can tell you one thing – she's either never been to Lawton or she's a pathological liar. Seriously, don't oversell the town too much.
Malinda Rust, a former reporter for the paper, left this Facebook comment about the news: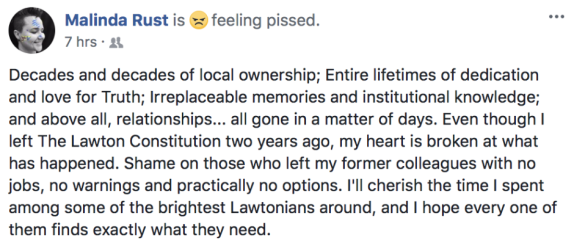 I get the anger and frustration. As one who's been laid off in the past, I know how cold and awful that can be.
That being said, you can't say the writing wasn't on the wall. As everyone knows, the newspaper medium is dying in exponential fashion. The new revenue model doesn't support the large overhead, traditional structure of news reporting. The roles of editors and journalists are evolving. The only way most papers can survive today is to go super lean.
Just look at subscription numbers. While researching for this column – yes, I actually research things – I stumbled across this Oklahoman article about the Lawton Constitution being sold in 2012. Check out this blurb:
The Lawton Constitution was formerly owned by Don and Steve Bentley. The newspaper has a staff of 130 and a circulation of 21,500 daily and 24,000 on Sundays.
Once again, that's from March of 2012. Compare that to the circulation stats mentioned in the Southern Newspaper Association piece from a few weeks ago:
The Constitution has paid circulation Monday through Saturday of 16,500 and 18,000 on Sundays.
According to my 3:00am math skills, that's about a 25% decrease in paid subscriptions over a six-year period. That's not good, especially when you consider fewer subscriptions leads to fewer ad sales which leads to less revenue which results in job losses. And don't expect the numbers to rebound or go up. Why would you subscribe to a newspaper if it's getting rid of all the people you trusted to report the news?
Anyway, we'd like to once again offer our sympathies to the employees of the Lawton Constitution. I know it sucks, but look on the bright side of things. You finally have an excuse to leave Lawton and find a better paying job in PR.
Stay in touch
Sign up for our free newsletter