Education
Why haven't Oklahoma teachers gone on strike???
10:16 AM EST on March 1, 2018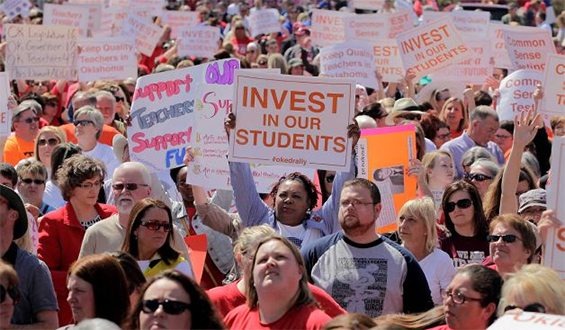 Oklahoma's not the only place where teachers are paid less than Costco cashiers. Earlier today, 20,000 West Virginia teachers returned to classrooms following a successful four-day walkout over pay and benefits.
Here are the details via Newsweek:
Nearly 20,000 West Virginia teachers will return to their classrooms on Thursday after the state's governor announced a bump to teachers' salaries Tuesday.

Teachers will now receive a five percent pay raise this year, Governor Jim Justice said. All other state employees will see a three percent increase.

The strike—the largest in state history — began after Justice signed a bill last Wednesday mandating a two percent teacher salary raise starting in July, with an additional one percent raise slated for 2020 and 2021.

The state's teachers, who earn about $45,000 a year on average, said it wasn't enough, and also demanded a fix to health care. Their average salary ranked 48th in the nation in 2016, according to the National Education Association.
Did you catch that last part? West Virginia teachers went on strike because their 2% raise "wasn't enough." Heh. I bet Oklahoma teachers, at least the ones who haven't already fled for greener pastures, wish they had that problem.
The success of what happened in West Virginia got me thinking – why doesn't the Oklahoma Education Association (OEA) use its power, might and resources to organize a teacher strike? What do teachers have to lose? Oklahoma already ranks 50th in the country in teacher pay. If a strike / walk out worked in West Virginia – which is one of a few states actually worse than Oklahoma – it could work here, too... right?
Oklahoma Watch asked those very same questions. This was the OEA's answer:
An Oklahoma law prohibits a teacher's union from striking or threatening to strike "as a means of resolving differences with the board of education." But if teachers walk out to protest the state Legislature, that would be different, said Doug Folks, a spokesman for the Oklahoma Education Association, the state's largest teachers' union.

Folks said the OEA is not at this time organizing a statewide effort to strike or walk out, even though the union led the charge in 1990.
What the hell? After the success in West Virginia, how can Oklahoma's largest teachers union not be organizing a strike or walk out at this very moment? Best case scenario – it will create national media attention and negative publicity for the state, forcing image-conscious oil overlords and their minions at the capitol to abandon failed trickle down policies and consent to meaningful tax reform that helps all Oklahomans, including our underpaid teachers. Worst case scenario – teachers get to use some of their accrued sick time.
Seriously, the iron cannot be any hotter. What's the OEA waiting for?!
Actually, I have a theory...
Even though everyone in the Oklahoma power circle is telling us they've moved on, which is always an ominous sign, Step Up Oklahoma isn't dead. It's lurking in the shadows of the capitol rotunda waiting for a planned 11th hour revival. The OEA knows this, and instead of taking the offensive, going on strike and fighting for meaningful change to Oklahoma government, they're staying quiet, kneeling at the feet of our Oil Overlords, desperately waiting for a few additional bread crumbs to fall from the top while the rest of Oklahoma government continues to starve.
Okay, even Janet Barresi would say that's a bit harsh, but considering the Oil Overlords have infiltrated all layers of Oklahoma government, media and institutions, the theory seems possible. Why else would the OEA not be organizing a walk out? It's the only option left.
Well, unless they're more loyal to oil overlords than to Oklahoma teachers. Considering our teachers haven't had a raise in over a decade, lawmakers continue to cut education funding, and 20% of our school districts now offer 4-day school weeks, that seems like a real possibility.
Stay in touch
Sign up for our free newsletter