Everything Else
TLO Restaurant Review: Charleston's
8:31 AM EST on February 13, 2018
When it comes to romantic dining, the amorous flame of my most perfect dreams would be habitually starry-eyed and hungrily subdued with a couple of barbacoa tortas from a taco truck and a medio litro of Coca-Cola with one straw as Selena's "Como la Flor" rhapsodizes in the warm background, the hum of the generator powering both the outdoor lights and our newfound passion.
Sadly, that flavorful side of Eros is seemingly best left to the unwritten fiction of my heart as most perspective partners, especially when it comes to celebrations of sentiment, prefer to be dined finely and, let's be honest, someone in my grotesque position is in no place to argue. So when I was lucky enough to escort a renewed crush to an early Valentine's dinner, I figured it was time to give the ardor-filled atmosphere of Charleston's a heart-wrenchingly bathetic try.
A longtime Oklahoma City stand-by and dine-in, this Hal Smith "concept" is probably best known as the eatery where your primarily well-to-do grandparents rekindle their own aging fervor for one another at least once or twice a month, offering "prepared from scratch" American dishes at a price they believe to be modest, all the while in a heavy dark oak and gas-lit atmosphere that has most of the ambiance of Steak and Ale and none of the baked potato bar to go with it.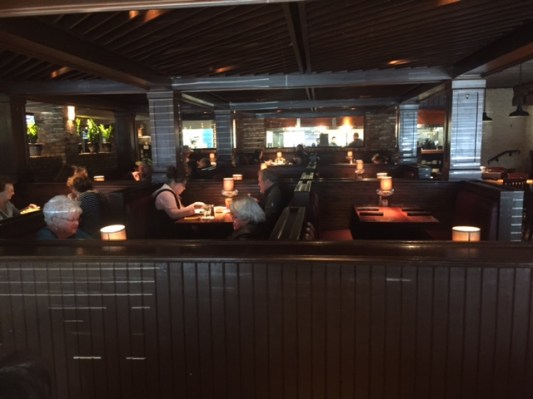 Located at 5907 Northwest Expressway, my paramour and I settled into a nicely darkened area, a lone overhead bulb spotlighting our affectionate rendezvous as nuanced Euro-EDM was heard overhead while frail conversation was attempting to be made. Menus in hand and perusing with care, an low-cost appetizer of chips and queso ($9.00) was immediately ordered as I did my best to enjoy the moment and not launch in the political and social ramifications of ordering chips and queso at such a decidedly non-Mexican restaurant.
As we waited for said starter to arrive, I frugally decided on the Chicken Fried Steak ($16.00) and, with a similarly guilt-riddled thinking, my date ordered the Shrimp Scampi ($17.00) with a house side-salad ($6.00). Before I could make a probably mean-spirited joke about the financial overkill of the salad, blessedly the queso made its way to the table and, with its mixture of spicy sausage, guacamole, cilantro and cotija, I was thoroughly surprised at just how utterly fantastic this extravagant dip truly was, besting even that of many of my favorite Mexican joints.
This is what it must feel like to be a South American dictator, I thought to myself as my people starved outside these very elitist doors. It was a feeling that was duly reinforced when her salad was proudly presented, an oversized affair lauded with plenty of hard-boiled egg and coupled with a wholly unnecessary croissant-esque roll. It made for a lively bit of time-killing banter that was a mixture of sweet nothings and sour somethings, ticking off the nervous moments as we occasionally broke eye contact when various waiters would approach the table.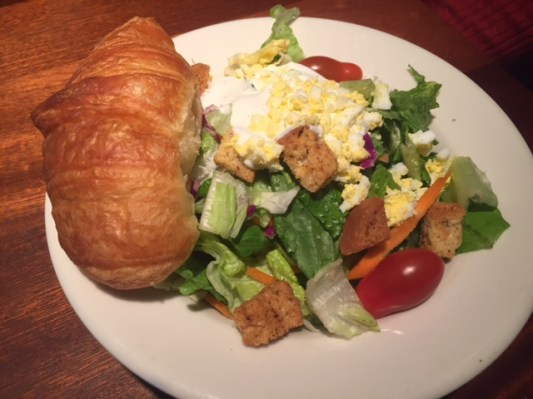 Queso complete and salad long enjoyed, my inamorata's Shrimp Scampi was gently delivered, a healthy portion of angel hair pasta drop-topped with various refined spices, including a date-defining cut of fresh garlic, all backstroking in a cream sauce that was as lemony as it was pungent. As she let me taste one or two of them scrimps off her fork, playfully feeding me like a long lost love, I was taken about by how fresh everything certainly was for a landlocked dish.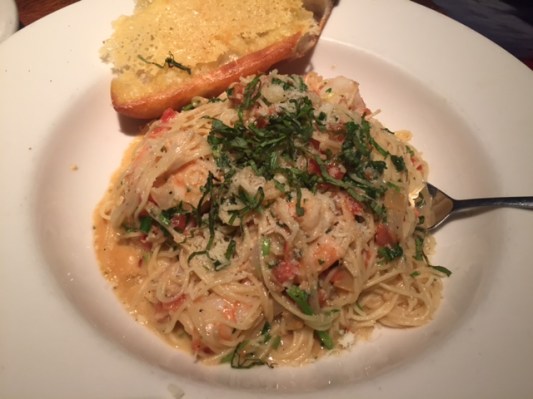 Meanwhile, across the great divide of edible loneliness that was my side of the table, at first glance, my Chicken Fried Steak resembled an unhealthy first date faux pas, a chunk of tenderly hammered and heavily coated meat drowning in enough chipotle gravy to choke a cream-fed horse, served on a reasonably delicious bed of homemade mashed potatoes with a small dosage of sweet glazed carrots to fulfill the sweet sweet fantasy, baby that I was getting my money's worth.
While I have definitely had better Chicken Fried Steaks all across this state, all with far more homegrown finesse, Charleston's take on this Southern comfort was an above-the-board effort that made for a worthy meal. And sure, it might not be the aphrodisiac I would have liked for it have been, but as I shared a large cut with the loveliness across from me, a seductive spoonful of gravy to taste, it was a surprising catalyst for returned affection. Romance is a dish best served deep-fried, I suppose.
If you yourself have been fortunate enough to be struck by cupid's wanton arrow and subsequently blessed with a sexual confidant that appreciates the mas barrio things in life-like one-buck carne asada tacos and fresh horchata right out the barrel, hold tight and never let go as you thank God for this lover everyday of your life. On the other hand, if you need to flash some cash to earn your place in a wannabe loved one's heart this forced holiday of romantic chance, Charleston's more than fulfills the well-earned requirements. ¡Cómpralo ya!
_
What if I were Romeo in fat jeans? Follow Louis on Twitter at @LouisFowler.
Stay in touch
Sign up for our free newsletter