Everything Else
5 Best Phở Joints in OKC's Asian District
3:54 AM EST on January 30, 2018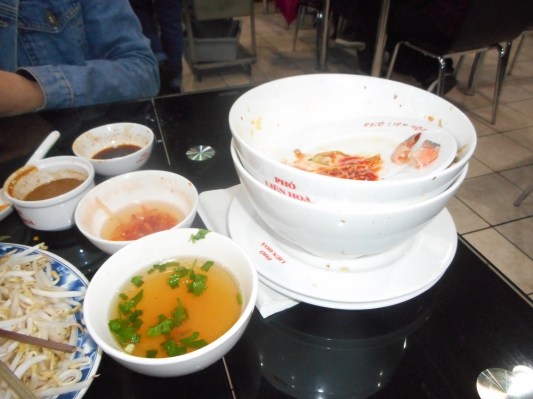 As many of my acquaintances and colleagues dropped like flies over the past few weeks thanks to the various demonic sicknesses swarming around the city, my steel-willed immune kept system stoically strong and thoroughly testicular thanks to, I believe, the fact I down at least two-to-three hearty bowls of phở, the famed Vietnamese noodle soup, a week.
Known for its healing and curative properties even more so than that lame greasy can of condensed Campbell's soup mom is always trying to push on you, between the flavorful beef-bone broth and the health-boosting additives like basil, cilantro, chiles, and bean sprouts, phở is an addictive superfood that Oklahoma City has definitely cornered the market on thanks to the numerous hot-pot hot-spots that fully line the Metro's beloved Asian district circa the N.W. 23rd and Classen area.
While admittedly I tend to stick to a long-time noodle-house home-base for almost all of my phở needs—every urbanite in the know has got that one they swear by—over the past month I decided to explore the rich liquidic tapestry of Vietnamese culinary tradition that has been blissfully and blessedly brought to the Metro, one most welcomed bowl after another. Here's what I consider to be the five best phở joints in Oklahoma City's Asian District. ¡Cómpralo ya!
_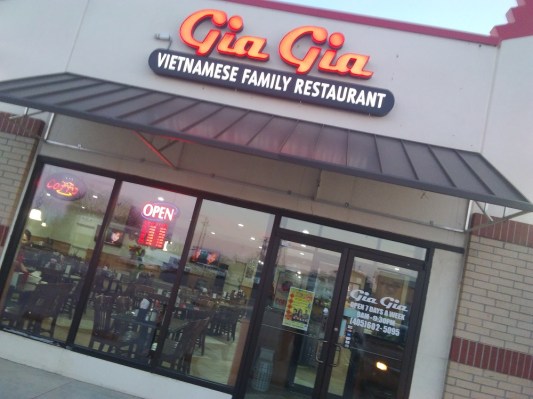 5. GiaGia Vietnamese Family Restaurant (2624 N. Classen Blvd.)
A relatively new addition to the Asian District, GiaGia has managed to set itself apart with a bistro-like atmosphere and a willingness to offer unique meats such as veal and duck in the brews, but it's their generously portioned rare steak offering ($8.99), paired to perfection with a toasted bánh mì—I'm a fan of the pork meatball ($2.99)—making it the best soup and sandwich deal in town. And, if you ask nicely, they'll even turn the karaoke machine on and graciously applaud when you belt out a rendition of Meat Loaf's "Two Out of Three Ain't Bad."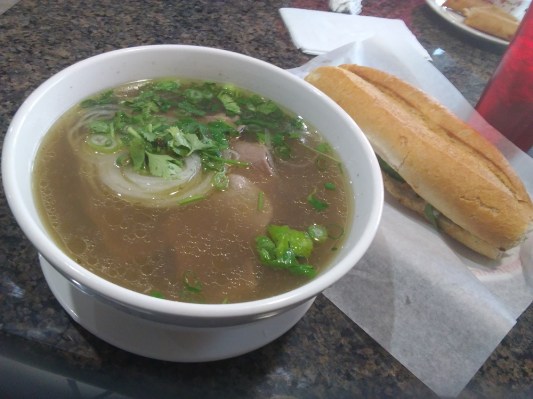 _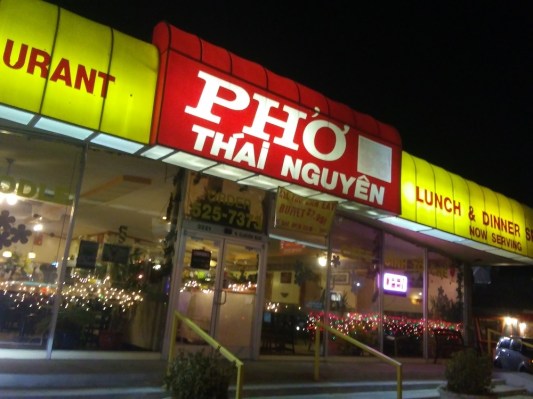 4. Phổ Thái Nguyên (3221 N. Classen Blvd.)
An above-average rich broth permeates every steaming bowl served here, but for the best of the best the house special—a large Phổ Thái Nguyên ($8.99), natch—is the most gracious of starting points for any first timer, absolutely loaded with decadent cuts of beef tenderloin, brisket, tendon, tripe and beef-ball. But don't worry; they also have a quite a few vegetarian options as well, if that's how you choose to live your life. I also really enjoyed as a delectable preamble the gỏi ngó tôm sen ($4.99) starter, an artistic combination of pickled lotus root and crispy shrimp. (And if that weren't enough, the banner outside read that they are now offering a Chinese lunch buffet for $7.99, which seems like something worth checking out, right?)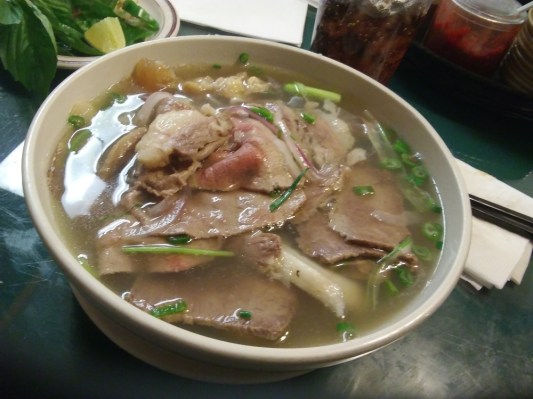 _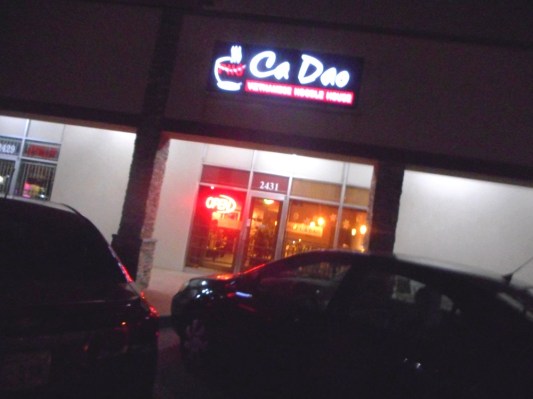 3. Phổ Ca Dao (2431 N. Classen Blvd.)
Don't let the strip-mall surroundings and diner-decor of this almost-hidden gem fool you; there is a real gourmet elegance and sense of style to each bowl of hot soup that is delivered to the table at Phổ Ca Dao. I was more than elated to see their emphasis on various seafood concoctions, providing a substantial break from the typical beef products that make up the first page of many phở menus. I fell deeply and madly in love with the bánh canh thấp cảm ($9.99), a house special made with udon noodles and half the ocean including shrimp, mussels, crab, squid, fish balls and pork, bathed in a waking crest of aromatic green onions that threaten to overflow the bowl all over the table. But it's worth the mess.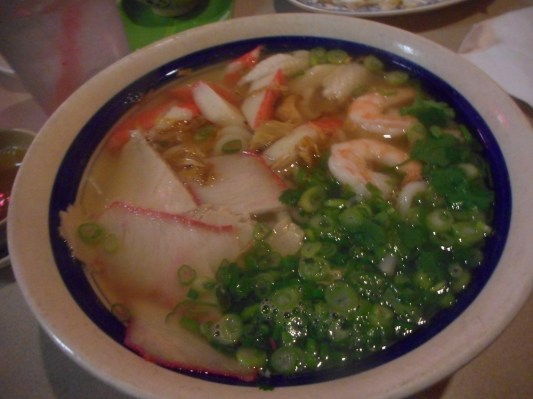 _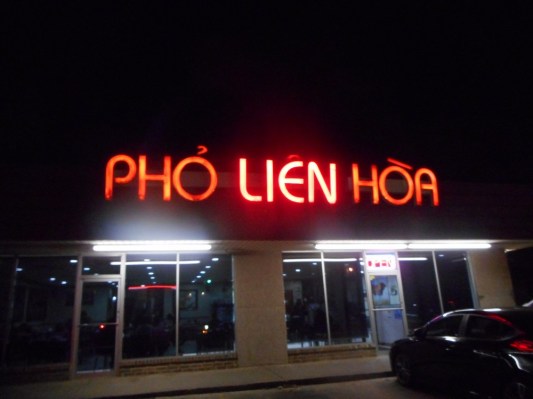 2. Phở Lien Hoa (901 N.W. 23rd St.)
Even though I am admittedly late to the game, with a durably stable fandom, Phở Lien Hoa has been an absolute Metro fave since the 90s. With a vogue dining room that belies its inner city placement directly across from a plasma clinic, even their most basic of meals, such as the phở dac biet ($7.50) with a distinct combination of rare steak, fatty flank, fatty brisket, tendon and tripe simmering in rich beefy stock to specialties like the Mi Tom Cua Thit Kho ($8.50), an egg noodle pork soup, loaded with a ménage a carne of shrimp, crab and BBQ pork, are true cultural masterpieces of culinary ingenuity that will definitely inspire multiple visits. Just remember to bring cash and only cash, son!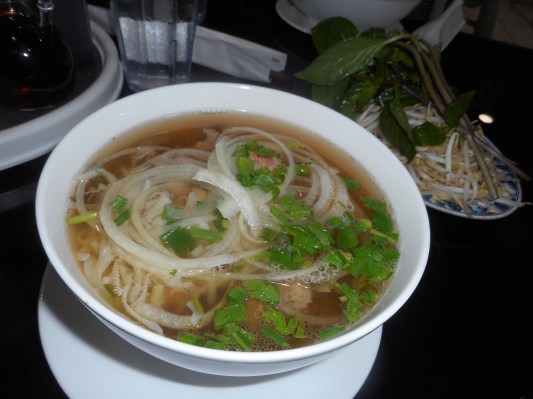 _
1. Phở Cuòng (3016 N. Classen Blvd.)
Like an ex-lover that texts at 3 a.m., I just can't quit Phở Cuòng and nor would I ever really want to. Within walking distance—six blocks over and two blocks down—this aquamarine noodle house is a culinary romance of mine with a loyalty that runs as deep as their extra-large bowls; from drowning sorrows that've learned to swim to celebrating minor victories on the slightest of dimes, Cuòng always has a warm bowl of phở ready for any intrepid occasion; I practically require a steady flow of Phő Tái, Chín, Gầu, Gân, Sách ($8.99) this time of year, a holistic prescription of eye round steak, lean brisket, fat brisket, tendon and tripe that beats any medicine some quack doctor could ever prescribe.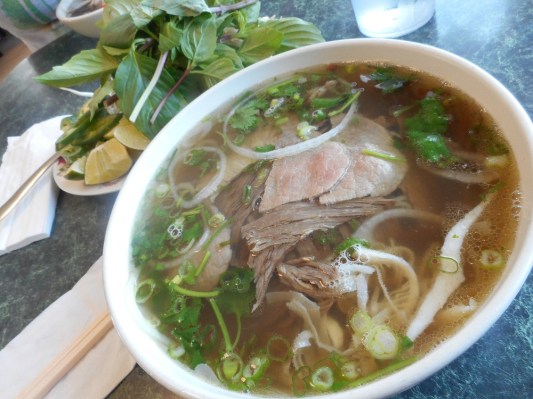 _
 Perhaps I should say…"Mua nó đã!" Follow Louis on Twitter at @LouisFowler.
Stay in touch
Sign up for our free newsletter