Everything Else
TLO Restaurant Review: Canton Restaurant
9:29 AM EST on November 28, 2017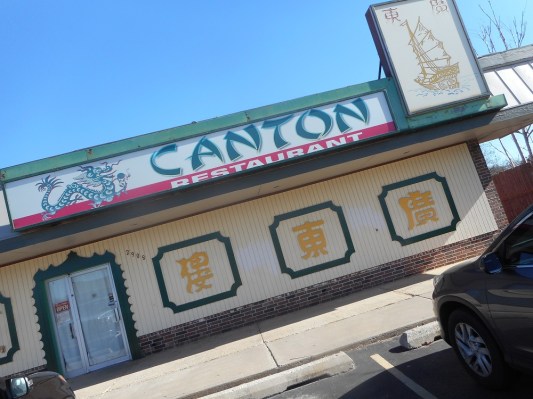 My annual Thanksgiving ritual, besides writing barely veiled cries for help in obscure local social blogs while mildly spun on muscle relaxers, is to find a nice dark corner of some weathered Chinese restaurant and just cry my 96 tears over a homemade plate of some kind of chicken in some kind of sweet sauce, cellular phone turned off and jealous hunger turned on.
Recommended to me by a similarly catastrophic soul, it's damn hard to find a joint like the Canton Restaurant in this town anymore. Pushing almost 40 years in its mini-mall location at 2908 N. MacArthur Blvd., this place is beyond old-school. It was old-school before there was even an old-school which, in a time when everything old is torn down and rebuilt without a thought, makes this eatery a dine-in work of lost culinary art, with more character than any showy glass and neon food-tomb over in Downtown, Midtown and any town in-between.
The faded murals and windowless frontage give way to an elderly hostess seating famished passengers in a darkened dining area where cedar lattice and wood paneling are about as quote-unquote authentic as the décor gets. It sets the tone for the 70s-esque meal willingly, a classically singular and dutifully simple Chinese plate without the flash and flair, the fusion and the fuss that is typically masqueraded forth when true kitchen skills aren't available.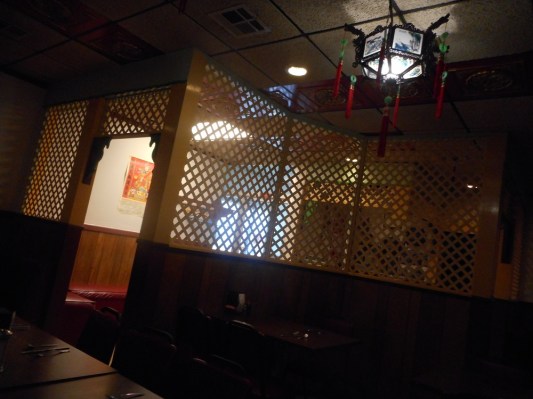 The menu is filled with a seemingly forgotten staple of entrees such as Chicken Almond Dean and Moo Goo Gai Pan; most of these surprisingly varied dishes running around five or six bucks if you hit them up around lunch, and only a buck or two more if you hit the snooze button and come back later.
Luckily, the snooze button hit me instead, so I was able to catch the 11:15 a.m. to 2:30 p.m. price break, ordering up a double dealing of such specially-priced takes on Vegetable Chow Mein with Egg Foo Young and Garlic Chicken with Fried Rice, as well as what I have been told is the best dish on the menu, their house specialty, and the thing they're popular for, the "Hawaii Guy," a half-order of which should do.
Aloha, ese.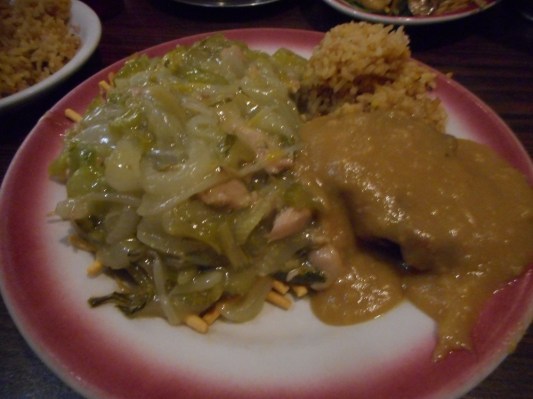 Even though it's never been a favorite of mine, per se, the semi-traditional favorite of Egg Foo Young ($4.55) is served proudly American-style here, with plenty of creamy brown gravy to taste, welcomingly drenching the made-to-order vegetable-filled omelet. It's a perfunctory starter that is aided amicably by the vegetable chow mein, prepared in a way that years of shady buffet dealings and doings had left me ultimately lost and unprepared for, but open-armed and open-mouthed.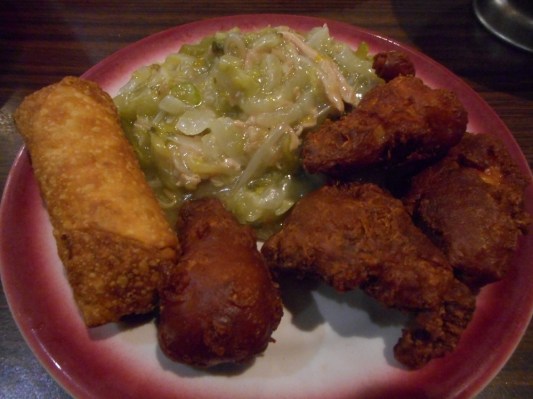 Ready to sample my much-needed helping of proteins for the day, I reckoned you people got your precious turkey, so I suppose I felt a special kind of blessed as I downed Canton's gloriously operatic Garlic Chicken ($4.55), a pleasingly pungent affair of fritters, rich in that special kind of garlic heat only raw folic acid can tempestuously exploit in-between those thick, crispy layers of skink that only a well-seasoned skillet and wok combo with no shame would sear and seal in so much  and more many years' worth of used flavor.
Pass the hot mustard, holmes.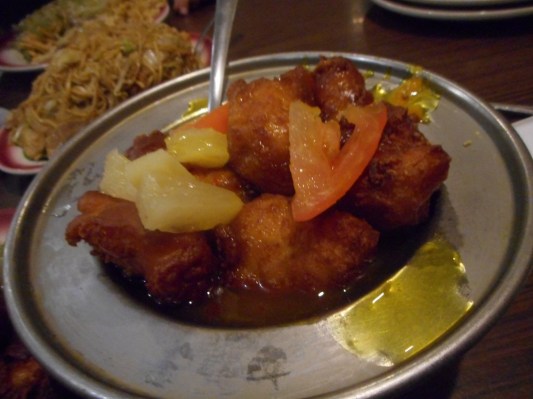 As I squared my shoulders and cursed whatever remaining stomach elasticity I'd yet to truly stretch, I felt instantly humbled as a silver-ish serving bowl was set before me like a grail, a half-order of their famed Hawaii Guy ($4.75) rising inside, a Polynesian derived mélange of specially battered chicken tossed and tousled in a homemade sweet and sour sauce and then served with pineapple and tomato.
The tangy syrup-like sauce deviously clung to the chicken, dripping a few sweet strings of island flavor on the table as I brought the spoon to my mouth, the light breading allowed the full flavor of that coveted sweetness to blend with the savory cuts of poultry, the tart tomato and juicy pineapple preserving a roundabout coda of unexpected aftertastes. Don't hesitate in the slightest to say mahalo to this Hawaii Guy, great as a side or the whole meal, earning a spot in the spotlight as one of the most underrated, unexpected dishes you have had yet, a volcanically unique and wholly original taste sensation not readily available any other place in the Metro.
Loading my annual form of Thanksgiving leftovers into a Styrofoam container, with more than enough cooled-down chow mein, fried rice, a good lot of Hawaii Guy and a reliably sturdy eggroll to leave me with a victory lap of a second dinner if I don't spend the next day picking through it 'till there's nothing left. And, if I'm being honest, there usually isn't and there most definitely wasn't. ¡Cómpralo ya!
_
Spittin' in the wind comes back at you twice as hard. Follow Louis on Twitter at @LouisFowler.
Stay in touch
Sign up for our free newsletter