Everything Else
TLO Restaurant Review: Phở Lien Hoa
10:46 AM EST on November 7, 2017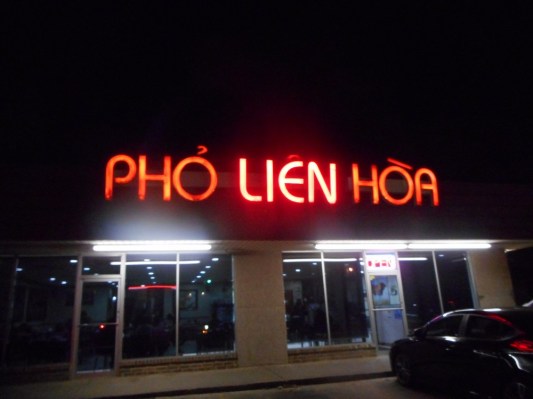 As unoriginal of an angle that it is, colder weather is seemingly back in the Metro and now I'm craving, emotionally and otherwise, the warm, loving arms of phở again, the famed Vietnamese noodle soup, almost daily and definitely nightly. But, with so many overwhelming choices along my home turf near the Asian District, it's so easy to fall into that monogamous trap of finding that one place that you're most comfortable with, so much so that you tend to stupidly eschew all others.
There's such a big world of phở out there. Sometimes you just gotta see other places and try other things, you know? And, with these phở longings stronger than ever, I've made just that exact promise to myself, sampling with a lustful joie de vivre as many varieties and as frequent as possible this season, all of these wonderful Vietnamese soup kitchens I'm constantly surrounded by when I can, giving myself over to the absolute pleasures of the (medium rare) flesh.
Looking for a heated and hedonistic enough starting point, after asking a few friends what their favorite spot for phở, as of late, is, I've started a little thing with a lovely eatery named Phở Lien Hoa, 901 N.W. 23rd St. It's a place that seems, you know, pretty cool and all, with a durably stable fandom and NY Times props, having been a popular enough Metro dining selection since around the 90s, yo. Stability is definitely a plus, right?
Situated in a junky strip of shops across from the plasma clinic, the outside might cry inner-city pressure, but once through those tinted doors, it's edible elegance all the way, brightly-lit with a great personality and, just from looking at the menu, so much more to offer than just good looks. Anyone would be lucky to dine here and yet here I am, this Borgnine-esque schlep with a napkin tucked into his shirt that's ready to feast on the best of what this much-loved establishment is eagerly waiting to place in front of me.
I hope I'm not coming off too needy. Even if I am.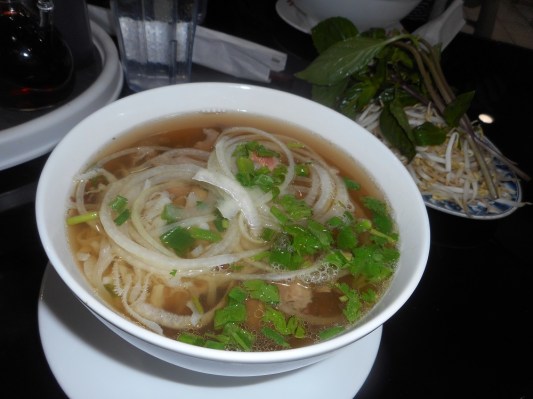 Starting right off with the absolute basics, I ordered the first option on the menu, the basic Phở Dac Biet, to get a right sampling of what this place is justifiably popular for. Looking for a little something I hadn't seen on too many other menus around town, their variation egg noodle pork soup dish Mi Tom Cua Thit Kho couldn't be passed up, as much as I tried to, a second dish of back-up eats because that's how I roll, I guess.
Delivery quickly and still steaming, as I sipped that first soup-spoonful of that zesty broth with multiple meats just swimming and stewing in it, brother, I was in ell oh vee ee love at first bite! For a small order, that Phở Dac Biet ($7.50) didn't skimp in the slightest, the combination of rare steak, fatty flank, fatty brisket, tendon and tripe simmering in the beefy stock, those tender noodles basking with the cilantro and herbs, it was so dutifully flavorful and faithfully spiced that it was one of those rare occasions when the complimentary plate of basil, sprouts and peppers were woefully unnecessary.
Everything you need to be satisfied on all fronts was right there in that bowl.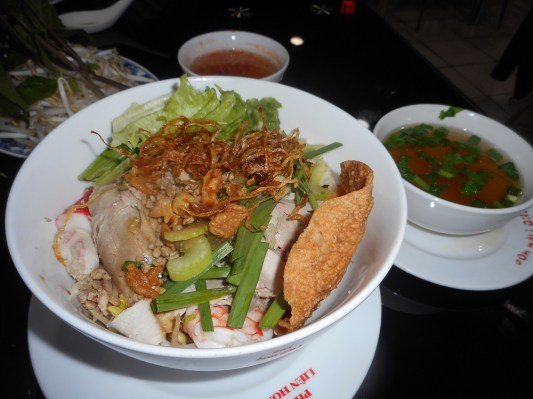 Drinking the remaining soup from the bowl like a Biblical beggar healed from his long-standing hunger, I know it was overkill, but I couldn't let the night end there. Highly recommended, the Mi Tom Cua Thit Kho ($8.50) is a real thing of true, shallow beauty, the kind of phở you read about in New Wave magazines. I knew I had already had my fill, but it wasn't hard to make room for this egg noodle pork soup, loaded with the tantalizing ménage a carne of shrimp, crab and BBQ pork drenched with a house ginger soy sauce dressing and barely covered with a snappy little shrimp cracker as decor.
Out of my own personal tastes, I poured a pungent shower of fish sauce over the remnants, adding a much-desired moistness to egg noodles, the astoundingly rich pork broth quickly drunk like a damn fool. As much as I know I should have taken the rest home, I didn't want to seem pushy on this first date so, like a gentleman, I finished my soups, the clatter of bowls soundly stacked, wishing to God that I actually had even more room in belly to sample another item on their menu…
And really, when it comes to not only this phở joint, but any of them anywhere in their world, there is just never enough stomach space to try all the different varieties of this Asiatic masterpiece of culinary ingenuity that you'd like and or want to. It's gigolo dining at its best, trying to get what you can where you can and as much as I'd like to settle down, I'm as guilty of it as anyone.
But as far as Phở Lien Hoa goes, in the here and now, there's a cool wind blowin' the stars around and I'd really love to see sip you tonight. ¡Cómpralo ya!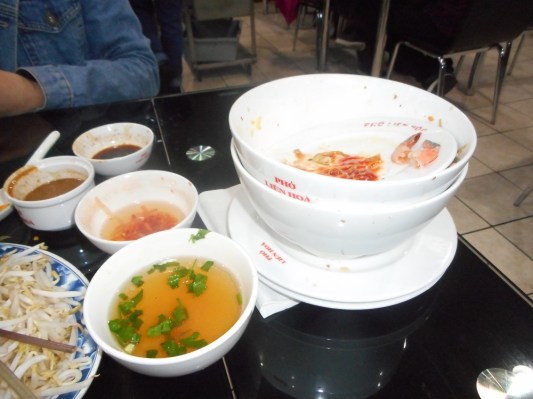 _
I'm not asking for forever. Follow Louis on Twitter at @LouisFowler.
Stay in touch
Sign up for our free newsletter