Everything Else
TLO Restaurant Review: Billy Sims Barbecue
9:32 AM EDT on October 17, 2017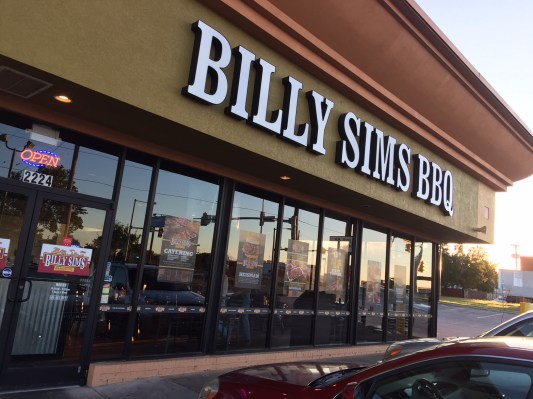 While by no means a scientifically proven statement, most fast food joints named after sports heroes are usually—hut, hut—pretty good. That being said, I thought Billy Sims Barbeque was pretty good.
Founded by and named after the former University of Oklahoma two-time All-American running-back and subsequent Heisman standard-bearer, since opening his first 'que joint in Tulsa over a decade ago, Billy Sims Barbeque has since smoked a trail to over 40 locations in six states, all of them, I'm guessing, pretty good, as well.
With the slogan "Eat like a champion!" emblazoned across their menu, last Tuesday evening I grabbed the proverbial ball and hustled to their nearest location at 2224 N.W. 23rd, an address I spent numerous hours working at back when it was a Blockbuster Video. It was a semi-sweet touchdown on memory lane and, really, all that was missing were 300 "Guaranteed Rental" copies of Jerry Maguire on VHS.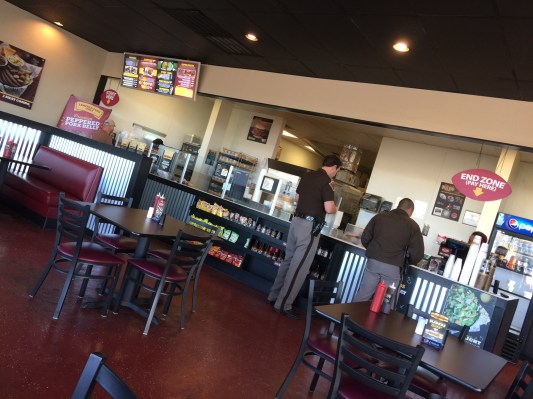 With a contemporary design that resembles a Chipotle clinging to the sanctity its college football glory years, the menu is pretty clean and concise, offering a mixture of expected cuts (chopped brisket, chicken, turkey, various links, etc.), needlessly fatty salads and various signature sandwiches, all of which seemed moderately priced and decently loaded with "sideliners" and other accoutrements.
I ordered, in honor of Mr. Sims' long and varied and just now heard of career, the Running Back four-rib meal, while my accompanying side of dinner-based defense were charged with the task of tackling not only Sims' Heisman sandy, but the other meaty monstrosity known as the Triple 20.
Collector's cups are optional ($2.99) and, yes, always a pivotal part of any meal.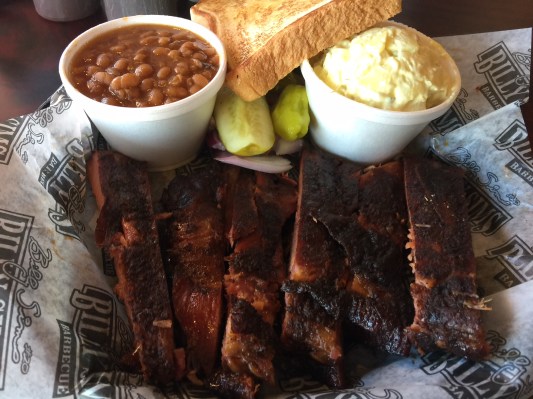 As I took a metaphorical knee and started in on the ribs in my Running Back ($11.99), I was surprised to see the server had thrown in a few extra ribs, bless her heart. And while these ribs were perfectly serviceable, tenderly dry if not a tad bland; a quick squeeze play of Billy Sims' signature sauces—in particular the hot and spicy—and they were, well, pretty good. The same can't really be said for the damnably flavorlessly pasty potato salad, a disappointment that was rectified in the Billy's BBQ Beans, also after a red zone's worth of hot BBQ sauce stirred in, however.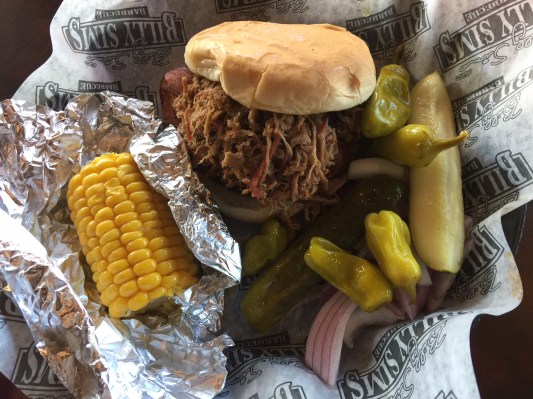 Comprised of a steaming stack of moist pulled pork with a slice of bologna and a hot link on a toasty bun, spike the ball and call it a day, because the Heisman ($8.99) is the go-to sampler of most of the meats on the menu. And, once again, while the lack of explosive flavor and moderate dryness from the meats is a minor red flag on the field, this is easily remedied with another Hail Mary save in the form of that sauce, drizzled and dashed to taste. Best keep a bottle or two handy at all times. The corn was juicy as all get-out, however. Go corn.
But the real trophy of the night, the "I'm going to Disneyworld!" moment belonged to the impeccably sharp passes of surprising taste combinations that the Triple 20 ($8.99) dutifully handed-off, with the tantalizingly tangy coleslaw mingling with the now-moist pulled pork and kicky secret sauce in a most satisfying, oddly pleasing way, provolone dripping together in an interception of the rank blandness that had been front-loading points up to that point. The extra creamy mac and cheese were tops as well, a nice addendum and a "good game" handshake of a side.
Billy Sims Barbeque might never win the culinary equivalent of a Heisman or even an All State Player of the Game, but for a decent-enough "fast casual" franchise to fill up on in-between plays, it definitely earns its participant ribbon. It's pretty good, you know? You really can't say that about too many other fast food joints, local, national or otherwise, now can you, son? ¡Cómpralo ya!
_
Everything about Billy Sims' career I learned off the side of a collector's cup. Follow Louis on Twitter at @LouisFowler.
Stay in touch
Sign up for our free newsletter