Everything Else
TLO Restaurant Review: Cimarron Steak House
6:26 AM EDT on August 29, 2017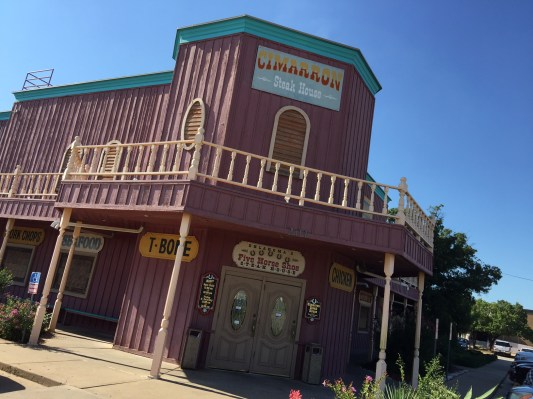 A new steak house recently opened up in the self-appointed elitist stretch of Oklahoma City proper, a beautifully self-effacing joint that proudly offers up various highly premium cuts of beef and a la cart sides to only the very best and most worthy of thick-walleted clientele, usually at a cost that is more than a week's worth of groceries for many of the area's dollar-menu dependent families.
Chances are I'll never be able to chow there.
More my horsespeed, however, is the wonderfully contrived cowboy kitsch of Cimarron Steak House, 201 N. Meridian, who are coincidentally also celebrating their 25th anniversary, offering an 8 oz. sirloin with your choice of sides for only $9.99. Sure, it may not be grass-fed specially-bred hypoallergenic-beef from a no-kill farm, but, in these weary days of economic apocalypse, it's the little things, like a $10 steak with your choice of sides, that can make even the lowliest cow-puncher feel like a Dionysian Nichols Hills property owner, if only for 45 minutes to an hour.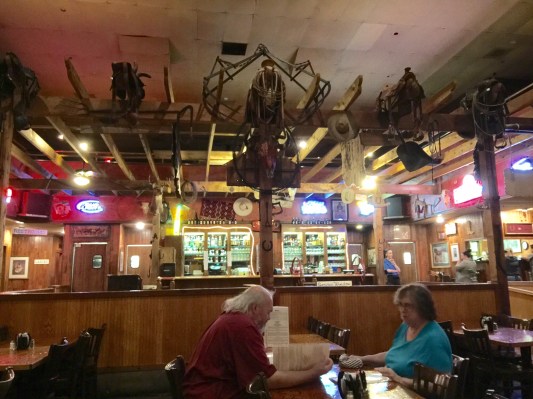 Built a little over 25 years ago on the ashes of the old Doc Severinsen's  jazz and dinner club—yes, that was a thing—the old west, or, at the very least, a maniacally recollected thumbing through of Time-Life's leather-bound The Old West collection, comes alive at Cimarron, with oversized antlers and unpolished saddles lining the neon strewn wall as elderly patrons who just figured out Groupon enjoy their meals in quiet desperation.
Moseyin' on in there for relatively early dinner last week, the space is quite expansive, even more so with only a small handful of patrons peppered about the edifice. Still, nothing can beat the Texas-fueled scent of that charred mesquite wood wafting through the rafters like a smoky tumbleweed rollin' right pass me as the breeze of the air conditioner catches just right like an El Paso sirocco.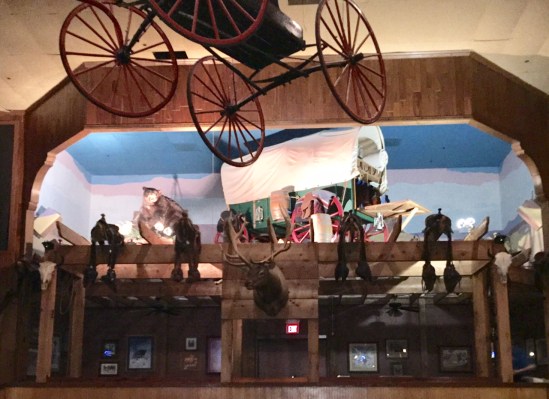 As I looked over the appetizers, I went ahead and put in an order for the Cimarron Sampler ($9.99) just so the table could have a little bit of everything, ranging from onion rings and cheese sticks to fried mushrooms and zucchini sticks, with the real star at night that's big and bright being the cream cheese stuffed jalapenos—or "armadillo eggs," if you're nasty—with ranch dip. Yee-haw, they were gone way too fast.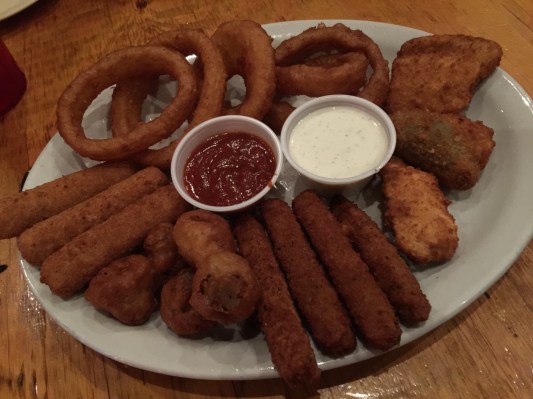 With no more pussyfootin' around, I put in my order for the Doc Holliday 12 oz. Ribeye ($14.99) while my dining pardner put in for the 25th Anniversary Special, a.k.a. the Sundance Kid 8 oz. Sirloin ($9.99). While I'll admit I wanted to try the Cowboy—a 24 oz. T-bone—it was just too early for that much meat and, honestly, I usually save the carne grande for when I'm actually out yonder deep in the heart of Texas. It's that type of Pentecostal self-denial that makes it all the more special when I do get it anyway, right?
The opportunities to turn this place into a Wild West variation of Casa Bonita, complete with a silver-star shoot-out stunt-show and d-list bands like Diamond Rio and Shenandoah taking the main stage nightly, is a sorely missed marketing ploy that could possibly fill this cathouse up. Speaking of filling up, here's a glimpse and glimmer at their diabolically Oklahoman house salad consisting of a few leaves of iceberg lettuce, a cherry tomato and a Godawful amount of ranch.
So…much…ranch…
Bonus pro-am tip: don't forget to ask your server to bring you a complimentary bowl of "Simmer On" beans and to keep 'em coming; these spicy borracho-style pintos are definitely worth the shadow-ride and probably my favorite non-meat protein on the menu.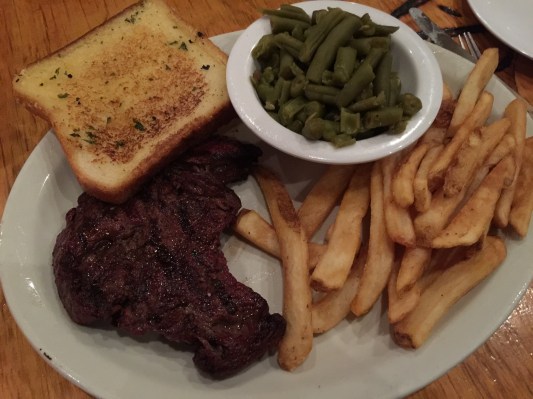 The Sundance Kid barrel-raced its way to the table first, that hot off the flame 8 oz. chunk of sirloin, served well-done and still steaming, sided with apropos French fries, green beans and the fairly odd requirement of a slice of garlic-buttered decidedly non-Texas toast. With nary a wastrel of fat, the steak was cooked exactly to mi amigo's specifications, with a seasoned, smoky mesquite flavor that never permeated as much as it did placate, with a butter-soft texture that was almost as easy to cut into as it was to masticate.
As for this charro, ever since I was a small-ish child I've always enjoyed my steaks somewhere around blue to rare, preferably as bloody as the floor of a saloon after a shootout, but most places are only willing to go as low as medium rare, which I've learned to begrudgingly accept. Still, when I requested my glistening and greasy 12 oz. Ribeye as rare as legally possible, dabnabbit, did they do a good job, perfectly wranglin' the outside in a magnificently seasoned casing of burnt flesh while the reddish insides maintained their immediate propriety, offering of an adorably tender reddish-pink flow.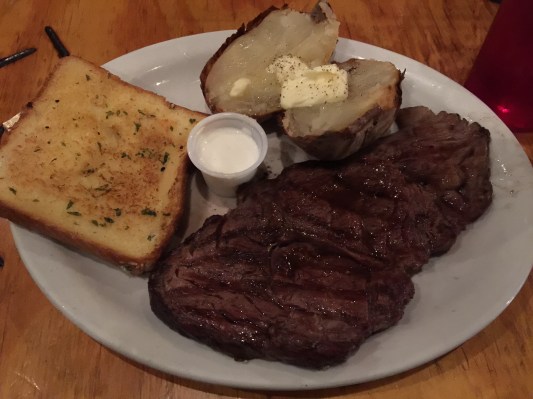 As I seditiously cut into my Doc Holliday, effortlessly enjoying every expertly manicured bite with the life-savoring fervor of an outlaw headed for the gallows, for a supposed "cheap" cut of meat, Cimarron Steak House's cookie sure can rustle up that beef just right, leave you feeling like you're happily gunnin' down a $50 chop. And with that, God as my witness, I can judiciously declare Cimarron is easily comparable to any highfalutin' Metro steakhouse that side-eyes shit-kickers, gunslingers, banditos and high plains drifters alike.
And honestly, compadre: ain't that just as good as the real thing, if not better? ¡Cómpralo ya!
_

Here's to 25 more years, Cimarron!. Follow Louis on Twitter at @LouisFowler.
Stay in touch
Sign up for our free newsletter