Everything Else
What does Adam Duritz think about the Oklahoma people today?
11:36 AM EDT on August 3, 2017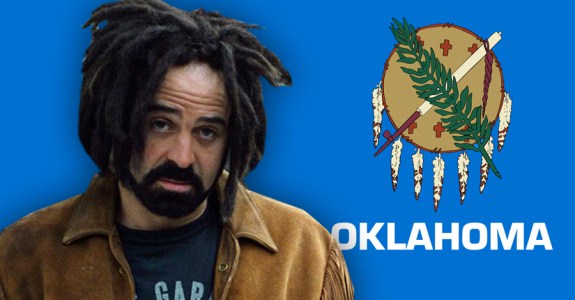 This Sunday night, Matchbox 20 and Counting Crows will be taking their 2017 "Brief History of Everything" Tour to the Zoo Amphitheatre. Tickets can be purchased here.
Because gray is my favorite color and I feel so symbolic, the upcoming show got me thinking – What would Adam Duritz, the frontman of Counting Crows, think about the Oklahoma people today?
It's a weird and relevant question. Way back in 2003, before Oklahoma City was a big league city with its very own NBA team, trendy entertainment districts, and obscure local social blogs, Duritz came to town to watch his beloved California Bears play Hollis Price's Oklahoma Sooners in the NCAA Tournament at the Ford Center.
A few weeks later, he blogged about his experience on the Counting Crows website and gushed about the people of Oklahoma. Thanks to our state's trademarked inferiority complex, everyone – Berry Tramel included – ate it up. The general consensus was:
"Wow. Holy shit! A famous person likes Oklahoma and has positive things to say about us. That's awesome!"
In case you're 23-years-old, which means you're younger than August and Everything After, here's a full transcript of his article that was republished in The Oklahoman:
Rocker Adam Duritz, lead singer of Counting Crows, on his trip to Oklahoma City two weeks ago to watch his beloved Cal Bears play in the Ford Center regional:

"The upside to the weekend was that it reminded me how much I kind of love Oklahoma. Not that Oklahoma City's all that great. There's really not much to do outside of visiting the memorial to the bombing which, by the way, is strikingly and heartbreakingly beautiful. It reminds you of the ability of art to communicate and commemorate history when an artist (has) the freedom to be truly original. It's a shame that due to the nightmare of modern political bureaucracy this rarely happens, but the people of Oklahoma City really got it right which, when I think about it, doesn't surprise me because they're great people.
I do agree with Adam on a couple of points. Outside of staying up very, very, very, very late, there was nothing to do round here in 2003. To put that year in perspective, Bricktown was the heart of Oklahoma City's nightlife and Zio's was our most popular restaurant. He's also right about the Oklahoma City National Memorial. It really is "strikingly and heartbreakingly beautiful." Say what you want about this city or state, but that's one thing we got correct in the crumbling difference between wrong and right.
But are Oklahomans great people? We can be, but I don't think we're any better or any worse than people from other states. Sure, we're nice, courteous and respectful to out-of-town celebrities, and we do rally around each other when we have our annual natural disaster, but we also have our faults. All it takes is one draconian legislative session or a bus full of SAE frat boys to remind everyone how we can improve as a people.
"I've spent most of my life living in cities where people are obsessed with looking down on people from everywhere else. You get so used to doing it that you start to believe it's simply what everyone does. It makes for an atmosphere of unwelcome that penetrates much of our modern life. It's a shame, really, because a couple days in Oklahoma will open your eyes to how much better it would be if the rest of the country was filled with a few more people from Oklahoma.
In all fairness, when you live Oklahoma, you sometimes have no place to look but up. That's what happens when you're located above Texas.
"It's what I've always loved about Ireland and what I discovered recently I love about Australia. The people are just a helluva lot nicer there. There were only about 30 or 40 Cal fans at the games as compared to about 18,000 Oklahoma and Kansas fans. At (Oakland) Raider games, that's what we call our rather scary home field advantage. In Oklahoma City, it was merely a reason for people to come up to all of us and ask how our visit was going, and were we enjoying ourselves, and to tell us how great they thought it was that we would come all that way to support our team, and to thank us for coming.

"Sound hokey? Maybe, but it was also pretty great and it had nothing to do with me being me. They were that way with all of us.
Yep, we're always nice and respectful to out-of-town sports fans in Oklahoma. On that note, I'd like to personally invite Adam to sit with me in the Ogle seats the next time his hometown Golden State Warriors play the Thunder inside the Peak. He can even wear a Golden State jersey. I'm sure everyone will be nice and respectful.
"As for me being me, they were pretty great about that too. Unfailingly polite about coming up and asking for autographs, they were also completely understanding when I didn't want to do it once the game had started. I had a lot of nice conversations with nice people who just hung out and talked to us. It can be pretty weird and often difficult for me at events like this where there are a lot of people around.

"I have gotten used to feeling rather exposed but I just felt comfortable the last few days. If any of you are reading this, this is my thank-you note to all of you who made Oklahoma a great place for all us Californians to visit.
And that concludes Adam Duritz's glowing 2003 tribute to the people of Oklahoma. Pretty cool, huh?
So, back to headline of this post – What would Adam Duritz think about the Oklahoma people today?
I think he'd feel the same way. There's still not a lot to do round here when compared to bigger cities, the Memorial is still "strikingly and heartbreakingly beautiful," and we're still overly-nice and considerate to famous people, which helps gloss over our faults.
But what do you think? Let us know in the comments, or just tell me at the concert on Sunday. Either works.
=
Stay in touch
Sign up for our free newsletter