Everything Else
Oklahoma Republicans are fighting and it's kind of fun…
2:29 PM EDT on July 24, 2017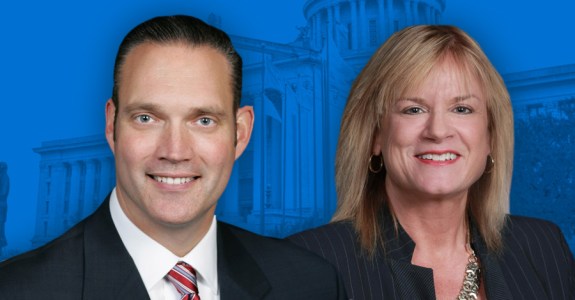 Let the infighting begin!
Last week, we witnessed another great moment in Oklahoma political theatre when several high-ranking Republican members of the legislature used the local media to bicker, argue and deflect blame on recently announced budget cuts to DHS.
Here's the synopsis of what happened...
Earlier this month, DHS announced cuts to essential programs for foster children, the elderly, people with developmental disabilities, and other greedy, lazy, unsympathetic heathens who suck from the government teat. The cuts were primarily due to the Oklahoma legislature narrowly passing a flawed budget in May that didn't adequately fund the agency.
DHS's announcement irritated Oklahoma House Speaker / gender role stereotyper Charles McCall and his partner in crime – House Majority Leader Mike Sanders. They had the nerve to publicly criticize DHS for the announced cuts, which would be like your barber making fun of you for getting a bad haircut.
Here's what Speaker McCall had to say:
"Frankly, I am perplexed as to why an agency that could afford these programs last year would claim it can no longer afford them this year after receiving a $53 million increase from taxpayers," said McCall. "This is an agency that received $700 million in taxpayer dollars last session. We worked diligently during the legislative session to meet the needs of the agency as Director Lake requested, so this announcement to cut programs is surprising, to say the least."
Here's what Mike Sanders said:
"I'm asking for Oklahomans to turn their outrage toward the appropriate party in this matter – DHS – and demand they do the right thing and provide meals for our seniors, in-home services for our disabled adults and appropriate funding for foster care and adopted children. I also call on the agency to stop playing political football with vulnerable state residents and taxpayer dollars."
Fun fact - Sanders and McCall are both lemmings for the Oklahoma Council of Public Affairs. It's the anti-government, ultra-right wing lobbying group that worked with the oil industry to put Oklahoma in the financial mess it's in today, and help block any meaningful legislation to address the state budget crisis. Basically, they're the inmates running the asylum.
In a rare move of opportunistic political defiance, several high-ranking Republican lawmakers defended the agency's cuts. Leslie Osborne, the Chair of House Appropriation and Budget Chair and loving mom of Garth from Wayne's World, issued the following statement via a press release:
"There's no doubt that DHS's costs have grown far in excess of appropriations," said Osborn, R-Mustang. "Over the last few years, the Legislature has worked hard to increase the appropriation from $672 million to $700 million, but we can't discount the fact that, during this same period, DHS has faced cost increases and lost revenue totaling at least $175 million. That is obviously far more than the $28 million increase in appropriations.

"This agency serves foster children, the disabled, the elderly, and those who cannot help themselves. It is not directing dollars to a nameless agency; it is directing dollars to lives. Any and all decisions to make cuts were devastating to the staff, the management, and the appropriators," she said.
Because we live in a time where loyalty, obedience and general ass-kissing and are valued way more than honesty and defiance, it's safe to say her statement angered Speaker McCall. As a response, he removed Osbourne from her leadership position on the Appropriation and Budget committee. He claimed that it had nothing with her comments, which is great lie even by Oklahoma politician standards.
Wayne Green with the The Tulsa World agrees:
For the record, McCall's press guy said her removal was absolutely not related to the DHS dispute.

"No member has been or will be punished by the Speaker for voicing their opinion," Jason Sutton told my colleague Randy Krehbiel by email. "It's ridiculous to suggest otherwise."

Well, one of us is being ridiculous, that much is right.
The Tulsa World wasn't the only group to take Osborne's side. She received support from Democrats, Republicans and other people who like a bit of honesty from elected officials. Not surprisingly, Osbourne conveniently announced she's running for statewide office a couple of days later:
State Rep. Leslie Osborn, R-Mustang, said Friday she is considering a run for labor commissioner.

Osborn drew support this week from across the political spectrum after Speaker Charles McCall replaced her as House Appropriations and Budget Committee chair. It was that support that helped solidify her decision to run for statewide office.

"The support has lifted my spirits and renewed my desire to fight the good fight for Oklahomans who want to see destructive partisan politics, bickering and pettiness replaced with constructive conversations, fresh ideas and bold initiatives," Osborn said. "My hope is to set a new agenda for strengthening our economy and improving the quality of life for Oklahomans."
Kudos to Osborne for taking on the ideological conservative mafia who runs our legislature, but I knew there had to be a catch. Seriously, I bet all the drama of last week was a cold, calculated decision by Osborne to boost her name recognition, likability and overall chance at winning a state election. If so, good for her! Now when she campaigns for Labor Commissioner she can run as a conservative maverick who took on the unpopular good-old boys at the Capitol.
Knowing that he looks like the asshole in the court of public opinion, McCall is now endorsing Osborne for the office:
Oklahoma Speaker of the House Charles McCall, R-Atoka, endorsed Rep. Leslie Osborn, R-Mustang, on Friday — but not for state representative...

"Representative Osborn has been a tremendous leader in the Legislature, not just this past session but since she was first elected," McCall said in a written statement.

"Her small business experience, combined with her pro-business record in the legislature, make her an ideal fit to be our next Labor Commissioner."
That's sweet. It's good to see party loyalty take precedent over personal vendettas. Maybe the Oklahoma political system is returning to normal.
Anyway, I guess that concludes this installment of Oklahoma political theatre. Here are a few notes / thoughts:
• It's fun to see Republicans bicker and fight each other in a public forum over the disastrous policies they've implemented. Will Oklahoma Democrats be able to take advantage? If history has taught us anything, probably not.
• Some people (a.k.a. Democrats, liberals, social justice warriors) are asking if there's some sort of sexism at play with all of this. They're wondering if McCall would have demoted a male colleague for making the same statement. I think so. Whether you're a man, woman or sexually deviant Oklahoma lawmaker, they expect you to do and say what you're told.
• Speaker McCall is doing a terrible job? His reign as Speaker has been an epic failure, and considering some of the budget items he forced through the house will likely be ruled unconstitutional, it's only going to get worse. He better hope for another great sex scandal to distract everyone.
Stay in touch
Sign up for our free newsletter