ICYMI
Oklahoma lawmaker accused of adultery, anger management issues in divorce petition
11:25 AM EDT on July 20, 2017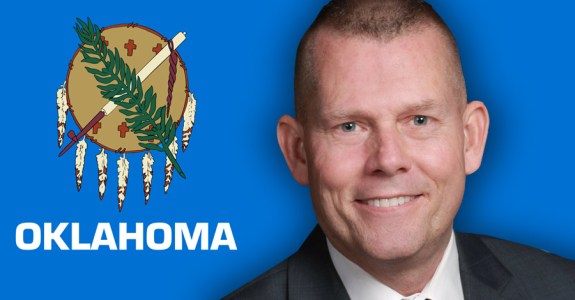 I guess it's time for another scandal in the Oklahoma legislature! This time around, it's in the form of a traditional nasty and bitter divorce.
We've learned Oklahoma State Rep Kevin McDugle (R), a former Marine and entrepreneur, has been accused of infidelity and anger management issues in a recent divorce petition we acquired via the Ogle Mole Network.
The petition was filed in Wagoner County Court on June 15th by Tosha McDugle. She's seeking a divorce on grounds of adultery, incompatibility and, presumably, the shame of being associated with an Oklahoma lawmaker. She's seeking full custody of the couple's children, and has strict demands and rules for visitation visits.
The petition is located after the jump:
-
Before we continue, I'd like to address the question some of you whiners are asking - is this news? I think it is. The divorce petition is public record, and Kevin is an elected official who ran on a family values platform – a platform the divorce petition directly contradicts. Combine that with the rash of controversies that have loomed over the Oklahoma legislature this year, and we feel it's in the public interest to report the matter.
Additionally, this isn't the first time McDugle's marital life has been the focus of controversy. In 2012, Oklahoma Truth Council posted the following video:
Wow. He's been married three times, and to two women at once? No wonder he's an Oklahoma lawmaker! He fits right in with everyone else!
Because we're an official online tabloid now, I emailed Kevin at his house email address for comment, and specifically asked him to address the claims of infidelity and anger management issues. Surprisingly enough, he actually responded a few hours later...
We are filing our rebuttal to the allegations next Friday the 28th. I can tell you we have been separated for a while, I asked for a divorce and sent her a message later asking that she have her attorney contact mine in order to try and have a civil divorce. We did not hear back for a few days and she went and filed the petition you sent - the day after withdrawing over $26,000 from our account. I gave her $9,500 cash for her attorney prior to her making the withdraw. I can also tell you there is "No" reason for anger management as I have never been anything but a good father to those kids and to her own claim which she made as late as May 3rd we did not have but two verbal fights in 15 years.
Hmmn. He didn't address the adultery accusation, but he did emphatically deny the anger management issues. On that note, he may want to take this video off YouTube before they go to court:
Kevin then sent me another email containing a slew of Facebook messages that Tosha had posted over the years espousing her love for him...
Here are some Facebook post that show she was telling a completely different story even when she knew I was asking for divorce.  Once I had my attorney contact her she turned vindictive and starting making claims and allegations that are completely false.
Here's a couple: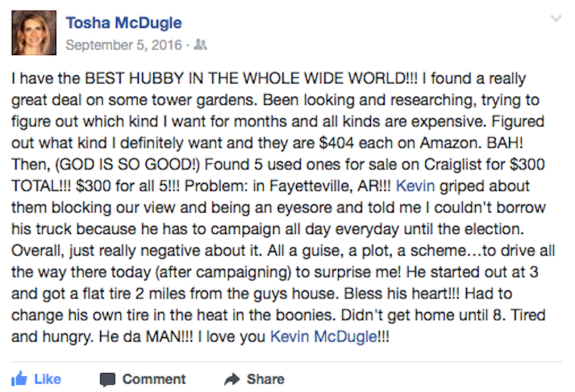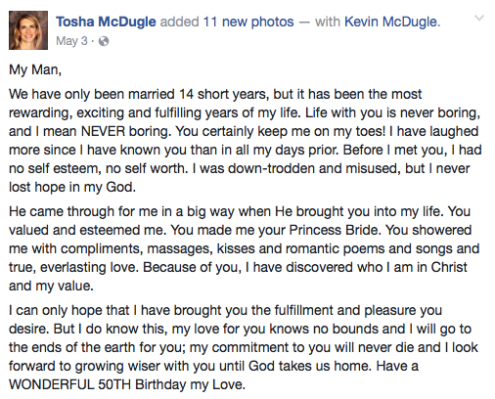 Hmmn. She went from loving and admiring her husband to ruthlessly hating and disliking him. I wonder what would cause that? I should probably go watch a soap opera to find out.
Anyway, I know first hand how contentious divorces can be, how irrationally they make people behave, and how annoying they can be for friends who have to listen to people complain. For the sake of their family, hopefully Kevin and Tosha can work things out peacefully and amicably and move on with their lives.
Stay in touch
Sign up for our free newsletter