Everything Else
TLO Restaurant Review: Classen Grill
9:24 AM EDT on July 18, 2017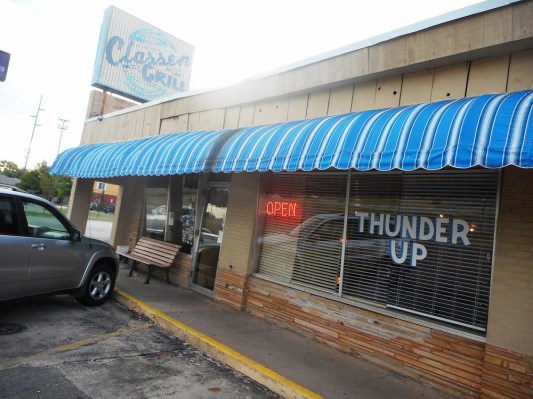 With the imminent razing of the Donnay Building and all its accoutrements to make room for a new Braum's Ice Cream and Dairy Store, I guess now is as good a time as ever to pay a visit (last respects?) to the Classen Grill, 5124 N. Classen Blvd., right?
A Metro breakfast favorite for almost 40 years, the Classen Grill offers a liberally workable mixture of Tex-Mex goodies with more traditional Southern fare, all at reasonable enough prices that won't make an already bad hangover from a night of Classen barhopping even worse, that famous fresh-squeezed orange juice always a welcomed balm in Gilead.
Sadly, with the exception of my usual five or six Bayer Back and Body caplets I down just to get out of bed in the morning, I was stone-cold clean and sober when I stumbled through the door of the Grill a few minutes after their 7 a.m. opening time, an early bird who thought it be a good idea to at least get his order for worms in before it got too packed, especially with all the recent hub-bub goin' on, finding a sturdy table by the window as the sun rose and daylight lit the no-frills joint up naturally.
For such a small menu, Classen Grill offers plenty of varied breakfast tastes that sound great on paper, piquing my interest immediately with their "new" Two Topper, a massive full-on breakfast black hole that managed to swallow itself. Wanting to sample their requisite Mexican flair, I also added a Colorado Burrito to my order and, just because I'm a sucker for anything Elvis Presley, especially the way he died, there was no way I could turn down the party in the country jail that is the Memphis French Toast, served with a side of Grim Reaper admonishings, I'm sure.
(Editor's Note: I don't know why Louis didn't order cheese grits, either.)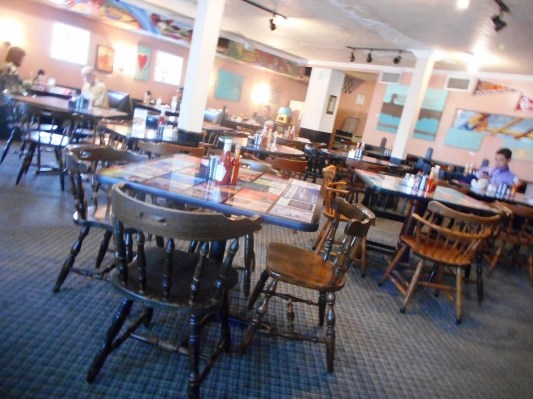 The wait for the food was longer than what I would've expected; but, to be fair, the place was starting to fill up with a mixture of regulars and lookie-loos, possibly intrigued by the local news team vans that were stationed outside, ready to cover the Donnay controversy, now in its second day and the place wasn't all that heavily staffed. More power to 'em, I suppose. I'll give you this one.
But not this one…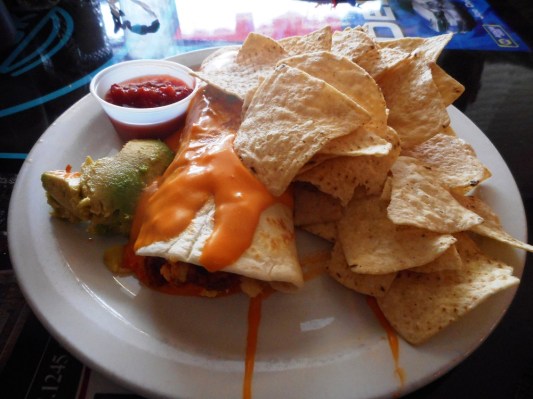 The Colorado Burrito ($7.49) was the first entrée to reach my table and, right from the start, was a minor disappointment. While the scrambled eggs, chili and cheese inside the burrito were just fine and made with what I'm sure amounts to some form of tender loving care, instead of my promised topping of chili con queso, glooped across the tortilla shaft was a bright orange drizzle of that fake ballpark nacho cheese that even Taco Bell won't touch. Additionally, instead of my ordered hash browns, I was given tortilla chips. And, hey, not to be a jerk, but where's the sour cream?
If I wanted my breakfast order screwed up this bad, I could've just gone to Braum's…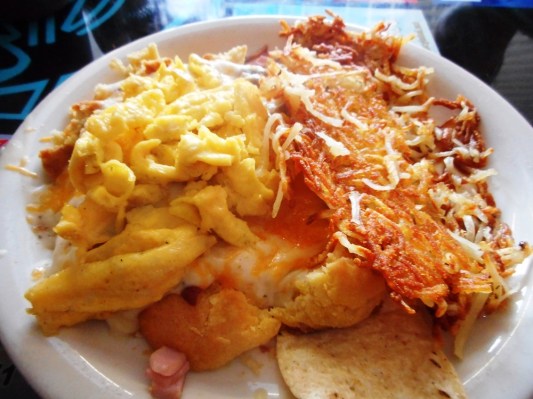 But, by the time the Two Topper ($6.99) showed up in front of me, I was truly glad I didn't. With a headstrong base of two fresh biscuits judiciously loaded with sensuous ham, sausage and gravy, heavily blanketed with cheese (real cheese, this time, I think) and then a left-hook finishing move of fluffy scrambled eggs, it had a nourishing denseness reminiscent of a 1950's Betty Crocker breakfast casserole, a culinary fad that's been missing in morning eats for years, if you ask me. And, when coupled with my much vaunted hash browns, I was ready to draw the shades and crawl back into bed, greasy spoon coma in full effect.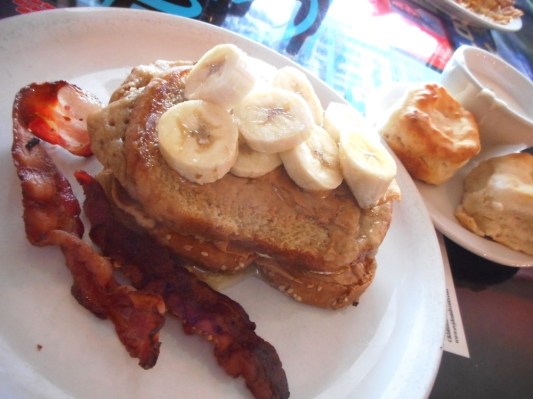 But then I would have forfeited that hunka-hunka burning chest-pains that is the Memphis French Toast ($6.99). Just looking at it on the plate—two pesky excuses for strips of bacon laughably pushed aside—Lord Almighty, I felt my temperature rising, as well as my blood pressure, as I bit deep and I bit hard into that cinnamon pancake-battered and butter-fried bread that managed to contain an extra-large jumpsuit's worth of peanut butter, bananas and so much honey. Glory, glory Hallelujah, give me a little less conversation and a lot more bites of this King-worthy nosh, worth the trip alone.
That being said, while I don't want to wade into the expletive-filled waters of the whole controversy regarding the Braum's debacle right here—I definitely have my opinions, mind you, as apparently we all do—let me just add these two cents and you may do with it what you will, hoss: the Classen Grill, preliminary mediocre mistakes aside, is definitely a much-needed and much-loved unique breakfast hot-spot in Oklahoma City, a dying breed of old-school morning eats that once gone, can never be replaced. And especially by, of all things, an effin' fast-food chain. I mean, c'mon now. ¡Cómpralo ya!
_
Good gravy, that Memphis French Toast must've sat in my guts for three days. Follow Louis on Twitter at @LouisFowler.
Stay in touch
Sign up for our free newsletter