Food
TLO Food Truck Review: The Flying Pig
9:01 AM EDT on June 8, 2017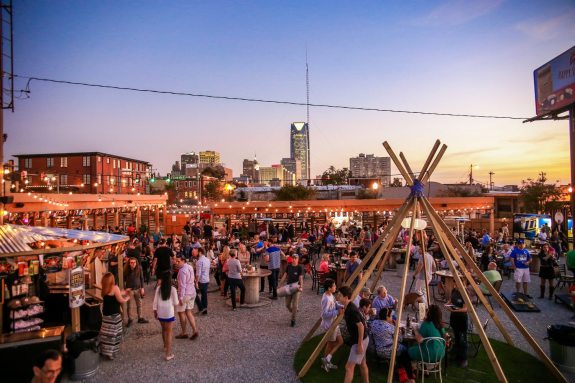 As I walked through the rain-soaked gates of Bleu Garten, it was impossible not to feel like I was back in my middle school lunch room.
Searching for an open table as popped-collar bros clutching local brews gave me the once over while women who'd never give me the time of day eye-rolled as I sauntered past, there I was, the oldest and fattest dude in a sea of perfect So6ix readers. I must've turned around and almost left three or four times, the constant crashing of oversized Jenga pieces rattling my nerves like a skittish dog.
I was there to visit a food truck I had heard many good things about—the Flying Pig BBQ and Mobile Smokehouse—and, in particular, to try a wholly original creation on their menu called the B-52, served Beast-style, if possible. Founded by pitmaster David Greggs, I was impressed that in a city full of BBQ imitators and amateurs—especially on the food truck circuit—he was actually trying new things with his stellar eats beyond the typical two meats and a side or, heck, even the simple BBQ sandwich.
Trudging the entire length of the Garten, all the way to the back where the Flying Pig was located, definitely mustered up some form of post-traumatic stress, imagined or otherwise, as I kept my head down, horse-blinders ignoring the high-pitched giggles, dutifully standing in the moderately long line to place my order. The smell of smoked meats were dutifully intoxicating, as I'm sure you'd guess.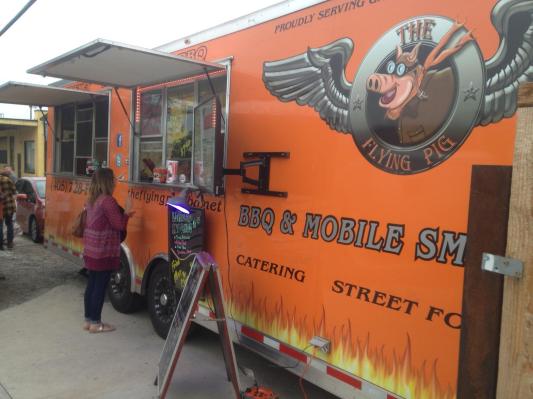 Luckily, Greggs recognized me and while they weren't able to "Beast" my B-52 due to a few sold-out provisions, he offered to make it "Dave's Way" instead, which I was more than happy to accept. It was like being invited to dine in the kitchen of your favorite chef, or at least as close as someone of my low-rent stature would ever come to it.
As I was handed my B-52 ($11.00) from the window, I wasn't prepared for the sheer considerable heft this bomber full of BBQ and sides had to it, quickly bee-lining to an empty table out of the corner of my eye which, while still wet from that recent rain, was at least solitary enough for me to enjoy this monstrous monolith of meat and cheese far from the judgmental eyes of today's CW-ready youth.
Featuring layers of jalapeno-sausage and savory brisket masonried on a bed of their homemade macaroni and cheese and then blessed with a torrential downpour of Ghost Pepperjack cheese, stuffed into a hoagie and laid out before you as a testament to Western Civilization and our collective achievements and/or advancements, the B-52 was as thick as a brick and twice as delicious, the first bite was a sweet one, the second was a blast of pure porky heat.
Keep an ice cold Diet Dr. Pepper nearby.
Surprisingly, it's not the Ghost Pepperjack that gets you as much as the masterfully blended jalapeno-sausage, it's sealed spices unreleased, jutting forth capsaicin-heated juices like a taut wet dream with every unprepared bite. The brisket does its best to alleviate the sensual burn, but only creates an even more intense flavor, especially when paired with delicately sweet side-sauce provided. The thick slathering of mac and cheese is the truly welcomed balm, however, a deliciously dense treat for the alleviation of meat-sweat beads gathering under the setting sun.
More than just a novelty, the B-52 is the perfect reason to venture out to wherever the Flying Pig is serving, a beautifully inventive take on the staid BBQ sandwich and a deliciously crafted endeavor designed to set the bar as to what we expect food trucks to provide: creative word-of-mouth delectables that in no way can truly exist until it is in our hands and, more apropos, in our mouth.
Wits returning to me as I swallowed my last drop of Diet Dr. Pepper, as the sun set on Bleu Garten, the room was becoming much fuller and so much more abrasive, with cries of "Bro!" jettisoning into the night as a 1000 iPhone screens provided unnatural ambiance at a rate of a selfie every 30 seconds. It was obviously the place to see and be seen, so I invisibly slunk out with as little overweight oafishness as possible. ¡Cómpralo ya!
_
As the great Tom Keifer once said, "The more things change, the more they stay the same." Follow Louis on Twitter at @LouisFowler.
Stay in touch
Sign up for our free newsletter