ICYMI
Thanks for all the memories, Coach Stoops…
1:12 PM EDT on June 8, 2017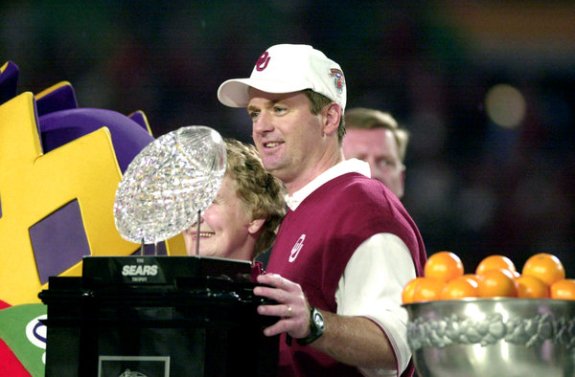 Yesterday afternoon, Oklahoma sporting legend Robert Anthony Stoops, a full name that I terrifyingly know and remember by heart, announced he's stepping down as the head coach of the University of Oklahoma football team for no other reason than he wanted to.
Even though OU has a memorial statue of Bob ready and on standby, the story apparently took everyone by surprise. News spread like wildfire gobbling up red cedars on the horizon, with family members, friends, and foes alike all sharing the OMGs and WTFs via text messages, snapchats and emails. Hell, it was such a big deal that I even called my 89 year-old grandfather to tell him about it. His hearing aid wasn't working properly, and he mistook my question "Guess who resigned?" for "Guess who died?" Getting old must suck.
Speaking of getting old, that's what makes the Stoops retirement so bittersweet. He was the head coach at OU for over 18 years. That's an entire generation, or even two when you consider Oklahoma's high teen pregnancy rate! When he was hired, I was a community college student who waited tables part-time and lived with my parents. Now I'm a community college hall-of-famer who writes a blog and lives in my parents' basement.
In a way, the whole thing feels like a high school graduation for OU fans. We've spent the past 24 hours or so reminiscing about the good old days, wistfully wondering where all the time has gone. Yet at the same time, we're also excited and optimistic about the future. It's time to turn the page to a new chapter.
That's the other big news in all this. OU has a new football coach. His name is Lincoln Riley (no relation). I like the hire, but there are some obvious concerns, like handing over the keys of the OU football program to a wide-eyed 33 year-old rookie head coach all while the temperamental brother of the program's previous owner sits in the backseat miffed that he wasn't asked to drive. I'm sure that will work out well.
Like most OU diehards, I've been a Stoops fan from just about day one. After suffering through the keystone cops football of the Gibbs, Schnellenberger and Blake eras, Stoops' unwavering confidence gave the program was a much-needed spark of life, attitude and breath of fresh air.
You could tell he was a badass before he ever coached a game. In the Spring of 1999, OU's best wide receiver (oxymoron alert) from John Blake's disastrous 1998 team, Ahmed Kabba, quit the squad after Stoops buried him in the depth chart behind former defensive backs and walk-ons. When asked about it, Stoops displayed a snark and attitude that I couldn't help but admire:
"He's a fine young man, and we wish him well," Stoops said. "But I think we'll be able to find someone who can catch eight balls for us next season."
And he sure as hell did. The 1999 Mike Leach / Josh Heupel spread attack was something OU football had never seen. We were like curious villagers being introduced to a new war technology from an advanced civilization. The offense went from tossing spears and rocks to firing off semi-automatic weapons and cruise missiles. "Wow. You can throw the ball 50 times and win games? Awesome!!!"
Although arrogant and cocky, Stoops was also honest and humble. So many of today's athletes and sports figures, like Kevin Durant for example, act humble for media and cameras because that's what their PR folks and agents train them to do. Stoops actually seemed genuine. When the May 19th tornado struck Moore, he arrived on the scene unannounced and grabbed a shovel to help with cleanup efforts. He didn't tour the destruction with a camera crews and PR flacks, stopping only to hug people for social media photo ops. He didn't make a much-publicized $1,000,000 donat... You know what. I'll stop there. You know where I'm going.
The early Stoops years were obviously the best. The 2000 run to the national championship will always be my favorite sports moment. From laughing at Texas to running on the field after the Nebraska game to eating grandma's Frito pies with the family for away games, that three-month run from October 2000 to January 3, 2001 is packed with more happy memories than a yearbook. It also includes my favorite play in OU football history:
These plays were pretty nice, too:
Hello chills.
Sadly, the unadulterated magic of that 2000 season ended up being a one-time thing. Although Stoops had some great teams (2003, 2004, 2008, 2015), players (too many to name) and moments (this is still special) over the next 15 seasons, they'll always be overshadowed by the disappointing fact that they never won another National Championship. The blowout loss to USC on the Rose Bowl, and the missed opportunity in 2008 against Florida are still difficult pills for fickle OU fans, and I'm sure Bob Stoops, to swallow.
Also, let's be honest. Although he did make the 2015 College Football Playoff thanks in part to an amazing QB Houdini that he never recruited, you have to admit the Stoops brand has lost a lot if its original luster. He went from a young, bright, Mr. No Excuses guy to a more complacent, less motivated, stereotypical college football fat cat. Over the years, his teams began to display many of the irritating, undisciplined traits that he was originally brought in to fix. Stoops became more tolerant and forgiving. He went from kicking guys off the team for rapping about guns to embracing guys who knocked out women.
Although I'm sad to see Bob go, I'm not sad that OU's getting a new coach. I loved Bob, and he'll probably do a great job when he returns to coaching at Florida or wherever in 5 years, but just like when he arrived on the scene in Norman 18 years ago, I think the football program is ready for a new jolt of energy and direction. It's a big time job, and as Stoops would probably say, I think we'll be able to find someone who can coach OU to 11 wins next season.
Is Lincoln Riley that guy? Who knows. I hope so. As I mentioned, I like the hire, but we really have no clue if he's going to pan out or not. History tells us it's never easy to follow a legend, especially when that legend is sticking around town and watching over your shoulder. Stoops is going to be a tough act for Riley to follow.
Anyway, I could probably ramble on for another 5,000 words about Coach Stoops, but I guess I'll just end it with one simple note – Thanks. Thanks for everything you've done for the OU football program, thanks for returning one of my favorite sports teams to prominence, and thanks for keeping them at or near the top for such a long time. And perhaps most importantly, thanks for all the memories. I can still taste grandma's Frito chili pies and the 2000 National Championship like they were yesterday. Every OU fan owes you one. We wish you the best of luck.
Stay in touch
Sign up for our free newsletter