Food
TLO Restaurant Review: Health Nut Café in the Oklahoma State Capitol
4:43 AM EDT on June 6, 2017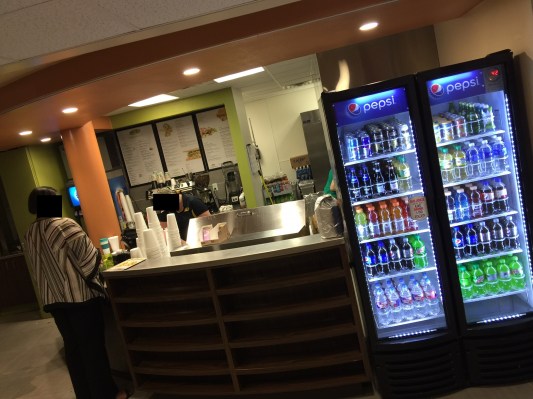 Without fail, the dreariest, saddest places to eat are always inside of government buildings. From municipal cafeterias to state capitol snack bars, prepare for an emotionally draining, lifeforce-sucking meal wherein one just hopes and prays that at any minute, like an 80s beer commercial, Eddie Van Halen, Spuds McKenzie and the Swedish Bikini Team bust in through the door, handing everyone in the room an ice-cold Bud Light, turning that mundane eatery into party central, bro.
One. Hopes.
In our Oklahoma State Capitol, on the fourth floor, at the end of a long, marble-ensconced hallway filled with folding chairs stacked against the wall and a flickering fluorescent light that adds a Lynch-ian tone to the mausoleum-esque atmosphere, whenever our beleaguered government officials need a quick pick-me-up, a hearty meal or just as few minutes to drink a diet soda and kick back with that Sea-Doo catalogue, circling possible purchases to make on our dime, they trudge to the snack bar at the end of the hall, last door on the right.
With all the ambiance of a badly-lit middle school teacher's lounge that might also be haunted, the State Capitol snack bar features a few vending machines peering out of the darkness, some ancient tables, some chairs and some stools. To your immediate right, however, filled with unearthly smiles and a menu of somewhat healthy meal options, appearing from the imagined dusk like a dietary Brigadoon is the Health Nut Café. I dare not take my eyes off of it, lest it disappear into the mist, the solitary giggles of the girl behind the counter echoing like a dementia-riddled memory, time out of mind.
Offering wraps, sandwiches and salads, as well as smoothies and a few breakfast offerings, I had come too far to turn back now, journeying through all that scaffolding and dodging the falling chunks of marble like a low-rent high blood-pressure Indiana Jones; besides, many items on the menu, such as the low-fat tuna melt on a wheat tortilla, the terlingua wrap and even the pecan chicken salad sounded a might delectable. I eventually settled on—in tribute to my surroundings—an Okie Melt while my dining partner chose the Wild Wild West, inspired by the mostly accurate murals in the pavilion.
The cashier was all smiles, a daring contrast to the few bleak souls sitting around us, some hypnotized by their phone while eating Pop Tarts from the vending machine, other drowsily transfixed by some program about mulch on the television--something that I wasn't sure was an OETA program or some close-circuit channel piped in to all the tellys. There wasn't that much time to speculate, however, as our eats were quickly delivered in unhealthy Styrofoam containers, each containing two halves of a wrap, a small container of fresh salsa and about eight to ten organic tortilla chips. Let the party begin.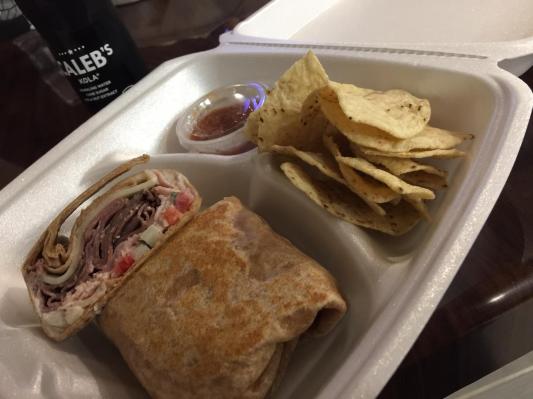 With the exception an almost immediately soggy underside, the Okie Wrap ($7.99) was a pretty unique combination of flavors, with the liberal serving of turkey and roast beef mixing well with the onions, tomatoes and conservative dollop of homemade ranch, both sides of this lounge-pleasing aisle reaching common ground with a melted provolone slice, housed in a pressed wheat tortilla, that, like I said, got way too soggy, way too fast. But, much like Election Day, they all can't be winners.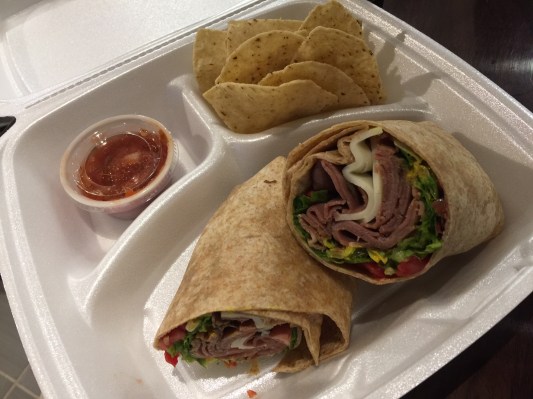 My dining companion fared dryer with his (wikky-wikky) Wild Wild West ($7.49) wrap. Pink roast beef and crispy romaine, tomatoes and, once more, provolone and a thorough line-through of specialty mustard might not sound all that special, but it was a big enough proportion with fresh enough ingredients that he was actually quite pleased and even commented on the price, relaying that he has paid much more for much less when it comes to quasi-healthy eating like this.
We both agreed, however, that the Dickensian serving of tortilla chips and salsa were so bare minimum you have to wonder why would they even bother? Whatever happened to the good old days when you got a cup of pasta salad or some fresh fruit with your wrap? Am I just imagining that being a "thing"? I think I might've had that in a Panera once…once.
Mostly satisfied with our lunch, as we left the snack bar the girl behind the counter once again smiled and said "Come back and see us..," a delightful sentiment made spooky through not only the echoing of the "us…us…us…" reverberating through the hallway, but the flickering light finally popping into darkness, an eerie presence watching over us as we headed for the elevators with the quickened pace of a child running through a dark room to find a light switch.
"Wanna try to hit Sonic for a Happy Hour Rt. 44?"  I asked my friend, unnerved but craving a Cranberry slush, the sun burning our eyes as we exited that decrepit manor of unrequited legalism. ¡Cómpralo ya!
_
And oh yes, did I get my half-price Rt. 44 Cranberry slush. Did I ever. Follow Louis on Twitter at @LouisFowler.
Stay in touch
Sign up for our free newsletter