ICYMI
David Stanley is in trouble again…
2:21 PM EDT on June 1, 2017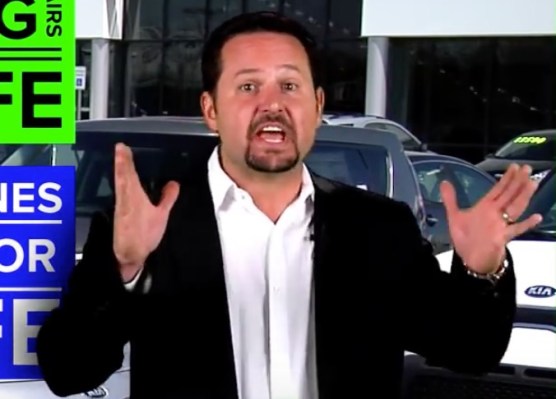 We have some bittersweet news to report.
After years of going solo, we are no longer alone in our coverage of the "David Stanley Leads The Way In Shady Business Practices" news beat. Yes. It's official. We now have company.
Earlier this week, the nonprofit Tulsa Frontier reported that David Stanley – the dealership that dominates local TV commercial blocks  – is facing numerous consumer complaints and lawsuits for allegedly falsifying the financial paperwork of unsuspecting customers.
Check it out:
A lawsuit filed in Oklahoma County district court accuses one of the state's largest car dealership companies and one of the country's largest auto lending companies of issuing scores of predatory loans to numerous Oklahoma customers by falsifying finance paperwork.The suit accuses David Stanley Dodge of adding fraudulent features and accessories to vehicles on finance paperwork and of inflating customer income information in order to obtain car loans for customers.The suit also accuses the lender, Ally Financial, of knowing many of the loans it accepted from the dealership were based on false financial information that inflated the incomes of applicants or over-valued vehicles the loans were based on.The plaintiff's attorney in the case, Kathi Rawls, also submitted a complaint to the U.S. Consumer Financial Protection Bureau on Friday alleging that Ally Financial had issued a fraudulent loan.Messages left for David Stanley Autogroup's attorney and management, as well as messages left for Ally Financial's corporate spokesperson and its Oklahoma attorney were not returned last week. David Stanley Autogroup encompasses several dealerships under the David Stanley brand.
As I do with any David Stanley story, I should point out that KFOR-4, KOCO-5, KWTV-9, KOKH-25, The Oklahoman, and just about everyone else in the local media, has ignored this lawsuit. They haven't mentioned it, or any of the other record-breaking fines or lawsuits against the dealership. I guess they're too busy reporting hay scams.
Via KFOR:
State authorities are warning Oklahomans in rural parts of the state about a scam targeting them.The Oklahoma Department of Agriculture, Food and Forestry says the agency has learned about a scam targeting individuals who have hay for sale.Agency officials say the supposed hay buyer will send the seller a check for more than the purchase price, and then ask the seller to wire the excess money somewhere else.
Isn't that ridiculous? Idiot falls for a scam involving a hay? Put it on the news as a warning to other hay sellers. Car dealership openly preys on Oklahoma consumers through deceptive commercial advertising and questionable business tactics? Ignore it and let them lure in more potential targets through paid advertising. President Trump would be impressed by the hypocrisy.
Here's more from the Frontier:
The suit against David Stanley Autogroup and Ally Financial, filed in July 2016 in Oklahoma County District Court by Lawton residents Tiffiany Bourque and Frederick Karol, states that in July 2015 Bourque purchased a 2013 BMW from David Stanley Dodge of Midwest City. Bourque and her friend and co-signer, Karol, travelled to the dealership, and the two planned to use Karol's 2002 Ford Explorer as a trade-in.The listed price on the vehicle, advertised as "amazing" and "possibly garage kept," was $22,500, and Bourque said she planned to seek financing for the vehicle through the dealership, the lawsuit states.Eventually, a salesperson told Bourque that in addition to a cosigner and down payment, it would be necessary to also add $8,000 in bank fees in order for her to get a loan for the vehicle, the suit states. Bourque then said when she got the vehicle home, she noticed that the cash price of the vehicle was listed on the paperwork as $32,530 and had added thousands of dollars in "add-ons" to the vehicle that she did not agree to.In April 2016, Bourque took the vehicle to a Lawton Dealership, which ran a background check and found that the vehicle had previously been declared a total loss after being wrecked in Florida, the suit alleges.Court documents show that David Stanley as well as Ally Financial are requesting the court send the matter to arbitration, which it says Bourque agreed to in writing while purchasing the vehicle.
That sounds fair. "Sorry, but you signed away your right to sue us when you agreed to purchase that clunker with all the made up features we lied about. "
Anyway, you can check out the entire report at Tulsa Frontier. It's a pretty good read. In fact, it's such a good read that I'd encourage you to share it, or this article, on the social media accounts of local news pages and media personalities. You know, just in case they don't know about the lawsuit and want to alert other Oklahomans to the shady business tactics of a local car company.
Stay in touch
Sign up for our free newsletter