Everything Else
TLO Food Truck Review: El Taco Loco
8:58 AM EDT on April 25, 2017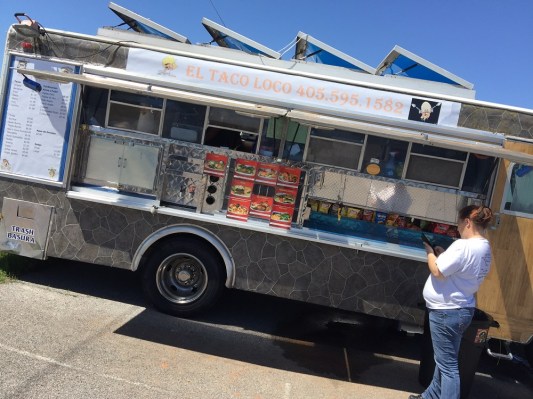 In a world filled with pain and strife, oh what a beautiful morning it is to wake up and find out there's a Latino-owned taco truck that has set up shop not too far from where you live. It's honestly those little victories that make life worth living, isn't it?
Case in point, I noticed this past Sunday afternoon that there's an El Taco Loco truck that's seemingly made itself a home in the Angles parking lot off N.W. 39th and N. Penn. Old-school to the core, there's nothing fancy about this taco wagon—no wraparound graphics, custom artwork or even a new paint job—this is a working man's truck, guey and all they need is a clear, concise menu and plenty of hearty homemade comida.
You go to school to learn not for a fashion show.
Adhering strictly to the firm Hispanic belief that you should never pay more than, oh, five or ten dollars for fresh, made-to-order Mexican "street" food—oh Santa Maria, how I loathe that gentrified terminology—the set prices at El Taco Loco are, of course, beautifully low, especially for the utterly high quality eats you get in return.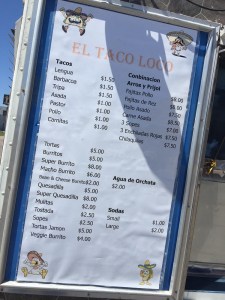 Because so many other gringo outlets fake that funk by subbing in shredded beef doused in adobo, whenever I hit the real trucks I always go for the barbacoa, asking for those bits of extra-fatty cheek chunks, just like my abuela's maid used to make. And at a buck and a half each, even if they skimp I'm still getting the better deal. (Spoiler: they didn't skimp.)
Craving a main course, the chilaquiles—food truck chilaquiles!—caught my attention, as did their roasted chicken plate, but some dude before me ordered a smothered barbacoa burrito ($6.00), absolutely glistening in red sauce and, as he stood there in slow-motion, enjoying it as though every bite offered the nourishing love and protection like it was a Mother's teat, I couldn't say no.
Lines forming and crowd gathering—if you park it, they will come, I suppose—I packed up my eats and headed down to the park, grabbing a shaded picnic table as the cool breeze wafted through my hair and the occasional bee from the overflowing trashcans would land on my food and, eventually, my arms or face, always promising to sting me something fierce but never delivering, the tease.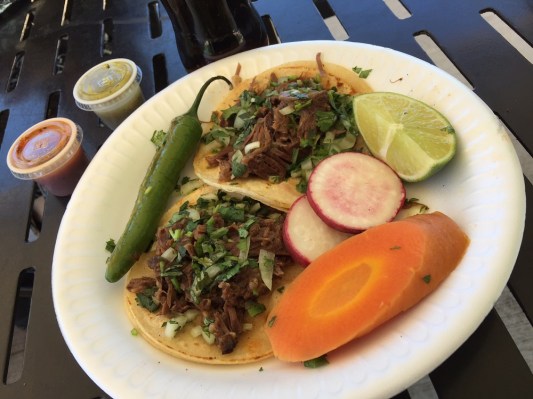 Starting with the barbacoa tacos, within the first bite they lifted me up on eagle's wings, the greasy, fatty cuts of puro barbacoa, after so much fraudulence, capturing a moment of religious ecstasy to have the real thing again, especially when topped with the customary fresh cilantro and onions, sided with generously cut pickled vegetables. Tacos don't get better than this, bro!
But the real answer to my prayers was the red-sauced ensconced barbacoa burrito. Maybe I've gotten used to guero portions, but El Taco Loco's burrito was about the size (and weight) of a solid brick, possible an Acme. Packed tightly with that fabulous barbacoa, rice, beans and an absolute working class culinary prowess that knows what hunger is; if this is what El Taco Loco's $6 burrito is, I wonder how much more you get—and how much more do you need?—from their $8 Super Burrito...
Hopefully the start of a trend, I would love to wake up and see more Latino-owned businesses—food or otherwise—cross the river and start dominating the Northside, buying houses and making babies and remaking the area in our own image, complete with a taco truck on every corner.  2050 can't come soon enough and neither can lunch! ¡Cómpralo ya!
-
Who wants to do a taco crawl with me some enchanted evening? Follow Louis on Twitter at @LouisFowler.
Stay in touch
Sign up for our free newsletter