Everything Else
TLO Restaurant Review: Mariscos Mazatlan
10:00 AM EDT on April 13, 2017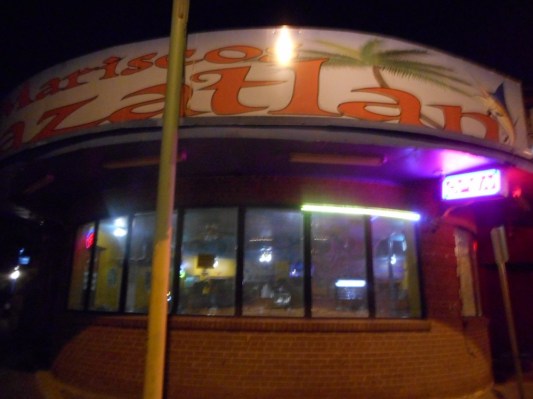 I have always found there to be a macabre beauty to Mexican seafood.
Whether it was enjoying a cóctel at a seafood shack down by the shore or delicately sliced and fried cúbera roja at a seafood joint over by the pier, growing up around the Gulf of Mexico taught me to appreciate the darkly gorgeous arrangements of mariscos, where every plate is an organic sculpture, a flesh-bound work of art and a Lovecraftian study of the darkest depths dedicated to those blessed warm waters and their grotesque bounties.
A stark contrast to the American "comply it, fry it and stack high it" seafood offerings of even the swankest eatery—especially in a landlocked prison such as this—from the simplest appetizer to the sturdiest main course, Mexican restaurants that specialize in aquatic alms for the hungry happily take their time to reach the table, and it's more often than not worth it in presentation alone, with the sheer scrumptiousness of the food being almost a most-welcomed afterthought.
One such place is Mariscos Mazatlan, located at 3325 S. Robinson. There's quite a few seafood specialists up and down that wrongly reviled row, each with their own particular regional charms and edible customs, but the fantastically out-of-place Mazatlan almost resembles a hardened sand-castle, standing firm amongst the delicate decay of the legendary area, a palace of Neptune surrounded by auto-body shops and hubcap dealers.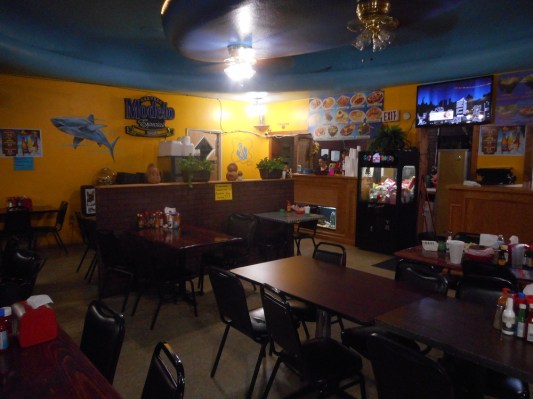 Maybe it's a combination of the weather getting warmer and me having Freddy Fender's cover of "Margaritaville" on repeat all afternoon, but the Gulf winds have been calling to me as of late and the only way to satiate this seafaring need at the moment was to pay a dinner visit to the aforementioned Mazatlan on a dark and lonely Monday night, meeting up with a friend who just cruised back into town from, of all places, Detroit.
The scent of the Virgin Mary—roses, as it were—wafted through the room as we settled into our seats and began to look over the menu which was more pictures than words. As a telenovela played overhead, I scanned the menu looking for something I hadn't had before; I knew I wanted a cóctel, something cold in temp but hot in flavor, when the Cuadro de Viagra ($15.95) netted my interest, a stimulating enough name with a rigid compendium of just about every floor-crawler on the menu to pique my desire.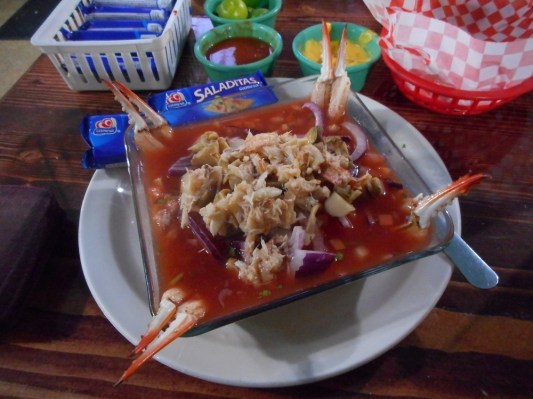 Now call it low-blood sugar from a day of Lenten fasting, or maybe a case of culinary Stendhal Syndrome, but when the waiter laid before me this gorgeously plated concoction of camarones and company, my heart raced and I felt a bit lightheaded, surveying an absolute work of well-crafted art that, at first, I felt intimidated to even touch. Like a piece from HR Giger's private collection of ready-to-eat meals, four crustacean claws stood firm in every corner, with tentacles and tails alike peeking up at me, swimming in a gallon of bloody Mary broth.
Translated as "a box of Viagra," this aphrodisiac aphorism of aquatic additives was itself a pirate's treasure of tantalizing tastes, from the mussels and oysters, to the octopus and shrimp, drowning in the cool sopa that brought the lifesaving heat with each sip, the collective meat plump and popping with every bite; there was a fresh flavor and a healthy color to the proceedings that was surprisingly less oceanic and more terrafied as the onions, peppers, assorted spices and hot sauces seeped into the various meats, composing a practical second act, a new performance piece, a butcher cover under the trunk replacement picture of well-earned kitchen mastery, with each tactile sensation exploited and electrified con puro vida.
Meanwhile, mi amigo decided, and rightfully so, on the Camarones Brochette ($12.95), an envious selection of bacon-wrapped Gulf shrimp, absolutely stuffed and plated with papas, arroz and a simple enough green salad. It was real comida de playa; all that was missing was the michelada and a pretty Tejanita to share it with. Maybe next time, holmes…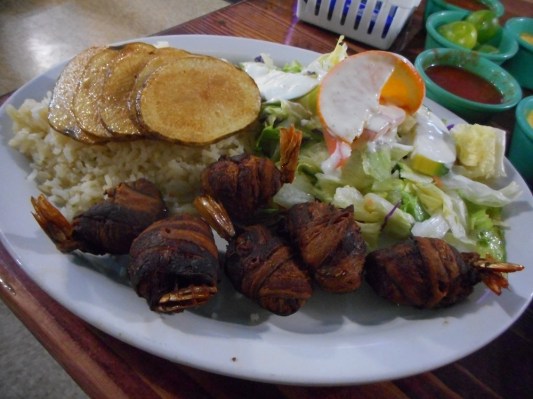 While not as dramatic, each bite of the Camarones Brochette was the tongue-based equivalent of a Corona commercial, the sinfulness of tightly-crisped bacon and jalapeno puffed in for overkill, each bite of that erect shrimp absolutely bursting with a well-earned exclamation as to the question of whether this was pre-bought or post-caught this morning. You couldn't reconnect with a former scorned lover with as much a mixture of sadistic accomplishment and minor revolt occurring naturally in the body as I felt when I felt the rush of the tide rolling in with each bite, each exploding encasement of that timebomb shrimp.
Sigh.
A trip to Mariscos Mazatlan is about as close to the Sinaloa-based resort town we're going to get in this city, with a menu that not only feels like you're dining on vacation, but a living, breathing 4-D presentation of how seafood should be done, one that, for a good hour or so immerses the eater in an esculent holodeck that I definitely plan on booking a few more trips to this year. Maybe you'll join me? It never hurts to ask, right? ¡Cómpralo ya!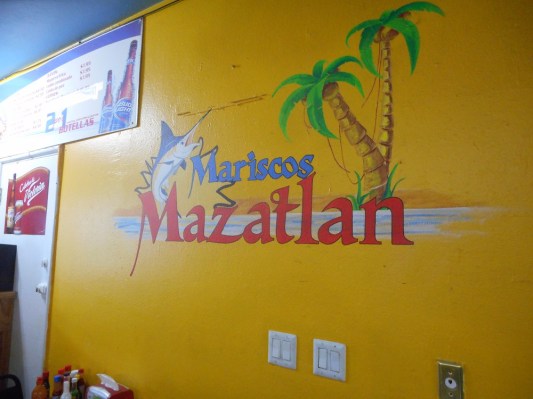 -
Some people say there's a woman to blame, but I know it's my own damn fault. Follow Louis on Twitter @LouisFowler.
Stay in touch
Sign up for our free newsletter