Everything Else
TLO Restaurant Review: Stagecoach BBQ in Newkirk, OK
8:58 AM EST on February 21, 2017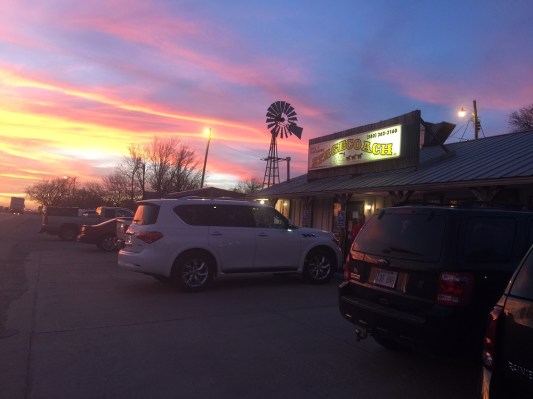 What is it that Guy Fieri has that I don't?
For me, there is no better way to spend the day than just driving to someplace in Oklahoma you've never been before and pulling off the side of the road at the first interesting place you see around dinnertime or so.  While I may not be all that "camera-friendly," surely my mildly likable personality would translate to, at the very least, a weekly three-minute segment on Discover Oklahoma, right?
This past Friday, I was able to score press passes to see one of my favorite bands, Styx, at the Seven Clans First Council Casino and Hotel outside Newkirk, a town I had never heard of near the Kansas border. The drive up I-35 was pretty uneventful, but when we made the right turn into the backroads around Blackwell, that's where at least you got to drive through a small succession of wonderfully rural towns, all loaded with Hunt Brothers pizza franchises and otherworldly gas stations called Jiffy Trips.
As the sun started to come down over the Oklahoma plains, my partner and I had reckoned that it was time to find some dinner, eating at the casino café before the show being a last resort. Driving through Newkirk, were just about to give up after counting about 30 different Subways when we happened upon a rustic little joint called Stagecoach BBQ, located at 400 W. South Street.
There are few things better in life than barbecue joints in small Oklahoma towns. Unrelentingly unpretentious dining at its finest, nine times out of ten these side-of-the-road Godsends will have some of what you swear is the best barbecue you've ever had in your life…until you hit the road again and stop at the next one, of course.
Stagecoach is no different. This is some darn good barbecue, son.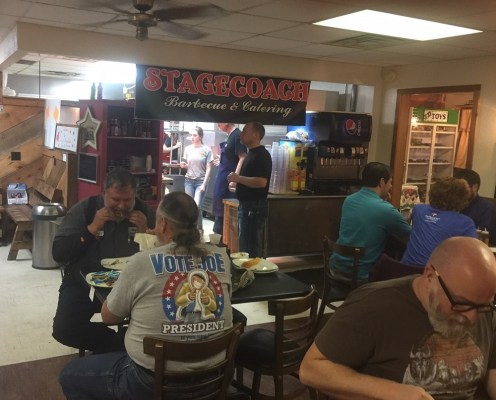 Relatively small and wooden—you can hear the floor creak and crack as you walk to your table—as we sat down around 5 p.m. or so, it quickly became apparent that this was the most popular restaurant in town, with tables around us filling up and take-out orders lining up outside the door. (Now this might also have to do with it probably being the only restaurant in town, but I'm willing to give them the benefit of the doubt…)
Obviously a family affair, with corn-fed teenagers in the kitchen and kids as young as five helping to wipe tables, the simple enough menu offered BBQ, "All American Choices" and Steaks. While my dining companion ordered the smoked chicken ($11.50) with new potatoes and mac and cheese, I decided that I was in the mood for pork ribs ($11.50), as well my friendly neighborhood standbys, fried okra and cowboy beans.
Orders given and dutifully sent to the kitchen, as I explored the "All American Choices" section of the menu, I noticed they had an item called a "Pork Burger," served with fries ($6.50). Curiosity piqued, I asked the waiter to confirm my suspicions that it was indeed a burger made out of ground pork, something that I had dreamt of making myself many times but never followed through. Stagecoach did.
I immediately put in my order.
As gristly Sam Elliot-types who had put in a hard week's work continued to shuffle in, I started to miss my old life growing up in a small town and, wistfully, started to daydream about moving back to a community like his, raising some chickens, maybe finding love with a sassy single mom from the wrong side of the tracks, and all is well…until I realize I probably wouldn't be able to write for a living and would have to get an actual job laying fiber-optic cables or wiping down propane tanks in the hot sun, dying in a ditch due to a mixture of hard-work and boredom by the time I'm 40. No thank you.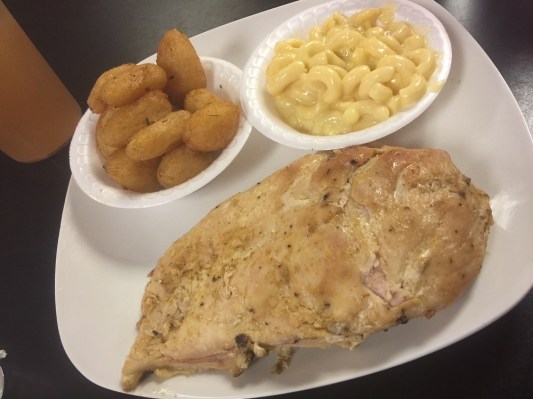 Back to reality, my friend's smoked chicken came out first and good golly Miss Molly, that thing was enormous, a chicken breast almost as big as a turkey breast. I don't know if that's just how they is raised out here or if this is the product of steroids and hormones, but all I gots to say is yes, please and thank you!
The very definition of succulent, this gigantic chicken breast, served skinless, was chocked with a rich smoky flavor throughout, each juicy slice able to carve like a poor-man's Christmas turkey and just as grateful for it. This is how you do smoked chicken—taking notes, big boys?—and, as a bonus, the sides were delectable as well, with the creamy mac and cheese definitely playing ball with deep-fried new potatoes, also served in a way I had never had before, but ultimately worth it!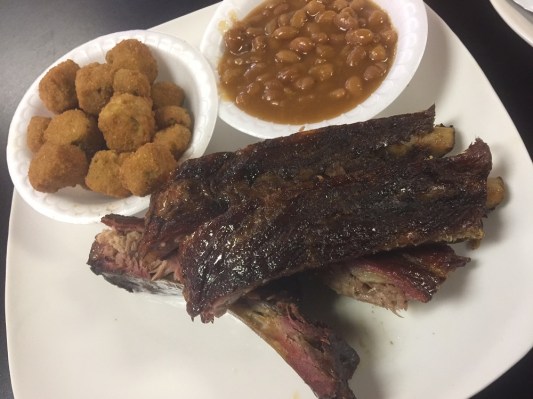 My compilation of ribs was absolutely off the hook—more like off the bone, actually—so tender and perfectly cooked that I honestly had no idea where the meat ended and the bone began. That's alright mama, I noted as I sucked down some of that sweet pig marrow, I need the extra calcium. Or whatever is in pig bones.
Swathed conservatively in a few dashes of spicy hot Head Country sauce, it was a top-notch dinner, with the fresh crispy fried okra and the more-on-the-pinto side cowboy beans finishing off this small town barbecue in a big league city way.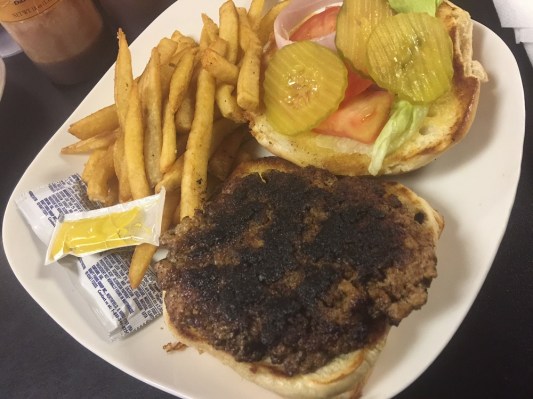 Now, I had fully expected to get the pork burger to go, maybe to eat as a treat after the concert on the way home, but when it arrived at the table open-faced, the porcine seductiveness of that very specific scent of charred ground pig tempted me to…alright, take one bite…what can one bite hurt? Apparently quite a bit, because this tummy-tempting taste-sensation was downright delicious, and I practically inhaled the darn thing, sharing off most of the fries to my fellow food-friend.
The seasoned pork really made for wholly different burger experience than I was typically used to, with everything from the texture of the meat to the way it mixes with classic burger fixins like lettuce, tomatoes and even mayonnaise being just a little different, in a good way, for me. I wonder if there are any burger places in the Metro that offer up anything similar; I'd really like to compare notes.
And by compare notes, I mean eat more pork burgers.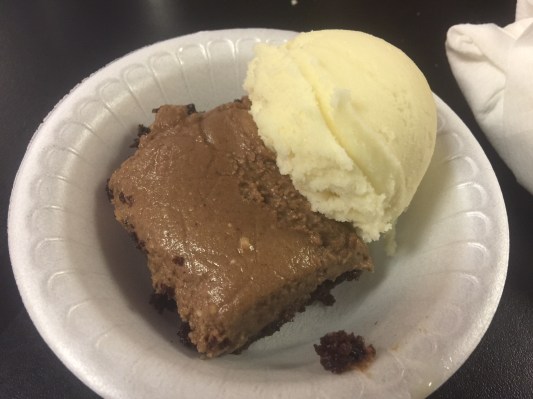 Bonus pro-tip: when they offer you a piece of chocolate sheet cake with a scoop of homemade ice cream for a lousy buck, even if you're full, just say yes.
Stagecoach BBQ is a brilliantly shimmering roadside gem, a real testament to the unheralded culinary geniuses, the unknown masters of the kitchen, the unnamed preceptors of provision that propagate this great state that, without people like me, desperately hungry martyrs with a penchant for the written word, would probably never get the absolute attention they most whole-heartedly (and full-stomachedly) deserve.
And that's why I need my own weekly segment on, even if I'm truly low-balling, Freedom 43's Rise and Shine. ¡Cómpralo ya!
-
 Where are some of your fave rural BBQ joints? Follow Louis on Twitter at @LouisFowler.
Stay in touch
Sign up for our free newsletter