Everything Else
Henryetta bans Valentine's Dance because dancing is bad…
4:00 AM EST on February 14, 2017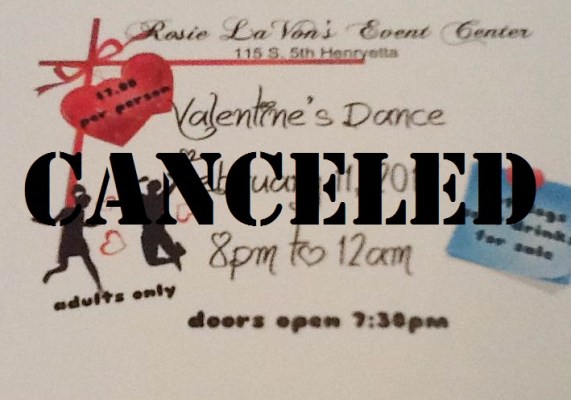 In 1984, quite possibly the greatest American movie to ever perfectly champion this country's indomitable human spirit in the face of unrivaled fascism, Footloose, was released to audiences, becoming one of the biggest films of all time and introducing the phrase "everybody cut, everybody cut, everybody cut footloose" to the American vernacular.
Footloose is the story of big league city boy Ren (Kevin Bacon), just your average cool dude that loves to practice highly-stylized Batman-level feats of rhythmic gymnastics in empty train-yards and grain silos every chance he gets, and the harsh opposition from the theocratic local government (led by John Lithgow) he is met with while attempting to put on a simple spring formal dance in the face of an archaic city ordinance forbidding dancing, and, more than likely, prancing as well.
Eventually, through Bible-quotations and booty-shaking, he is able to get the town to see the error of their non-Footloose ways and, by the end, Beaumont's entire teen populace miraculously knows amazing amounts of choreography, including breakdancing and the Russian dance where you kick your feet up while clapping your hands.
Little did Hollywood or the rest of America know that this was actually based on a true story out of the small Okie town of Elmore City where dancing was outlawed for reals. The ban was eventually lifted and now, every year, the town has a city-wide Footloose celebration to celebrate those bygone days.
Sadly, just when we thought such archaic laws were a thing of the embarrassing past, there's apparently one town in Oklahoma tonight where, on this, the most romantic night of nights, no one will be hearing it for the boy, dancing in the sheets or reaching almost paradise…
In what can only be described as a real-life re-imagining, the Oklahoma town of Henryetta has just upheld a similar city ordinance against a Valentine's Day dance when a local biddy, Robbie Kinney, complained that the shindig violates a 1979 ordinance that forbids dancing within 500 feet of a church.
From NBC News:
They won't be kicking off their Sunday shoes and cutting loose in one tiny Oklahoma town this weekend because the sweetheart dance has been cancelled for a reason that's got everybody feeling sour — it's against the law.

In a storyline that could have come from the movie "Footloose," the authorities in Henryetta, a town of a little under 6,000, put the kibosh on the Valentine's shindig that was scheduled for Saturday after a local woman, Robbie Kinney, complained.

Her beef? Holding the bash at Rosie LaVon's Marketplace — the new hotspot in town — would violate a 1979 ordinance that forbids dancing within 500 feet of a church. And the church she attended as a child, the Church of Christ, is 300 feet away.

"I'm sorry, but the law is the law," Kinney told NBC News. "Law enforcement does not have the right to pick and choose with laws they are going to enforce, no matter how ridiculous they are."
I bet we all know which side of the immigration issue this party pooper falls on. I'm pretty sure she doesn't mind dancing, as long as it's done in the right way—the legal way—with a foot of space between each male and female, lest their Godless nethers accidentally mingle under the hypnotic rhythms of that  reefer jazz that kids dig so much these days. 23 skidoo, Satan!
Kinney claims that she wasn't trying to spoil anyone's fun and that even her elderly father and uncle were going to the dance, but she had to stop it because she was "afraid" they were going to be arrested. On an almost 40-year-old ordinance. That's never been enforced. Methinks Kinney doth protest too much; maybe she's angry no one asked her to the dance?
Good luck scoring a dude now, Carrie Nation.
Even though the town's mayor told the venue owner that it's okay to have the dance anyway, apparently Kinney will not be happy until she takes said venue owner on in a game of chicken using farm equipment down at Old Man Crandall's place. Until then, however, it appears Henryetta is holding out for a hero 'til the end of the night. He's gotta be strong, he's gotta be fast, and, most importantly, he's gotta be fresh from the fight.
–
Only the power of Shalimar can overturn this diabolical ordinance. Follow Louis on Twitter at @LouisFowler.
Stay in touch
Sign up for our free newsletter