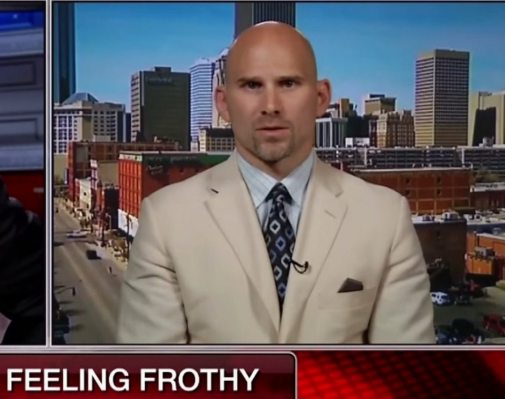 After the audio from the Tate Publishing meeting was leaked in 2012, it became my personal mission to call out the company for its shady business model, nepotism-based management style and the way they treated employees.
This was for a couple of reasons:
1. My first "real job" during and out of college was a communications gig for a nutritional supplement company that sold an ephedra-based herbal energizers pill called AM-300. It was also a shady company that operated on a nepotism-based management style. I learned a lot from my experience there, and feel for workers who have to endure the same thing.
2. It always made great material.
Well, I guess you can now say my mission is complete and it's finally time to move on to something else. According to the Mustang Times, Tate has closed it's doors for the last time.
Via the Mustang Times Facebook Page:
What looked like a fork in the road turned out to be the end of it for Mustang's Tate Publishing this week, as it closed its doors for the last time.

The news came Wednesday, just days after Tate co-founders Dr. Richard Tate and Rita Tate announced a consolidation of the company's operations – the shutdown of its Philippines office and layoff of 50 employees there and a new focus on the company's home base in Oklahoma.
Friendly reminder. They did more than just layoff 50 employees. They also didn't pay December paychecks or a government mandated bonus.
Tate's Mustang office employed about 30 people as of Monday, Rita Tate said then.

Questions surfaced about possible problems at the publishing firm over the last several weeks, with several individuals identifying themselves as Tate authors posting complaints on a variety of blogs, business review sites and social media.
Normally when I write about a company closing down, I express condolences to the people who lost their jobs. Is that really needed this time around? If you were one of the 30 people still at Tate, what the f*ck were you doing? The troubles of this company have been well documented. When Xerox started repossessing the printers, you should have known something was up.
Still others contacted the Mustang Times, asking for assistance in communicating with Tate, which they said they could not reach by phone or email.

That changed for at least some authors in recent days, with an email supposedly sent to them by someone at Tate.

"I've been trying to contact Tate and the only email I got was a cryptic one about there not being any employees left due to lack of payment," one of those individuals said.

Both Dr. and Rita Tate acknowledged that communication, saying it was a hoax sent by one of the Philippines former employees, who had access to the company's author files and contact information.
Yep, it was hoax. Nothing else to see here. Move along.
Tate Publishing opened about 17 years ago in Mustang and was a long-time major employer in the city. The company has been very active in the community, particularly Mustang Chamber of Commerce, where Rita Tate currently serves as chamber president. Tate Publishing and Enterprises was registered with the Oklahoma Secretary of State in December 2003, according to the OKSoS website. At one time, the company listed more than 200 employees working in and around Mustang at Tate Publishing and Tate Music Group offices.
In case it's not obvious, The Mustang Times and Tate family have a cozy relationship. In fact, I believe the infamous 2012 prayer meeting was called after the Mustang Times informed the Tates that employees were gossipping, accurately, about jobs being outsourced to the Philippines. How's that for protecting your sources?
In May 2016, Xerox Corporation filed a $2.2 million lawsuit against Tate Publishing and Ryan Tate – seeking $1.756 (million) from the company and $483,787 personally against the then-company CEO. Xerox also requested the return of seven pieces of its equipment it alleged Tate had not paid for or sent back. The lawsuit is still pending and is set for a Jan. 20 non-jury trial in Canadian County District Court.
The hearing is scheduled for tomorrow morning. If you're a lawyer, you may want to contact the Tate family. They need one.
One of Tate family members' primary concerns during the planned restructuring, and then as they faced the closure of their company, remained the company's approximately 35,000 authors, they said. Work to help those authors make other arrangements was already underway and would continue as Tate worked with its attorneys to complete the closure process.
According to Tate's old website, "only 4 percent of manuscripts submitted" made it through the company's rigorous publication requirements. Based on that figure, Tate has received 850,000 author submissions over the years. Uh huh. Suuuure.
That's the end of the Mustang Times article. You can read it here if you want. Here are a couple of final notes / thoughts...
1. When will Tate file bankruptcy? 
As The Oklahoman mentioned, they owe Xerox nearly $2 million. If you can't afford to pay a copy editor in the Philippines a December salary, how can you come up with the money for that.
2. Will Fox News stop trotting out Ryan Tate as a "Business / Financial Expert?"
The answer is probably not. Fox News likes to celebrate and tout shady successful businessmen who file bankruptcy and dupe hardworking everyday Americans. In fact, they help elect these people as president.
3. Where will writers who probably shouldn't be published go to get their books published?
Amazon.
Stay in touch
Sign up for our free newsletter