Everything Else
How much do these winter weather fails cost us?
11:53 AM EST on January 16, 2017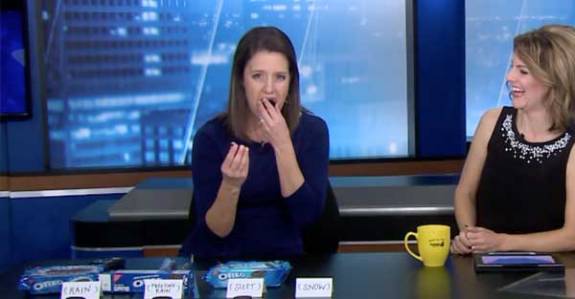 Is everyone still alive?
As you know, the Oklahoma City area was hit with another massive ice storm this past weekend, leaving 1.5-million citizens without electricity, running water and the will to live. As a result, martial law has been declared in Oklahoma County, and Mary Fallin has called the national guard to conduct search and rescue missions, shoot looters and thieves, and coordinate air drops of bread, milk and Emily Sutton's leftover Oreos to residents trapped in the hardest hit neighborhoods.
Okay, I made all of that up, but it sounds pretty damn believable when you look back at this past week's weather coverage. Just like the "Snowless Snowday" of 2015 and "Christmas Blizzard Fizzle" of 2012, our local for-profit media once again spent an entire week irresponsibly hyping a doomsday winter weather event for the Oklahoma City metro that didn't happen.
You'd think after fooling us so many times over the years that we'd all eventually wise up, avoid temptation, and take everything the weather guessers say with a grain of de-icing salt, but no, not here in Oklahoma. This is for three reasons:
1. As our election results and academic rankings show, Oklahomans are not very smart.
2. Oklahomans actually value the usually wrong analysis of meteorologists who get hired and fired based on how many people they can get to look at their employer's TV channel, website or social media account.
3. Most Oklahomans are lazy and want a random day off, even it means we don't get paid.
On the topic of #3, I have a serious question...
How much do these winter weather fails cost us in lost productivity and wages? Despite hardly any precip falling in Oklahoma City, major school districts, government offices and businesses were all closed on Friday thanks to forecasts like this...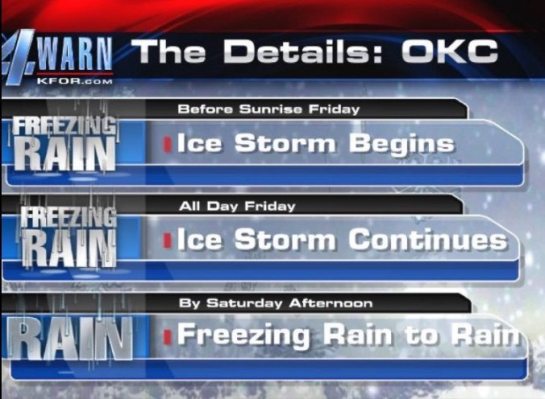 In case you were locked away in a thermal-heated survival shelter over the weekend, the ice storm never materialized. Neither did this one. The weather forecasters were wrong about the metro...again. For the most part, roads were fine. I know because I was driving on them...
For example, at about 9:30 or so on Friday morning, I had a random craving for a Chick-Fil-A Spicy Chicken Biscuit. I don't get them very often, but what can I say, I enjoy perpetuating Oklahoma stereotypes.
So, I hopped in my car and drove over to the location at 63rd and May. As I pulled in the parking lot and towards the "Order Here" sign, I noticed there was no line in the drive thru – a minor miracle by Chick-Fil-A standards. Then some manager looking lady ran out from inside the lobby and waved at me. I rolled down my window:
"I'm sorry. We're closed!"
"What? Really? It's not even icy."
"Yes, we erred on the side of caution. We'll be reopening in about 30 minutes but we'll only have lunch."
"Oh... Thank you for letting me know!"
"My pleasure."
Side note: The Braum's omelette bagel is not a good replacement for a Chick-Fil-A Spicy Chicken Biscuit.
Chick-Fil-A isn't the only place that closed for no good reason. We cancelled our trivia night at Buffalo Wild Wings on Friday thanks to the repeated calls for ice to appear Friday night into Sunday morning. That sucks for me, my trivia hosts, the waitstaff, the owner of Buffalo Wild Wings and the team that was going to win. It also gets back to a question I asked earlier...
How much do these winter weather fails cost us in lost productivity and wages?
It has to be in the eight-figure range.
Winter weather has always been overhyped in this market, but social media has only made it worse. Until 2008, you could avoid the dire weather prognostications by simply turning off the TV and going on with your life. Now that luxury is gone. You can't check social media without being bombarded with scary graphics of pink and blue globs covering our state, or panic inducing graphics like this: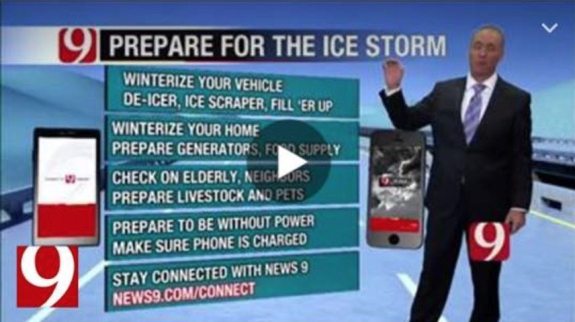 PREPARE GENERATORS!!! CHECK ON ELDERLY!!! NO POWER!!! Also, be sure to download the News 9 app to stay connected for more coverage of this winter weather apocalypse!
I know we all want to be safe and not sorry, but this madness has got to stop. Be smart. Be prepared. But don't let the people who are motivated by ratings, page views and app downloads shut down a city. They're exploitive and shouldn't have that power! It's time to make a stand against these winter weather hypers!
Well, at least until the next winter storm is supposed to hit. Once again, most of us are lazy and want a random day off.
If you have any solutions to the "Media Who Cried Winter Weather" problem that Oklahoma is dealing with, leave a comment. 
Stay in touch
Sign up for our free newsletter