Everything Else
Tulsa World Editorial Chief is still a big Mary Fallin fan…
11:07 AM EST on December 20, 2016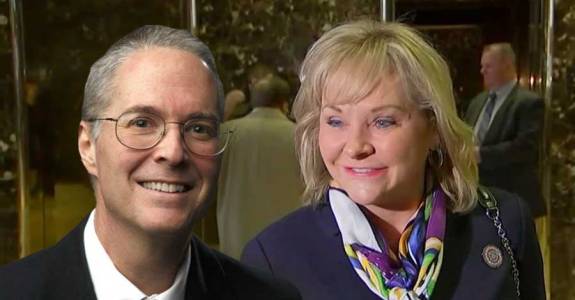 Although they're getting harder and harder to find, there are still a few Mary Fallin fans out there.
One of the most prominent is Tulsa World editorial director Wayne Greene. As Mary's support and popularity have reached new lows, he's stood loyally by her side, supporting her, encouraging her and desperately making excuses for her whenever he had chance.
For example, check out this June editorial where he scraped together a sad list of "four reasons Mary Fallin is doing a better job than she gets credit for." These were the four reasons...
• She came around on criminal justice reform.

• She vetoed an unconstitutional bill to make abortion a felon

• She backed a cigarette tax increase that would have saved lives and improved the state's ability to fund essential state services such as education.

• She changed her position on using federal funding to expand health-care coverage for 175,000 Oklahomans.
Yeah, Mary Fallin has done such a bad job as governor that we have to give her credit for doing things anyone with common sense would do. Isn't that kind of like praising the drive-thru attendant at Braum's for getting your order right?
"Let's see. No pickles. No special sauce. Just like I ordered it! Now let's check the fries... Wow – hot and fresh! Amazing!"
Seriously, she "came around" on criminal justice reform, didn't want to charge doctors with murder for performing a legal medical procedure, supported the taxation of cigarettes, and tried to fix her massive mistake to not expand healthcare coverage. Wow. Congratulations! You have common sense and took valiant stands on issues that required no courage. Here's a trophy and a gold star. You're a winner!
As I mentioned, that editorial was written back in June. Since then, things have gotten worse for Mary. Even though she was a shoe-in for a Trump cabinet position – giving her a chance to escape all the problems she helped create in her home state – Mary (not surprisingly) bombed in her job interview and was removed from consideration. Don't believe Mary's spin. She performed terribly.
Instead of noting how disastrous another two years under Mary Fallin's rule could be for Oklahoma, Wayne doubled-down and tried to twist her embarrassing failure to land a cushy cabinet position into something positive for our state...
Fallin doesn't get Interior post, which could make all the difference to Oklahoma

Gov. Mary Fallin isn't going to be President-elect Donald Trump's nominee to be U.S. secretary of the interior.

Although some had once described Fallin — a vice chair of the Trump transition team — as a leading candidate for the job, Trump reportedly has chosen U.S. Rep. Ryan Zinke, R-Montana, for the post.
That's too bad for Fallin and the nation. With experience in two critical parts of the Interior Department's portfolio — energy and American Indian affairs — Fallin was well qualified, and would have done a good job of representing the new president's agenda.
Wow. How brown was Wayne Greene's nose when he wrote that one? Mary Fallin can't even govern Oklahoma. How could anyone expect her to manage a sprawling federal agency? As I mentioned in the past, the first item on her agenda as Interior Secretary would be to bring man-made earthquakes and tribal casinos to a national park near you.
In a perverse way, Trump's choice of Zinke is good for Fallin. Assuming (perhaps too soon) that she won't get some other Trump administration post, she'll be able to avoid the character-assassination that is routine in Senate confirmation. Both parties do it, and it's not good for the nation.
Trump's decision is also potentially good news for Oklahoma.

Fallin has two years remaining in her second term as governor. She's constitutionally prohibited from a third term. It's unlikely she'll be running for any other office in 2018.

That's the sweet spot of Oklahoma politics — in between term limits and the pages of history — where a politician can become a stateswoman.
Fallin has two years to make a difference, two years to change things for the better, two years for rewrite the first line of her obituary.
Sure, Mary Fallin has two years to re-write her legacy. I'll give him that. But she also has two years to continue leading us down the same old path! What has she done to make Wayne think she'll turn things around? Since the day she took office, her reign as Governor has been marked by embarrassing gaffe after embarrassing gaffe. It's been a disaster. This would be like expecting a football coach who's finished with six-straight losing seasons to finally turn things around.
Think that's not possible? Consider the case of Henry Bellmon.
In what he decided would be his last two years in any elective public office, Bellmon (with a lot of help from Speaker of the House Steve Lewis and others) remolded the education funding future for Oklahoma through what ultimately was known as House Bill 1017.

In the years that followed, thanks to earmarked tax increases, Oklahoma dedicated more new funding to public schools than it ever had before, and it made a real difference.

HB 1017 dedicated millions to teacher pay; it lowered class sizes; it created new quality standards and, most important, it sent out the word that Oklahomans weren't content with being at the bottom of the barrel in education spending or education results.

It survived a repeal initiative that further stiffened the state's resolve for meaningful progress, but it wasn't bullet-proof. Subsequent governors and Legislatures showed that by cutting the state's permanent tax base, the state could sink right back to the bottom, which is where we are today.

But that does nothing to the historic reputation of Henry Bellmon, Oklahoma's first Republican governor and the best from either party. Henry Bellmon did his job.
Yeah, I'm pretty sure Wayne just compared Mary Fallin to Henry Bellmon, or as he puts, the best Oklahoma governor from either party. He really must want Mary to put this editorial on her website like she did for this editorial about Joe Dorman.
Anyway, if you write for The Oklahoman Editorial Board and want some inspiration for your own editorial that ignores the truth and attempts to put a positive spin on Mary Fallin's final two years, you can do it here. In fact, you may just want to publish Wayne's editorial. The Tulsa World and The Oklahoman already share news. They might as well share bad editorial content, too.
Stay in touch
Sign up for our free newsletter